In my late twenties, I had a quarter life crisis in which I:
Quit my engineering job twice after only 4 years (I earned ~$90k/year when I left)
Went to grad school for 7 years, earning no more than $30k/year as an intern, TA, or RA
Changed careers entirely
When I look at my current investing balances, I can do some interesting forensic accounting to isolate the impact of those early 401k contributions at the beginning of my career.
I graduated in 2006 with a starting salary of $56k/year. To max out my employer's match every year, I contributed 8% of my salary and my employer would put in 6%. Therefore, the total contribution to my 401k was 14% of my salary for each year I was an engineer.
When I left my job, I rolled over the 401k to a Vanguard (rollover) Trad IRA. From there, I have since rolled it over to my current employer's 403b plan to facilitate Backdoor Roth IRA contributions.
Since joining my current employer 5 years ago, I have maxed out my retirement accounts every year (401a, 403b, 457) to the extent that my employer has allowed me to. My portfolio allocation is identical across each account. Further, the timing of the 403b & 457 contributions has been identical. Therefore, any difference in balance between my 403b and 457 is fully attributable to contributions I made early in my career ($382,701-$185,741=$196,690).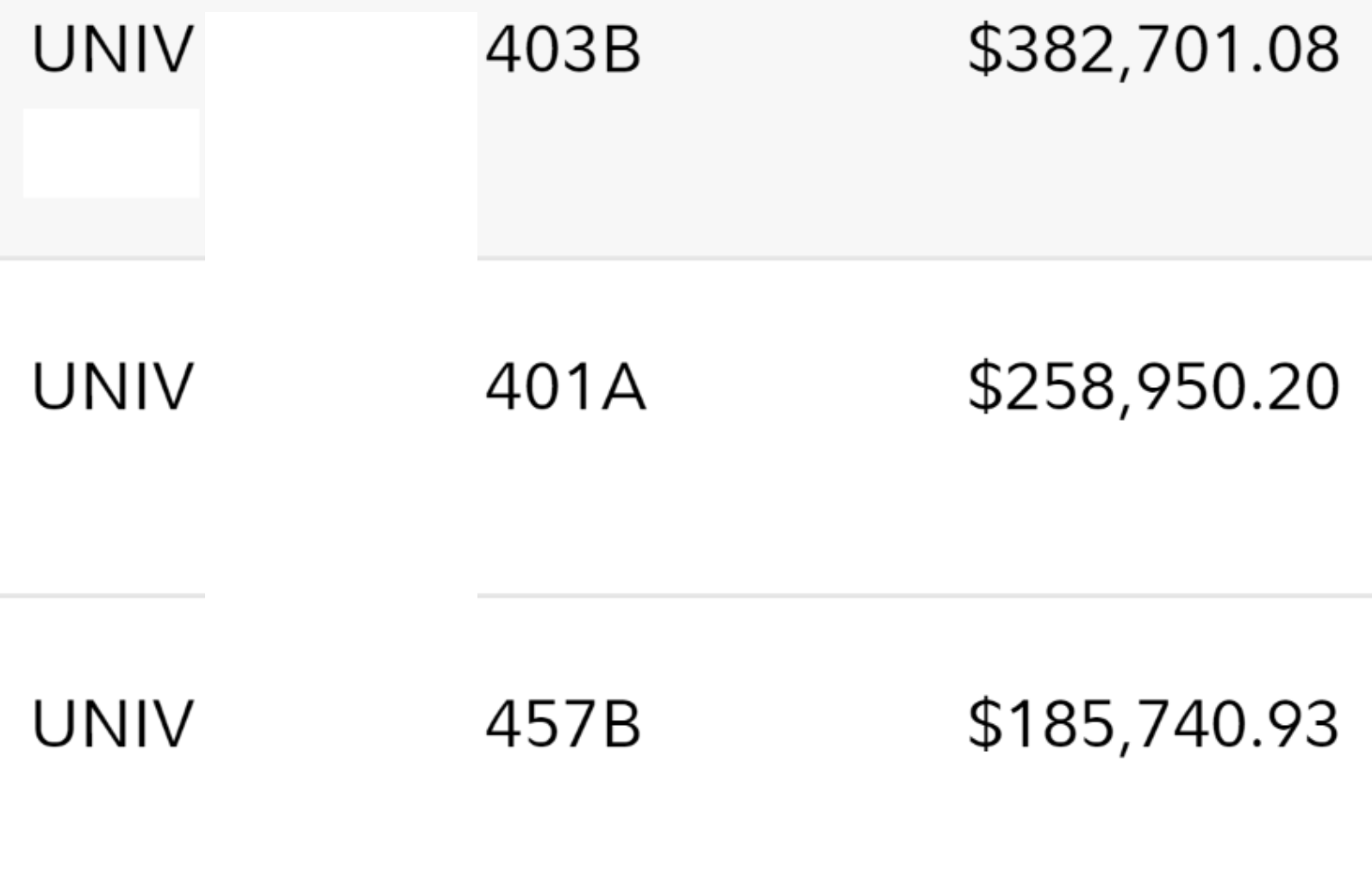 The results of my forensic accounting are shown below. I don't have an exact record of my salary history so I guessed. The timing isn't terribly precise, but it is close enough.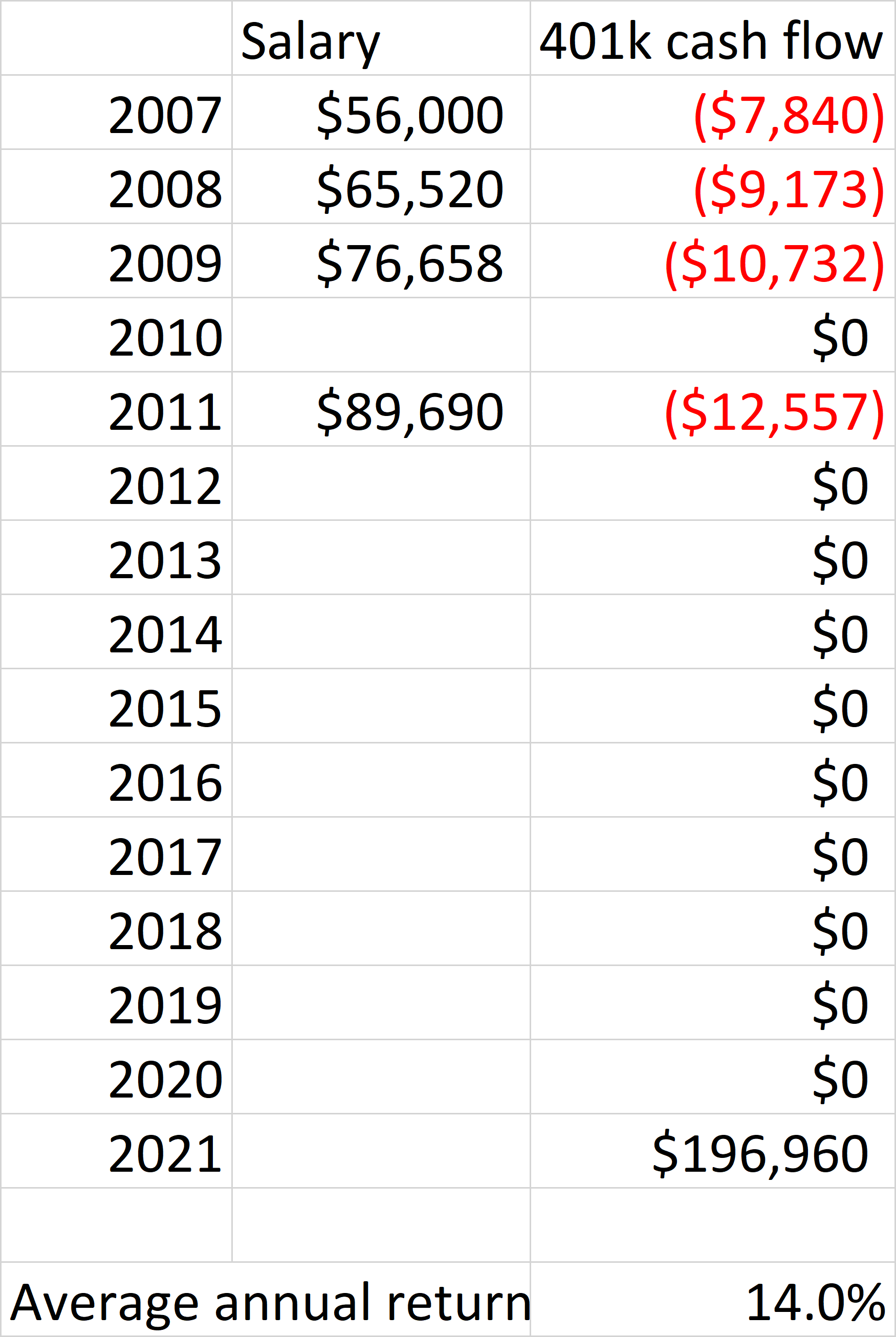 The magic of 14.0% compound interest over a decade and a half has transformed a mere $40,302 of 401k contributions into just shy of $200,000 today.
That is pretty astounding to consider. I'd be fun to replicate the analysis in another few decades.
A message to my former self:
Thanks for fully exploiting your employer's 401k match and taking the time to learn about investing when you did (despite the notable absence of any*** financial education during your 18 years of schooling to that point). Your future self and your future (grand)children are grateful for your efforts.
*** This is a slight exaggeration since I learned how to write a check and balance a checkbook in 4th grade.
Obligatory Disclaimer:
We've enjoyed incredibly favorable investing tailwinds that are surely going to relent in the future. Nonetheless, the message is clear: start investing early and often; preferably with low-cost investments in tax-advantaged accounts. This advice rings perhaps even more true during periods of low returns, in which taxes and fees can bite particularly hard.
Random Thought:
It would be fun to do a similar forensic accounting of the impact of past life choices on today's wealth:
Marrying a frugal spouse
Riding a bike to work most of my career
Owning crappier cars
Not paying for a cell phone plan since 2003
Brown-bagging to work daily
Cooking meals at home
Avoiding costly cable subscriptions (e.g. using rabbit ears)
Bulk shopping at Costco
Optimizing credit card rewards
Pursuing cheap hobbies (disc golf, climbing) and vacations (backpacking)
Largely self-insuring through high-deductible insurance plans