Another month, another update. A few random comments.
Good Reads/Listens/Watches
Bill Gates and Rashida Jones (Karen Filippelli from "The Office") started a new podcast (link).

I'm unsure how the two joined forces, but it has been pretty entertaining so far.
In one episode they interviewed Raj Chetty (famous Harvard Economist) about inequality and in another they interviewed Yuval Harari (author of Sapiens) about why humans believe in lies.

BoA is rumored to be close to cancelling their preferred rewards program, which I currently utilize to get 5.25% cash back on most credit card purchases. If it's nixed, the max rewards would fall to 3% (link).

It's not particularly actionable for those of us already in the program. However, if you're considering signing up, I'd probably hold off until we learn more.
 If they cancel the program, it won't be the first time my heart has been broken; I'll simply go back to the drawing board and reassess.


The last time my heart was broken was around 2006 when Citi killed their Dividend American Express Card. It was a great companion to the Fidelity 2% card. 

The Citi Dividend American Express Card enables cardmembers to earn 5% cash back on purchases at supermarkets, drug stores and gas stations; 1% cash back on other purchases and eligible cash advances; and cash back on eligible balance transfers. Cardmembers also pay no annual fee.

Interesting Journal of Finance paper on the abysmal performance of ~4,000 Canadian financial advisors and their ~500,000 clients (link).

Within a large sample of Canadian advisors, we show that many advisors invest personally just as they direct their clients. In particular, they underdiversify, trade frequently, and favor expensive, actively managed mutual funds with high past returns. The portfolios that advisors hold themselves and the portfolios of their clients both underperform passive benchmarks by 3% per year. The client portfolios would have underperformed by 2.3% even if the advisors had provided their services free of charge. Advisors pursue similar strategies in their own portfolios even after they stop advising clients, which rules out the possibility that advisors hold expensive portfolios merely to convince clients to do the same. 
The novelty of this paper, of course, is that this sample of advisors was found to be just as incompetent managing their own money as they are managing their clients' money — a finding which I never would have expected.
The compounded effects of this are obviously catastrophic. Assume a real investment return of 5% without fees and 2% with fees. Assume $20k/year is invested for 40 years. In 40Y, the investor facing no fees has $2,415,995 (=FV(0.05,40,20000)) while the investor facing 3% fees has $1,208,040 (=FV(0.02,40,20000)). In other words, the no-fee DIY investor (or alternatively, a person choosing a competent fee-only advisor) has double the money having utilized low-cost index funds rather than trusting a supposed "expert."

This is the biggest paradox in all of investing. And it's a paradox which makes me seem crazy when I tell it to people at dinner parties (yes, I'm that fun to hang out with….) — that they can predictably and decisively beat the supposed "experts" by simply keeping their costs rock bottom. I realize it sounds as crazy as telling people that performing their own heart surgeries with a mirror and pair of scissors will lead to superior outcomes to trusting a surgeon, but it's true.

Thought-provoking Mr Money Mustache article on the Direct Primary Care healthcare model (link).


Through the map linked in the article, I learned my primary care physician is already a participant in a DCP plan. I'll have to pick his brain on his experience next time I see him.
The DPC model is certainly interesting, but it does nothing to insure against catastrophic events, which is the whole point of insurance in the first place. Given this reality (that MMM acknowledges), a DCP plan would surely have to be used in conjunction with something else.

Reel Rock 14 is available for free on RedBull's website. The following three videos contain the entirety of the 60-minute documentary about Tommy Caldwell & Alex Honnold's pursuit of the nose speed record on El Capitan, Yosemite. It's a fantastic documentary, just as enjoyable to me as Dawn Wall, Free Solo, and Meru:
Life
Mrs FP started substitute teaching this past month and has already subbed for 4 of our 5 children. She has enjoyed the job and the kids have enjoyed having her as their teacher.
I got a hole-in-one on a fairly challenging 307 ft disc golf hole, the second of my life (my first was in 1999). I got a hole-in-one in real golf in June of 2018 on a 160 yard par 3. Given my newfound lucky streak, I might have to buy a lotto ticket.
We played a lot of Ricochet Robots over Thanksgiving break, a game I've played at least a thousand times. I had a friend in Seattle with over a thousand board games that introduced me to this game when I was an intern. I remember how challenging the game was — it made my brain ache — and I marveled that his 8-year-old-son walloped me so badly. Fifteen years later and a thousand games under my belt, the tradition is still going strong. I taught it to my oldest daughter when she was about five years old and we had a running tally of how many games each of us had won through the years. Now, the rest of the kids have caught the bug.

I've taught this game to dozens of people in my life. About 95% of people end up loathing the game and 5% end up loving it.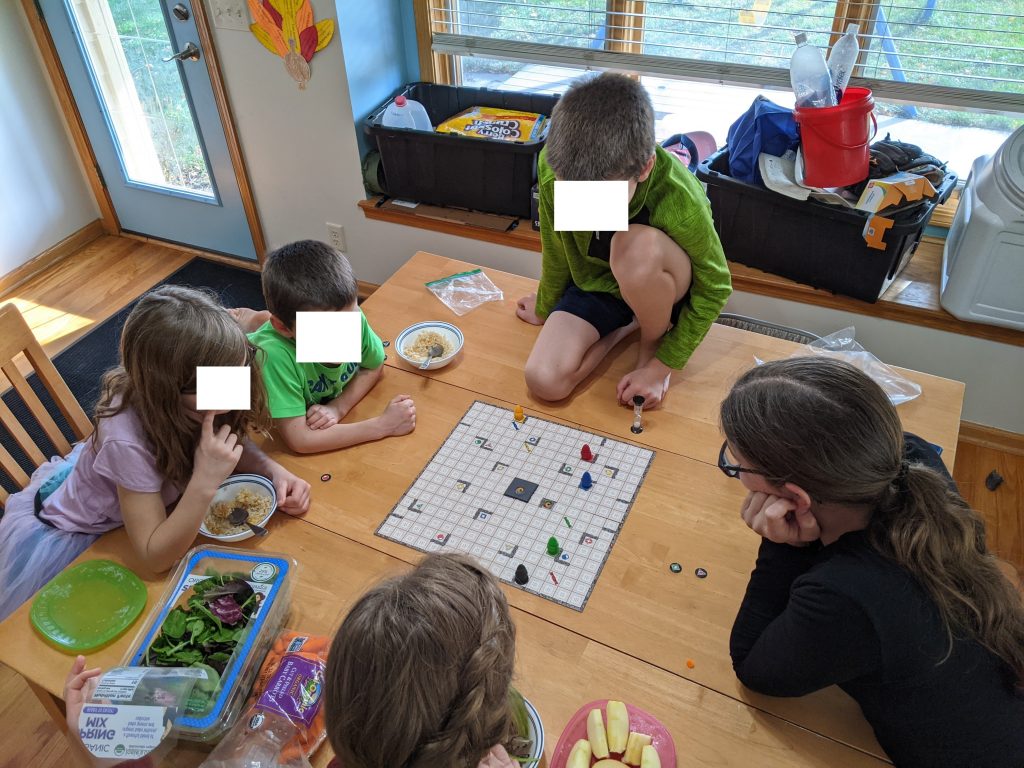 A heated Ricochet Robots battle, in which all players are simultaneously trying to solve the same puzzle at the same time. The person who solves it in the fewest number of moves wins, with ties going to the first person to solve it.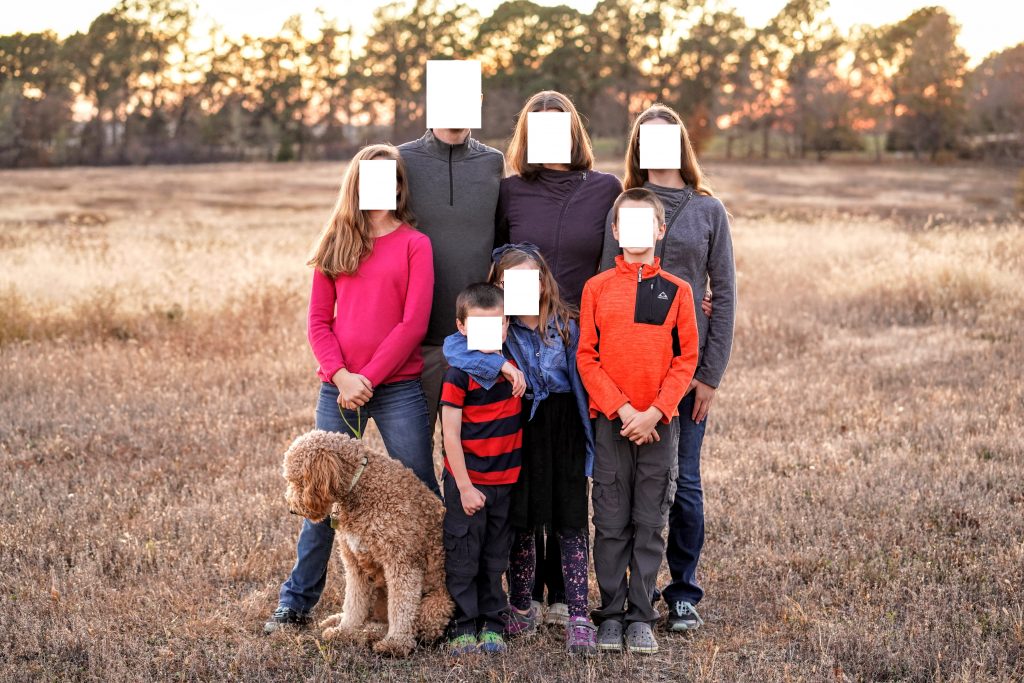 I took this family portrait with a tripod. It's almost impossible to get all seven of us to look at the camera at the same time, but the 10 frames per second bust mode certainly helps to increase the odds of that. The weather was unusually pleasant this month.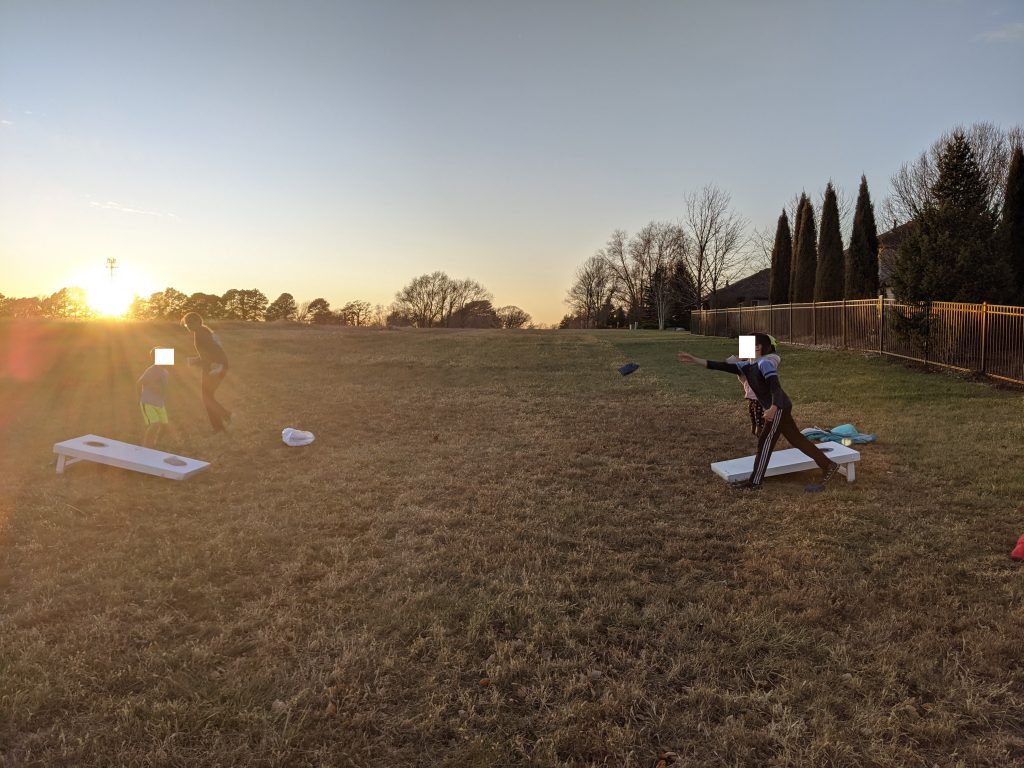 Corn hole in the (former) corn field.


FC1 and a friend in the gym on auto-belays. The city has since tightened restrictions due to Covid.


Early morning drive to play frisbee golf. Beautiful sunrise.




My climbing partner bought me a pair of climbing pants on a recent excursion. They are my new favorite pants. I bought my second pair this past month. Walmart sells them in store or here. They are nice and stretchy which is nice for climbing/hiking/lounging/anything. I honestly don't think I'll purchase another type of pant for the rest of my life.




The water fountains at the climbing gym were apparently inspired by Silence of the Lambs.


I'm pretty cheap frugal. For the longest time I resisted buying Costco's only ice cream because of the high price. It runs about 50% more expensive per ounce than ice cream at Walmart. After finally caving and buying the Costco ice cream, I now realize that it is heaven on Earth. I will never buy another type of ice cream. How's that for lifestyle inflation?!?!? Never mind the fact that its superior taste is due to its higher fat content with the implication that each bite is shaving an extra hour out of my life expectancy.


Playing frisbee golf on Thanksgiving AM at 7:30am.




The scorecard from the "ace", courtesy of the incredible (and free!) app called Udisc golf (link). The yardages are a bit off because we went from the more challenging set of tees. Thank goodness I didn't choke and lose the round after the miracle shot.


The Thanksgiving miracle!!!
This Month's Finances
The good:
The bad/abnormal:

$1,615 in medical/dental/drug bills.
$189 for car insurance (2 cars).
$37 for two disc golf discs.

After recently blogging/bragging about how I hadn't lost a disc in decades, karma got the best of me and I got one stuck at the top of a 40 ft pine tree. I climbed about 25 feet up but was unable to retrieve it. Luckily I didn't fall to my death for a $15 piece of plastic. In my defense, it was my favorite disc.
Full version is downloadable here (link).  

Footnotes:
Fidelity unambiguously has the best HSA on the market. $0 admin fees + $0 expense ratio funds.
I lazily approximate home value as my historical purchase price.
I have a 15Y mortgage which results in much larger principal payments than a 30Y mortgage. Since principal payments are simply transfers from one pocket (assets) to another (debt reduction), I treat such cash flows as savings.
~$0 cell phones described here.
All expenditures at Costco & Walmart are classified as "Food at home" for simplicity (even if it's laundry detergent, clothing, medicine, toys, etc).
Nobody knows the perfect asset allocation. Just pick one and run with it. Use a target date retirement fund as a benchmark if you want some guidance (link). If you prefer to DIY (as I do), then a three-fund portfolio is great (link).
My low portfolio expense ratio is the primary reason why I don't hold target-date funds, which have expense ratios anywhere from 0.16% to 1%. I can achieve a much lower expense ratio on my own due to Admiral shares, etc. And it's not hard. Plus, a DIY portfolio allows one to tax-loss-harvest more easily.
ETF's are slightly more annoying to hold relative to index funds. With ETF's, you must deal with bid-ask spreads as well as the inability to buy partial shares. With a simple index fund, you don't have to deal with either of these issues. Bogleheads discussion here (link).
I continue to own VTSAX rather than FZROX and in my taxable brokerage account because it is more tax efficient due to lower capital gains distributions. Bogleheads discussion here (link).
The one blight in my expense ratio analysis is my 529 plan. The underlying Vanguard fund is almost free to hold (0.02%), but the high administrative fees bring the total cost of holding the fund to 0.29%. I abhor fees and would likely avoid 529 plans if I didn't get to deduct up to $10k of contributions per year on my state return, saving myself $700/year in state income taxes.
CA's 529 plan has the lowest expense ratio US equity index fund of any in the US (link). I'd have 100% of my money here if not for the state tax deduction I receive in my own state.
I own one share of Berkshire Hathaway (B Class) for the sole purpose of getting 4 free tickets/year to Berkshire's annual meeting.
I bought 100 shares MoviePass for $0.0127/share to be able to tell my students that I held a stock that went to zero. So far, the stock price stubbornly remains above zero.
Disclaimer: This site is for entertainment purposes only, as disclosed here: https://frugalprofessor.com/disclaimers/