Frustrating (but Important) Committee Work
I was asked by my university to serve on a committee to help select "an expert consultant" to tell us what is wrong with our 401a/403b/457 plans. If you haven't had the joy of serving on an administrative university committee before, you're missing out. It's about 10 times more inefficient/frustrating as the least efficient meeting I attended while working as an engineer at Boeing…and I attended plenty of pointless meetings at there.
Committee work tends to be filled with faculty from broad swaths of the university. When dealing with cases of broad litigation or general misconduct, perhaps a broad range of opinions if warranted. However, when it comes to a dry, complex, and analytical topic like navigating the optimal retirement plan structure, the last thing in the world I want is a wide variety of uninformed opinions from the Music and History departments. I want a committee of only subject matter experts.
This is the second committee I've sat on at the university level. The first was to award the vendor to our HSA contract. My experience on both committees has reiterated a longstanding suspicion of mine — that HR benefits administrators at universities/corporations are systematically failing employees by making suboptimal benefits decisions. In both committees I've served on, I've been the only person with any background in finance/investing.
Yes, I find it infuriating that we can't use the university's existing in-house employees to perform this audit of our retirement plans, but perhaps there is some legal reason why we need to hire an external consultant. For the uninitiated, 401k plans are being sued on an almost daily basis. Just google "401k lawsuit" for examples. The vast majority of lawsuits arise from high fees in retirement plans or having inappropriate (or even too many) funds on the "menu."
We haven't hired this consultant yet, but it doesn't take a rocket scientist to figure out glaring deficiencies in our current plan. It took me about 36 seconds to generate the below list:
First, the good:

We allow employees to choose between Fidelity & TIAA. I love that employees have the choice.
(The minority of) Employees who know how to invest are able to to select index funds and pay as little as 0.015% for the right to buy a Fidelity Total Stock Market index.
The "default" asset allocation — for those who don't actively pick one — is a target date fund that is appropriately chosen based on the employee's age.

It's well understood that most employees across the country simply stick with the default, even when that default is inappropriate (the default allocation in my Boeing 401k was cash if I can remember correctly back to 2006).

Next, the bad:

At Fidelity alone, there are 191 funds on menu. This is asinine!!!!! How is an untrained employee supposed to navigate this insanity?
Some funds have expense ratios as high as 1.31% (like this Fidelity Emerging Europe, Middle East, Africa Fund).
At Fidelity, the Target Date Funds (TDFs) have expense ratios of 0.5%. This is especially egregious given that it's the default fund and the university is therefore defaulting people into (relatively) high-cost funds.

Since most employees stick to their employer's default investment options, the selection of an appropriate "default" option is critical. Most HR systems fail to make the right call here.
When I first joined the university, the Fidelity TDF cost about 0.65%. The subsequent reduction in fees is almost surely a result of the university's assets growing to the point where we qualify for a new lower-cost share class.  I'm (almost) sure of this because there haven't been active renegotiations with Fidelity over this time period.

Finally, the neutral / curious:

Employees aren't charged any other fees in their retirement accounts in addition to the underlying expense ratios of the funds. In other words, there are zero other administrative/recordkeeping fees explicitly charged to employees.

At Boeing I was charged a quarterly 401k fee to cover the recordkeeping expenses. I hated the fee, but I know better understand that these fees have to come from somewhere. If not collected explicitly, it will be passed through to investors in the form of higher investing fees.

In the event that the investing fees collected fall above above some secretive and pre-determined level, Fidelity/TIAA will reimburse some of these excess fees. These fees are reimbursed directly to investors in what is called a "Revenue Credit." This Revenue Credit is distributed to employees based on the size of their retirement balances. Those with more money get more of this credit — completely independent of the fees they've paid.

This creates a bizarre cross-subsidization where naïve investors investing in high cost funds (like the default TDF) end up subsidizing informed investors who are only paying 0.015%. The result of this cross-subsidization is that I pay less than 0% to invest.
Here's an example of how TIAA explains this Revenue Credit on another university's website (link).
A Few Screenshots for the Curious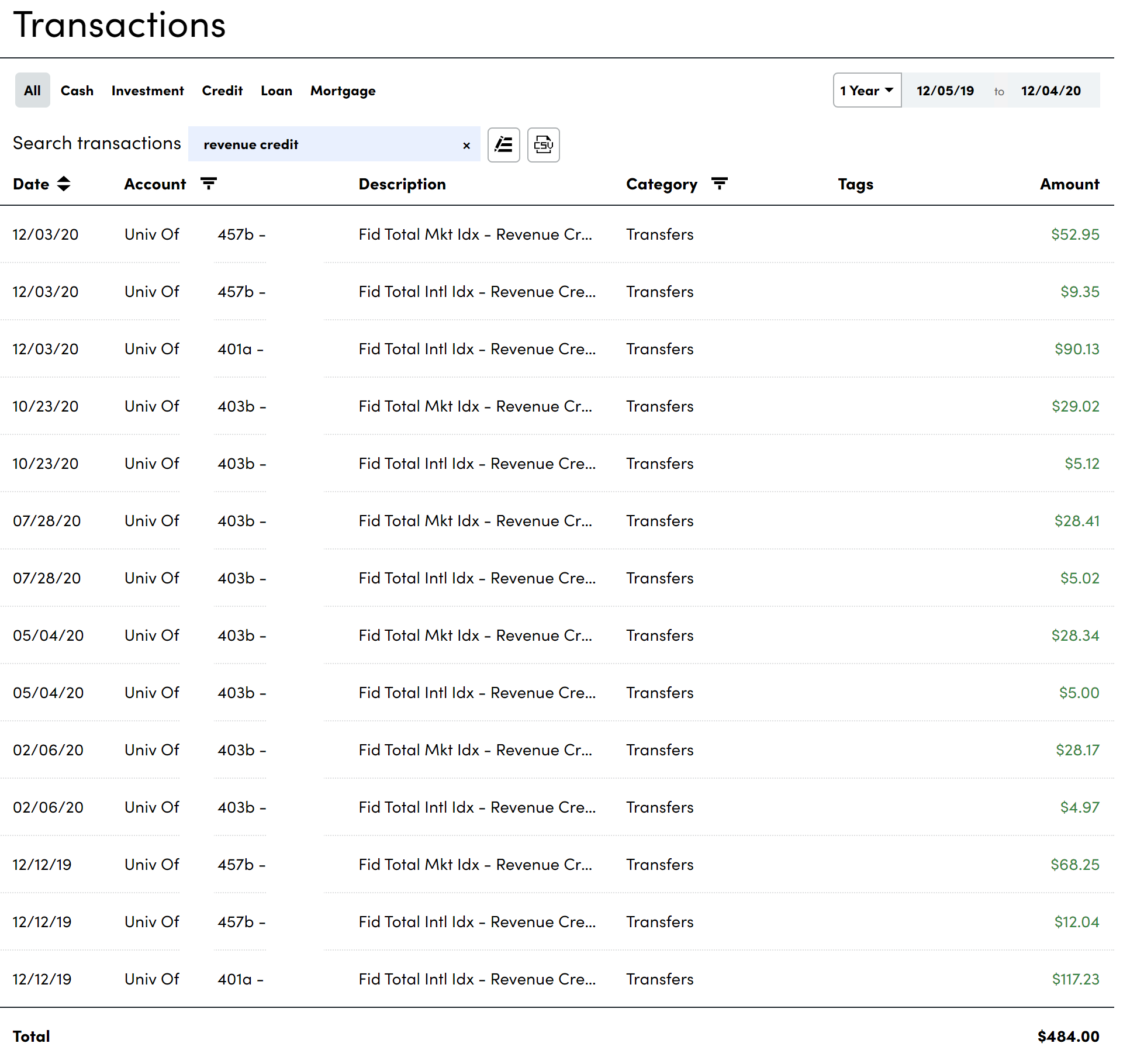 Over the past 12 months, Fidelity has disbursed $484 in "Revenue Credits" to my retirement accounts. All thanks to a bizarre cross-subsidization from naïve employees who are invested in high-cost funds. After accounting for this, my net retirement investing costs are definitively negative. I'm willing to bet that 95% of employees receiving these credits do not have the slightest idea that this is even happening in the background (that they are receiving these credits and/or what they mean).

The above is what I have access to at Fidelity in my 401a/403b/457. As an informed investor, I find this to be great. However, this is clearly going to be overwhelming to someone without appropriate training (i.e. 99% of the workforce)!!!!!!
If I Ran the World….
If I ran the world, I'd restructure our retirement plan that looked a lot like the US Government's Thrift Savings Plan. In other words, I'd offer a very simple menu with:
Cheap target date funds, and
A handful of index funds

The TSP only offers five funds to choose from.
That's quite the contrast from the 191 total funds available in my current plan!!!!

Goodbye 1.31% ER mutual funds!!!!!!
From what I understand, the TSP accomplishes the above while only charging employees an all-in fee of 0.042% in fees.
I understand that there are economies of scale when managing almost $1T of assets in the TSP that are not available to the rest of us. As a result, the fees incurred by a university/corporation would necessarily be higher, but the general recipe of 1.) low costs, and 2.) a simple menu should serve as a relevant benchmark plan for the rest of us to follow. Further, offering an only-index-fee menu (alongside low-cost TDFs) would seem to immunize a company pretty well from future lawsuits. I honestly have no idea why any company would allow for actively managed funds to enter its menu given that we live in such a litigious society where employers are being sued daily for their crummy 401k's.
Why my university needs to hire "an expert" consultant to conclude the above, I'm unsure. The scenario I'm more worried about, however, is that we hire a crappy consultant who will take us down the path of picking high cost actively managed funds. Given that there is nobody else on the committee with any finance training, I worry that any bad advice from a "consultant" will carry more weight than the opinion of a lowly, untenured assistant finance professor. It infuriates me.
An Audit of My Investing Fees and How This Analysis Generalizes to my University System
Once a month, I calculate and share the investing fees I pay. I do this to highlight to others the importance of fees and how methodically I think about them. My hope is that others will be inspired to pay attention and perhaps make changes to their portfolio as a result.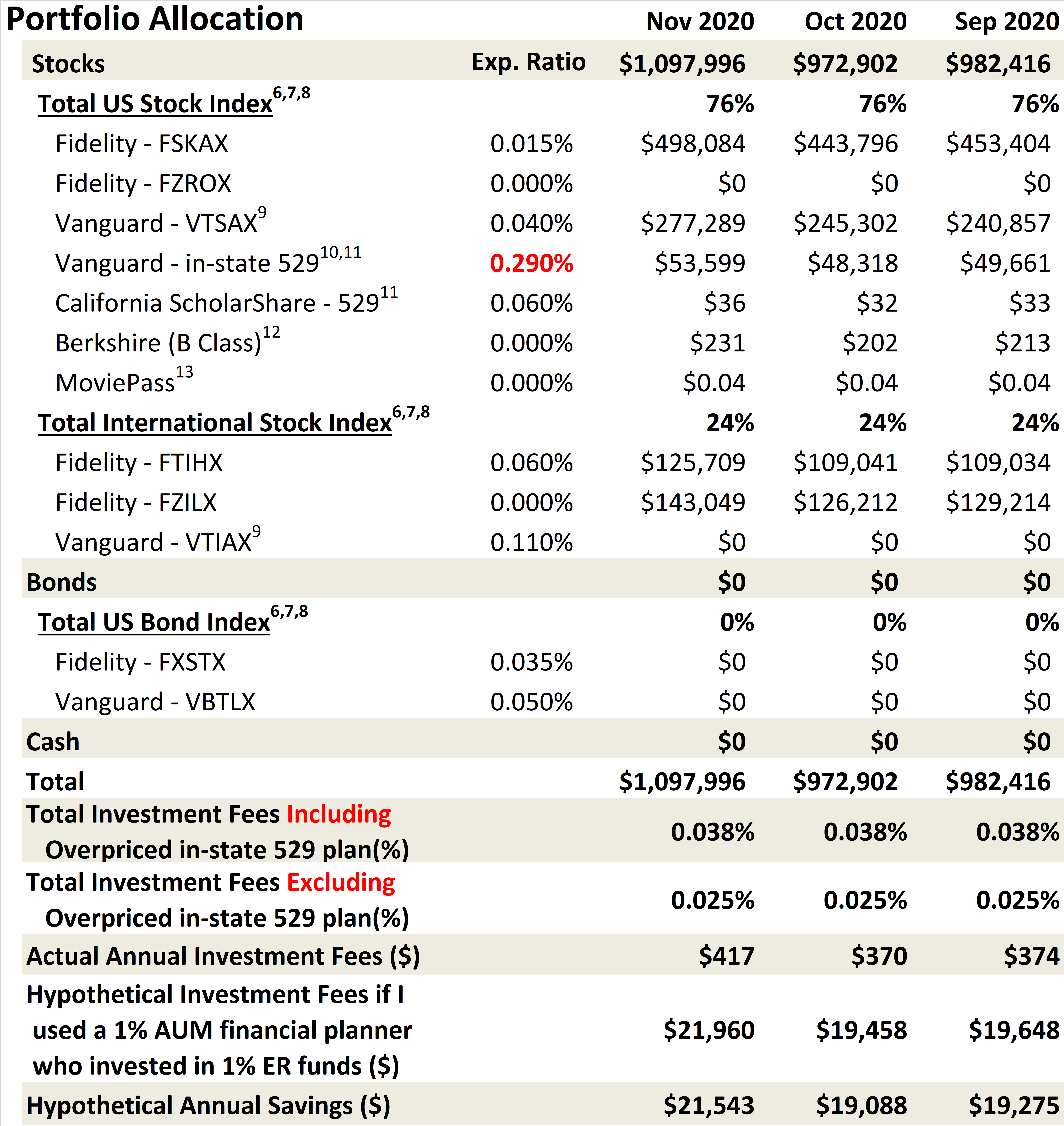 I don't adjust for the revenue credits in the above report. If I were to do so, it'd show I'm investing for less than zero.
It's one thing to perform the above audit at a personal level. It's another thing entirely to do the above audit on a University System level. The assets of our retirement system are in the billions of dollars. When you multiply these seemingly tiny expense ratios by billions of dollars of retirement assets, the result is quite a large number. However, when you multiply a big number by 0.015%, the result is a much smaller number. It's really amazing to see a spreadsheet with these numbers explicitly broken down by funds that investors are actually invested in. Fidelity's entire business model relies on people's continued investing in high fee funds, like the TDFs. They surely would not be profitable if everyone invested in 0.015% funds. Vanguard manages to charge a mere 0.04% for some of their mutual funds. However, Vanguard can do so because it doesn't have the vast infrastructure that Fidelity does. Fidelity has local offices in many cities and has a reputation for having excellent customer service. Consequently, Fidelity cannot break even with their index fund business like Vanguard can.
A Related Development / Victory
Lastly, in a related piece of news, my state recently lowered their 529 expenses from 0.31% to 0.12%. I emailed my state treasurer and legislators on a yearly basis for the past four years to complain about the high 529 fees. I started this tradition about a month after arriving to my state. It appears that someone finally listened (or perhaps it was dumb luck). As a result, countless families will now have more savings in their college savings accounts. Admittedly, a difference of a few thousand dollars over time is so subtle that the vast majority of families will have no idea that this seemingly inconsequential fee reduction was the reason why…..all because an angry schmuck pointed out the deficiency, got angry, and acted on his anger (or perhaps this was simply dumb luck).

Old 529 fees shown in left column. New 529 fees shown in right column.
That's why I get so excited about this stuff. Because it matters. The "tyranny of compounded costs" matter. Because retirement and 529 plans are generally poorly run by people who have no business making such impactful decisions. Because investors are too uninformed to realize. Because nobody else seems to be screaming about this insanity.
If your 529 or retirement plan is hurting, consider taking action. Be the pain in the rear that I've been and complain to higher powers. Form a coalition to do increase your impact. Be mindful, however, that retirement plans are inherently costly to run, so if you are employed by a smaller company you are unlikely to enjoy the low costs that a multi-billion dollar retirement plan can command; you will have to lower your expectations accordingly.
A Copy of the Email I Sent my Treasurer
In the years since I first wrote this email, the numbers have changed slightly. My state's 529 fee has decreased form 0.33% to around 0.3%. Similarly, California's 529 plan fees fell from 0.1% to 0.06%. If you are unhappy with your 529 of 401k, perhaps it might serve as a template to follow as you contact your higher powers.
Dear State Treasurer & 529 Plan Manager,
I am an Assistant Professor of Finance at the University of XXXXX. I am a father of 5 children. I have a passion for savings and investing.
I'm writing in regards to the 0.33% program management fee that the XXX 529 plan charges. The marketing material of the XXX 529 plan seems to imply that this is competitive nationally. It's frankly not.
Why do fees matter? Decades of academic research in finance have shown that investing fees are of the largest hindrances to investor wealth.
The California 529 plan has the lowest fee of 0.1% for investing in the total stock market index. The XXX plan charges 0.33% for an identical fund which tracks the same index. How does this seemingly small difference in fees effect returns?
If the stock market returns 7%, the California plan's net return would be 7%-0.1%=6.9%, while the XXX plan's net return would be 7%-0.33%=6.67%.
If I were to contribute $10k/year to each plan for 20 years, the ending balance for each plan would be:
California =FV(7%-0.1%,20,-10000,0) = $405,506
XXX =FV(7%-0.33%,20,-10000,0)=$395,481
Difference in terminal value = $10,025
In 20 years, fees will have eroded $10,025 of value from the XXX's 529 plan relative to California's plan.
I understand that 529 plans are inherently costly to administer and that the 0.27% program management fee is intended to cover the operating costs of the plan. But I'm confused as to why it's so much more costly to run XXX's plan than California's.
I see two viable solutions going forward to help XXX's plan going forward.
Option #1: Lean down the XXX 529 plan's services to become competitive with other states. I'd gladly take drastically reduced customer support (less junk paper mail, longer hold times, fewer hours to call in) in exchange for higher investor returns.
Option #2: Allow for XXX residents to deduct contributions to other state's 529 plans, such as the California 529 plan, from their XXX state taxes. I understand that Arizona, Kansas, Minnesota, Missouri, Montana, and Pennsylvania do precisely this (https://www.savingforcollege.com/articles/how-much-is-your-states-529-plan-tax-deduction-really-worth).
I would be very interested in discussing the matter further in person if the opportunity allowed.
Thanks for your time,
FP
Are you happy with your employer's retirement plan?

How much are you paying in fees? Are you charged fees on top of the underlying expense ratios of the funds?

Have you found that investing fees are correlated with your employer's size?
Has anyone successfully lobbied to lower investing fees at their employer? If so, do you have any advice for others on how to accomplish this?