Here's the second instance of the state-of-the-blog post. My 2019 edition is here.
Blog Stats:
298 WordPress / email subscribers

33% growth from last year (224)

288 Feedly subscribers:

16% growth from last year (248)

136,970 pageviews this year

2020 cumulative pageviews: 316,223.
2019 cumulative pageviews: 179,253.

Posts/month: ~3.5.
2020 Profitability:

Amazon affiliate revenue: $104
Personal capital referral bonuses: $100
Blog costs (domain + digitalocean hosting): $72*(1-5.25%) = $68.22

$5/month VPS hosting at digitalocean
$1/month for domain name at google domains
5.25% cash back for "online" category at BoA

Profit (ignoring home internet costs, etc): $135.78
Profit/hr (assume 1hr/post): $3.23.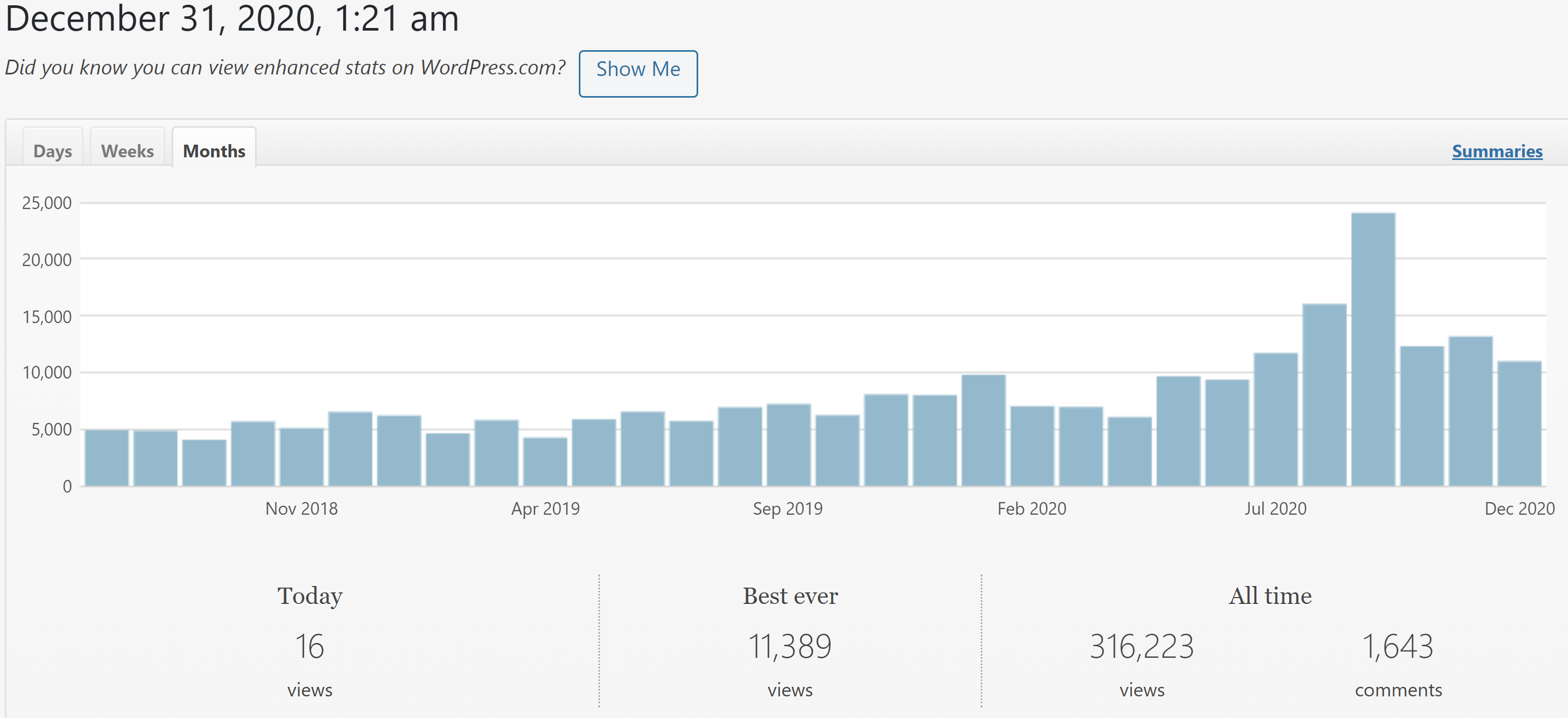 Pageviews by month. I'm not sure why, but some posts become popular by algorithmically hitting "recommended" pages on phone apps like the android swipe right news feed (and even Google News this year). As part of my effort to minimize mindless phone usage this year, I disabled the android swipe right news feed on my phone and have been pleased with the result.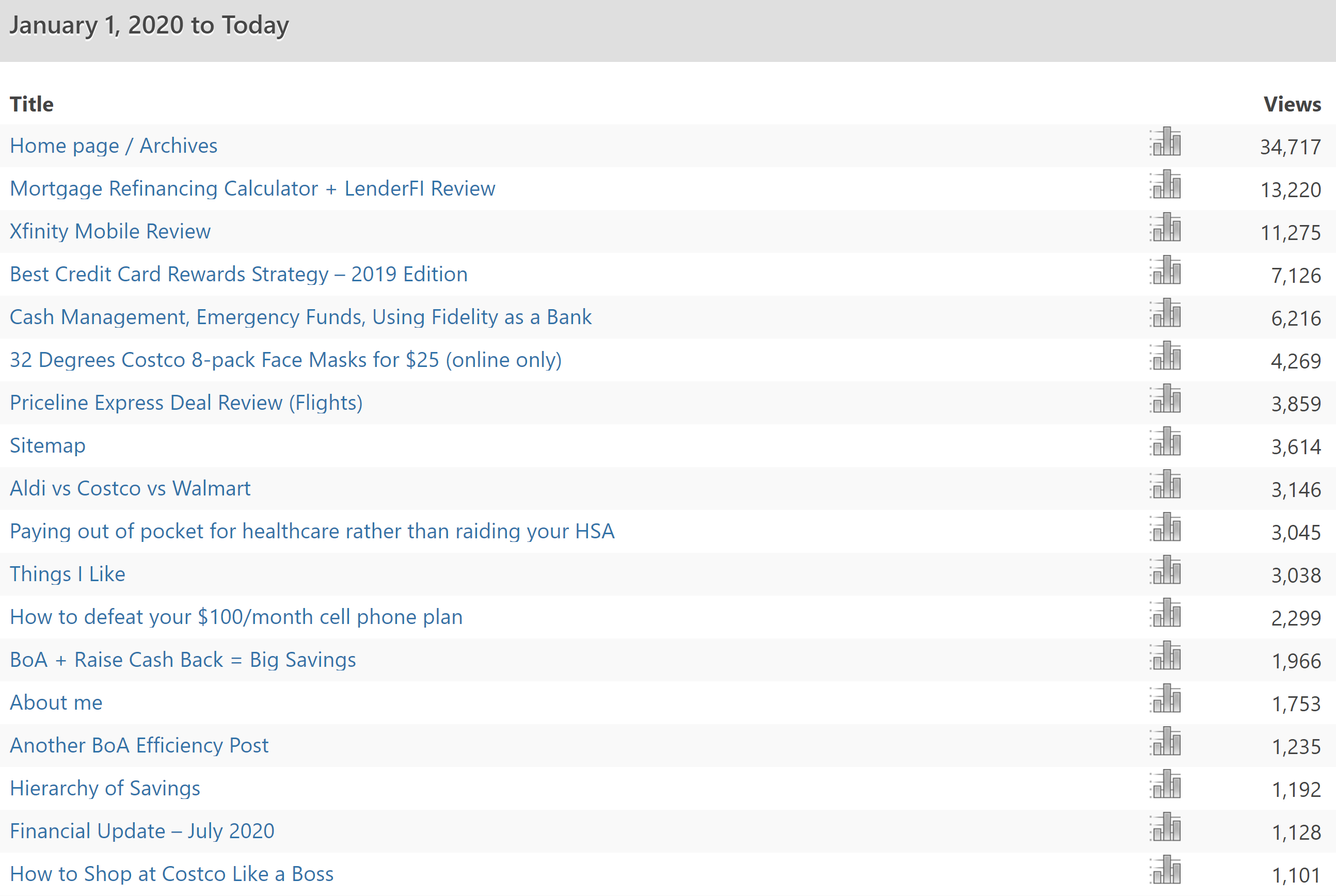 Most popular posts during 2020. I'm somewhat surprised/demoralized by the negative correlation between posts I think people should read and posts people actually find through Google. Choosing the right cell phone plan indeed can save someone $100/month. But choosing the right asset allocation and tax management strategies will amount to hundreds of thousands of dollars of increased wealth over one's lifetime. Given the human tendency to ignore the decades-long horizons, I guess I shouldn't be shocked that my technical tax/investing posts are relegated to the bottom of the heap.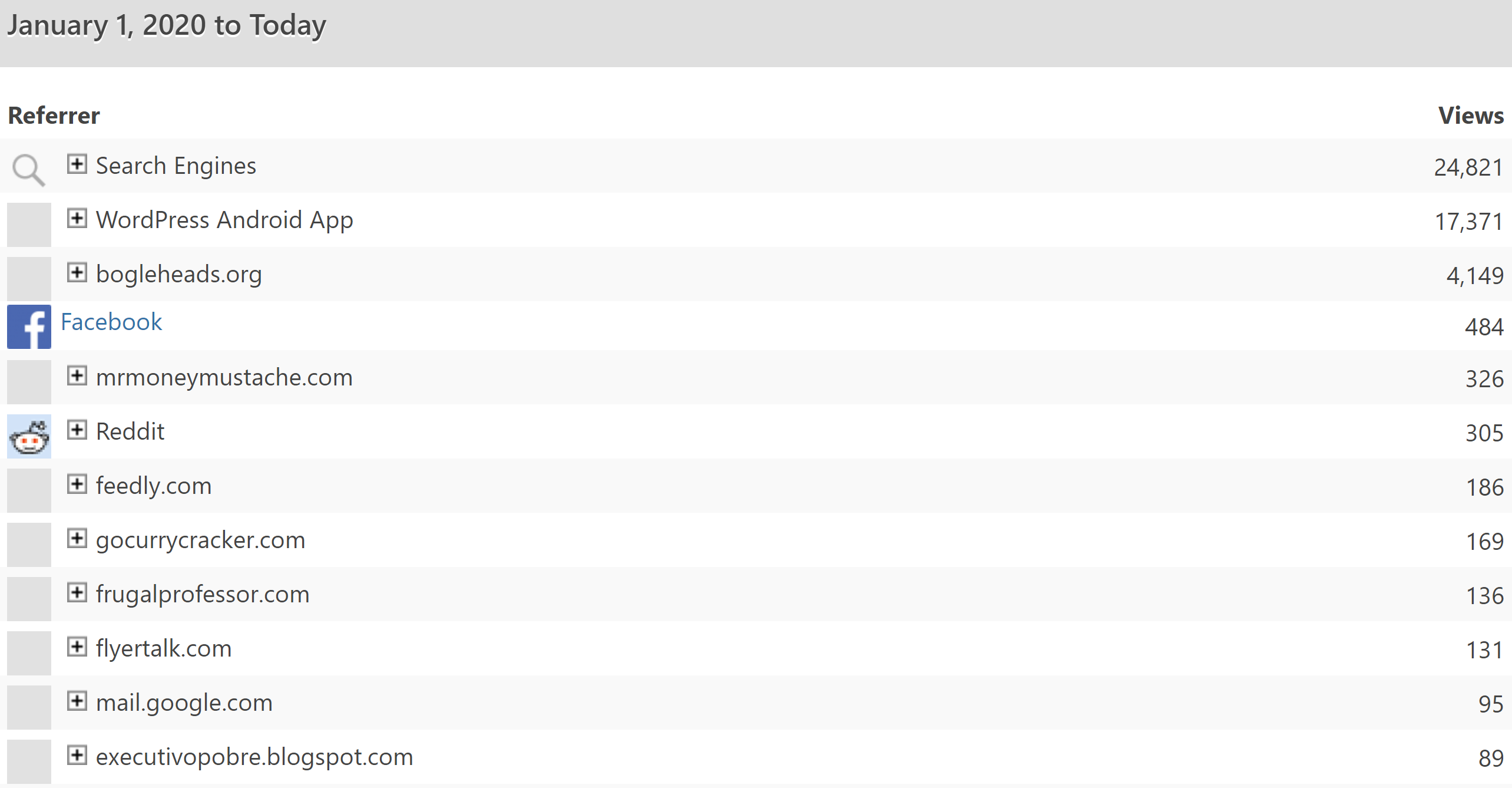 Traffic sources. I refuse to use social media because it makes me dumber. I am a bit surprised that the blog isn't more frequently shared organically on social media channels like Reddit/FB.


Total 2020 Amazon affiliate income. I'm not sure what a bounty is, but I think it has to do with someone signing up for a service (like audible) after reaching Amazon through my blog.


2020 geographic dispersion of visitors. Not terribly informative, though I'm happy to have received traffic from North Dakota!


My sheep dog biking video attracted 20k views, or 577 hours of watch time. I have 34 YouTube subscribers. I remain convinced that this video will be my most lasting legacy on Earth.
Conclusion
5 years in a phd program and 4.25 years as a professor have conditioned me to enjoy dissecting dissect data. It's evident that blogging is an archaic media that is subsumed by the juggernauts of social media. YouTube, in particular, seems particularly impactful.
If I cared more about increasing my reach, I'd probably focus on YouTube/Podcasts to do something more useful. Since I don't care to do anything different, I'll continue to publish at an anemic pace the random thoughts that cross through the synapses of my brain. Maybe I'll even capture another almost-mauled-by-an-animal video to add to the YouTube collection. For as much time as I spend backpacking in remote grizzly country each year, I sure hope that this doesn't come to fruition.
If nothing else, this blog is serving as an entertaining journal for me to look back on and remember things that I would have otherwise forgotten.