Another month, another update. A few random comments.
Good Reads/Listens/Watches
Due to my lack of bike commuting, I haven't listened to my usual podcasts this month. Consequently, my recommendation list is quite stingy this month. Also, my lack of bike commuting (and lack of climbing 3 days/week) has turned me into a sedentary individual. I'm slowly atrophying back to my scrawny steady-state being.
A poignant Daily Podcast (from NYT) episode in which they interviewed the owner of a successful NYC restaurant that is having to close it's doors (link).

The pandemic has (obviously) been especially harsh to certain industries. The randomness with which the economic fallout has hit is cruel.

We watched the SpaceX astronaut launch today. It was incredible. If you haven't seen it, I'd google it.
We watched The Last Dance (link).

I think I'm having (yet another) midlife crisis. Between watching The Last Dance and the SpaceX launch, I've declared to my wife that I'm either going to change careers (again) to become an astronaut / rocket scientist / or NBA superstar (I won't settle for mere NBA star). She was not amused.
Life
I was feeling antsy while locked down in quarantine so I encouraged the family to go on a bike ride to a nearby park. It went okay until FC2 took a fall near the end of the ride and broke her forearm. About $1k in bills are currently being processed by insurance for two x-rays (through primary care physician) and one cast (30 second consultation with orthopedic doc + 10 minute casting by assistant).
It's been interesting observing my university's response to the pandemic. The message is basically "We can't financially sustain ourselves without getting students on campus, so we'd better invite them back to campus and figure out the details later." I hope we can figure it out, but the latest guidance indicates that there isn't sufficient space in classrooms to facilitate social distancing so we may have to require that half of students attend Tuesday lectures and the other half Thursday lectures (with the non attending students doing online courses). Masks will be required for all students/faculty.

This begs the really interesting question: are parents going to send their kids to school under these circumstances? On the one hand, the current plan sounds like a sub-optimal college experience. On the other hand, if the alternative is their college-aged kids playing Xbox in their parents' basement for the next 12 months, perhaps college is the least bad option?
Here's a lively bogleheads thread discussing the above: https://www.bogleheads.org/forum/viewtopic.php?f=2&t=310020

We took a brief (socially distanced) trip out of state to keep from losing our sanity. It was nice to recharge the batteries in the mountains.

I went mountain biking for the first time in 20 years with my frugal brother. After a brutal 2k foot climb, we stumbled across a flock of about 100 sheep at the top of the mountain. We enjoyed the serenity of the scene for several minutes (first video below) before proceeding with the rest of our ride. When attempting to pass through the sheep (second video below), I was surprised by a pair of Great Pyrenees dogs, which caused me to soil my underpants (another $2.50 down the drain!).
The calm before the storm (30 second video).  
The storm. That first little bit was pretty intense; it turns out to be difficult keeping one bike between yourself and two dogs when the two dogs are on opposite sides of you. Also, I was terrified that a third (or more) dog would join the party. I was hoping some rancher would come riding by on a horse to call the dogs off but that didn't happen. We ended up sorting it out ourselves (by walking slowly around the flock while the dogs continued to harass us).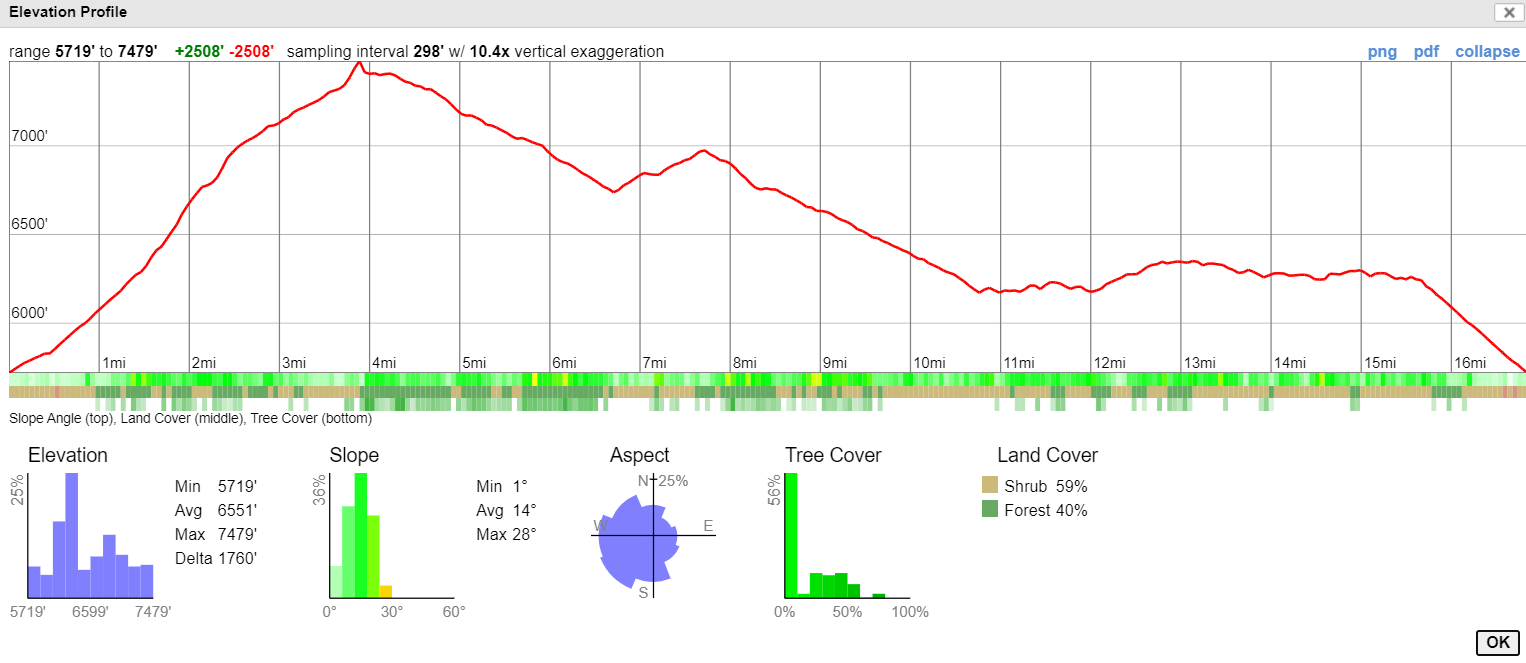 The bike ride was pretty hard. We hit the sheep at the very top of the climb.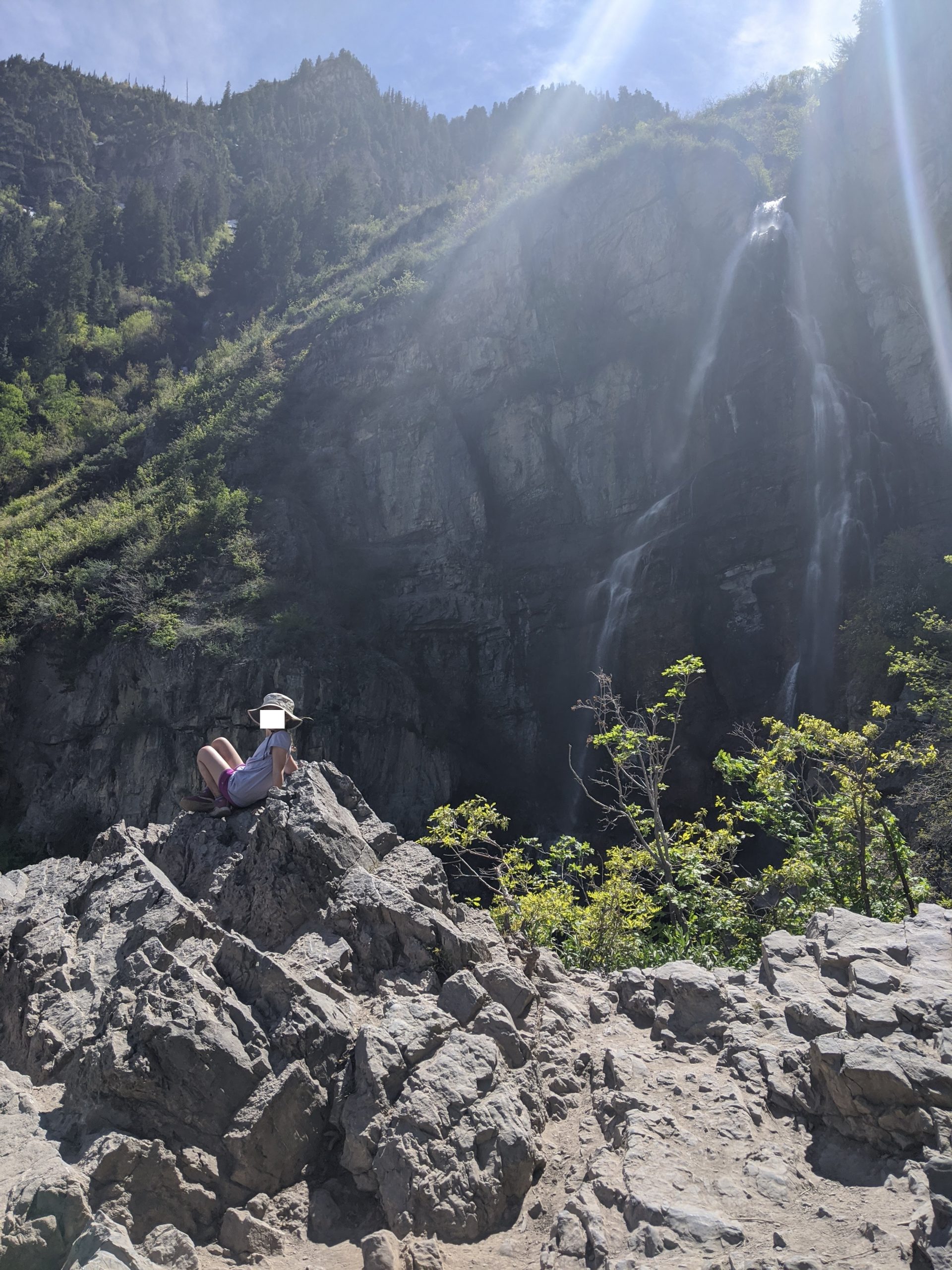 Mt Timpanogos / Sundance. Stewart Falls in background. Mt Timpanogos / Sundance is one of my favorite places on Earth.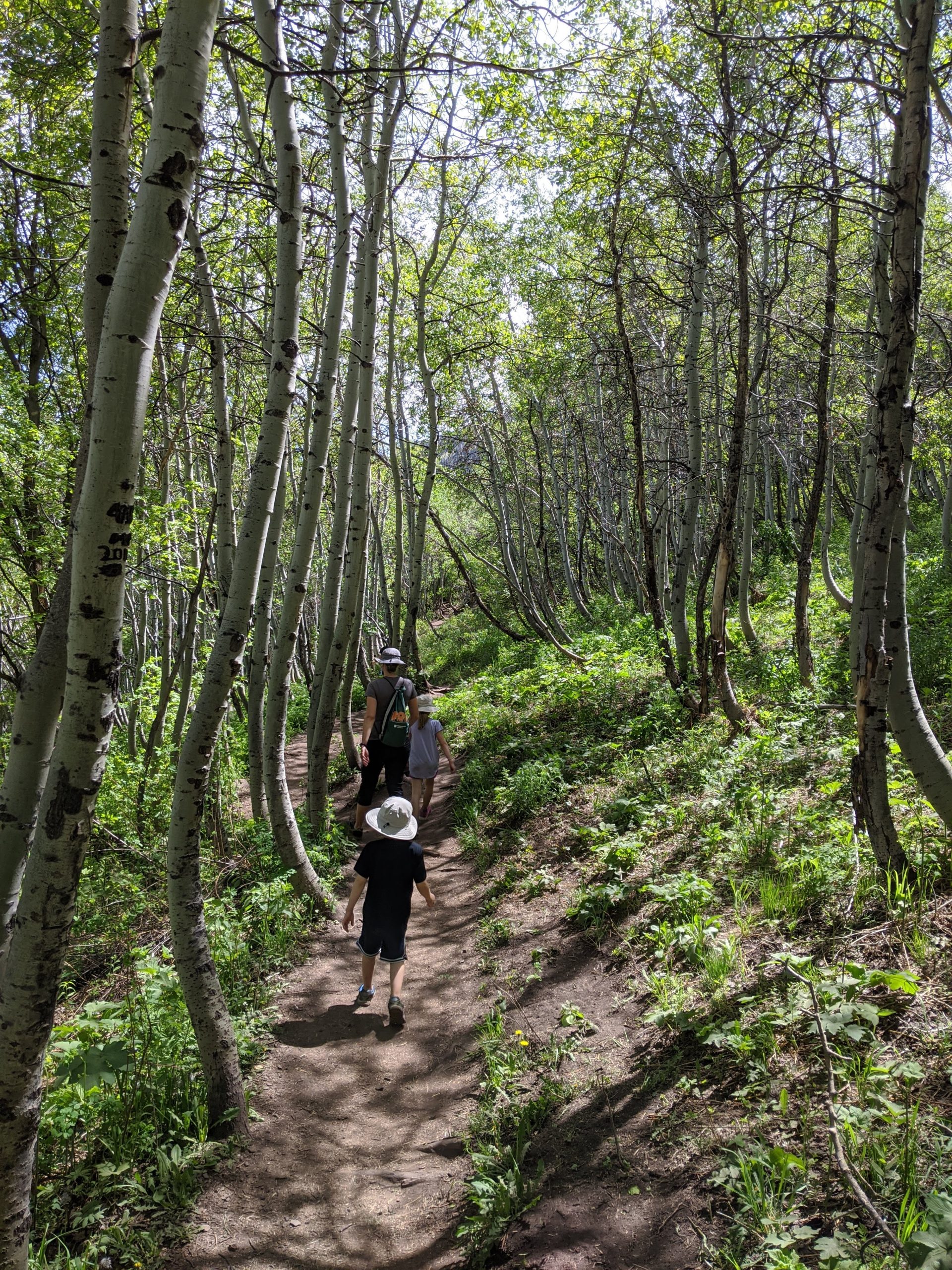 Hiking through an aspen grove on way to Stewart Falls. Utah is not ugly.

Back home, having fun in the creek before FC2's fateful broken arm.
This month's finances
The good:

No catastrophes.
Still employed…

The bad/abnormal:

$783 annual payment for homeowner's insurance with Esurance ($10k deductible).
$317 vet bill for unfrugal dog.

She got into our trash can and devoured an entire rotisserie chicken carcass.
The cumulative cost of dog ownership is converging on $5k in less than a year.

May this be a cautionary tale for those considering buying a dog; the initial purchase price is a drop in the bucket relative to the lifetime costs of owning a dog.

$160 semi-annual payment for car insurance with Geico.
$147 annual payment for $1M umbrella insurance policy with Geico.
Full version is downloadable here (link).

Footnotes:
Fidelity unambiguously has the best HSA on the market. $0 admin fees + $0 expense ratio funds.
I lazily approximate home value as my historical purchase price.
I have a 15Y mortgage which results in much larger principal payments than a 30Y mortgage. Since principal payments are simply transfers from one pocket (assets) to another (debt reduction), I treat such cash flows as savings.
~$0 cell phones described here.
All expenditures at Costco & Walmart are classified as "Food at home" for simplicity (even if it's laundry detergent, clothing, medicine, toys, etc).
Nobody knows the perfect asset allocation. Just pick one and run with it. Use a target date retirement fund as a benchmark if you want some guidance (link). If you prefer to DIY (as I do), then a three-fund portfolio is great (link).
My low portfolio expense ratio is the primary reason why I don't hold target-date funds, which have expense ratios anywhere from 0.16% to 1%. I can achieve a much lower expense ratio on my own due to Admiral shares, etc. And it's not hard. Plus, a DIY portfolio allows one to tax-loss-harvest more easily.
ETF's are slightly more annoying to hold relative to index funds. With ETF's, you must deal with bid-ask spreads as well as the inability to buy partial shares. With a simple index fund, you don't have to deal with either of these issues. Bogleheads discussion here (link).
I continue to own VTSAX rather than FZROX and in my taxable brokerage account because it is more tax efficient due to lower capital gains distributions. Bogleheads discussion here (link).
The one blight in my expense ratio analysis is my 529 plan. The underlying Vanguard fund is almost free to hold (0.02%), but the high administrative fees bring the total cost of holding the fund to 0.29%. I abhor fees and would likely avoid 529 plans if I didn't get to deduct up to $10k of contributions per year on my state return, saving myself $700/year in state income taxes.
CA's 529 plan has the lowest expense ratio US equity index fund of any in the US (link). I'd have 100% of my money here if not for the state tax deduction I receive in my own state.
I own one share of Berkshire Hathaway (B Class) for the sole purpose of getting 4 free tickets/year to Berkshire's annual meeting.
I bought 100 shares MoviePass for $0.0127/share to be able to tell my students that I held a stock that went to zero. So far, the stock price stubbornly remains above zero.
Disclaimer: This site is for entertainment purposes only, as disclosed here: https://frugalprofessor.com/disclaimers/