Succinct Version of the Blog Post (TL;DR):
If you have a high deductible plan:
and haven't hit your deductible (and are thus price sensitive)
and have an ailment that can be treated via telemedicine
Then this is a worthwhile tool that helped us out recently: https://www.goodrx.com/treatment. This blog post is also worth reading: https://www.goodrx.com/blog/telemedicine-true-cost-and-telehealth-price-comparison-chart/.
More rambling version of the above:
I recently listened to a podcast in which the podcast interviewee said that the industries most ripe for disruption over the coming decades are 1.) healthcare, 2.) education, and 3.) financial advising.
I'd love to provide the citation, but I frankly don't remember who said it. I think it may have been the host of the New Retirement Podcast being interviewed on another podcast. If I'm wrong, perhaps someone can correct me.
In any regard, I agree with whoever said that. Those industries are bloated, bureaucratic, and ripe for disruption.
Covid-19 has forced us to re-evaluate many aspects of our lives. Pre-Covid, many of us thought we couldn't work from home. Post-Covid, I now realize that I can teach reasonably well online using tools like Zoom and Vidgrid (with MS Paint and a simple Wacom tablet). In fact, one student left feedback for me this semester that they preferred the online version of me better than the real version of me because there were fewer Costco tangents in my online lectures. Ouch!!! (I consider myself in good company because Buffett and Munger couldn't stop raving about them at last year's Berkshire meeting). I guess my blogging is no different than my teaching; full of superfluous Costco references.
Another thing that Covid has may have taught us is that telemedicine is a viable form of treating some ailments. My primary care physician transitioned to part-time telemedicine during the peak of Covid (though I think he's since phased it out). Further, a member of the FP clan is seeing a (very expensive) counselor and those sessions transitioned to skype this month.
In May we took a quick trip out of state and a member of the FP clan needed to see a doc for a UTI. Naturally, I checked my insurer's website to see if there was anyone we could see that was in-network. UMR's website is miserable, so I called them instead and was told that the answer was "No." Our out-of-network deductibles/OOP max for my plan are twice the in-network deductibles/OOP max, so that's a bummer. We were basically on our own; familiar territory for those of us with high deductible plans.
I consulted Google for minute clinics in the area. One was well reviewed so I called them up and asked for pricing information. They quoted me at $85 for the baseline cost of the visit + $30 for an additional test.
I was about to pull the trigger on the local clinic when it occurred to me that my university has been pushing telemedicine on us lately (through brochures and such). The telemedicine company my employer preferred is Teladoc.com, which charges $49 per visit. Not convinced that the visit would appropriately count towards my deductible, I figured I'd Google to see if there were better alternatives. I came across this link: https://www.goodrx.com/treatment from our friends at GoodRx.
Obviously, telemedicine isn't going to be a solution for all ailments. Just sawed off your leg? A skype call to your doc isn't going to help you from bleeding to death. Need an appendix removed? Your skype doc isn't going to be able to help you out there. Too bad because that could have saved us $10k a few years back.
However, there is a reasonably long list of conditions that can be treated via skype. For example, here's a list of conditions for which GoodRx provides price comparisons (the list is not exhaustive):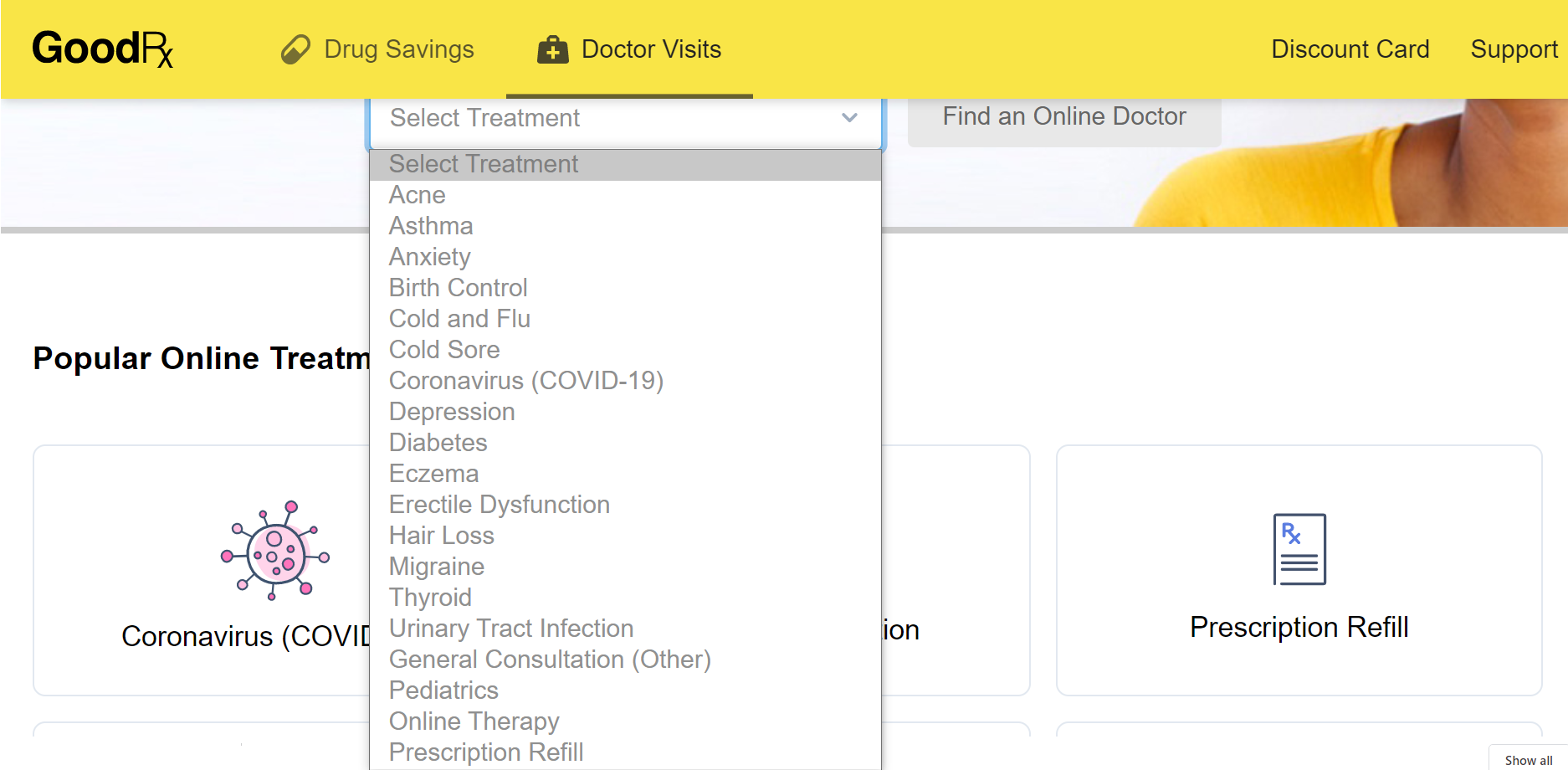 We ended up using this GoodRx comparison tool for the UTI (not #11).
Once you click the relevant ailment, it tells you which provider is cheapest. For the UTI, we got the following result: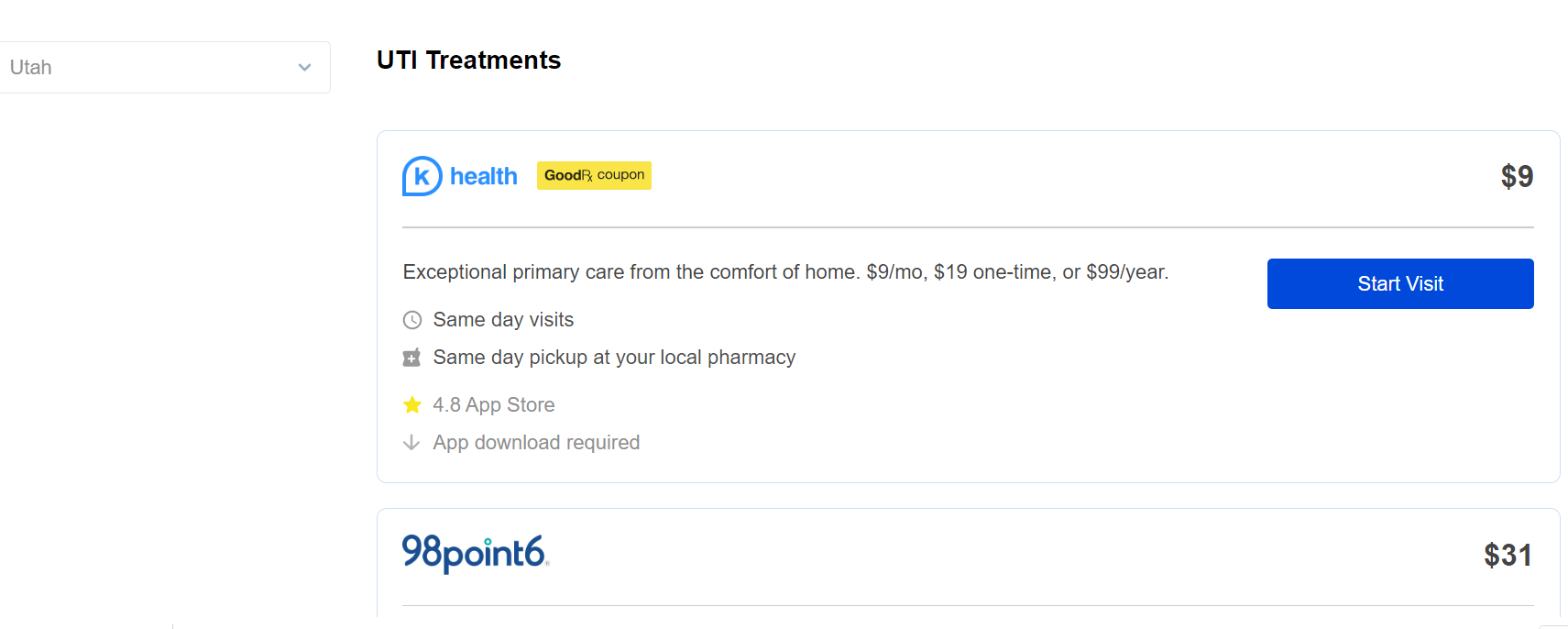 The website/app/company K health, which I'd never heard of before, was the cheapest for us so we went with them. I opted for the $19 one-time charge rather than the $9/month fee because I figured there was some sort of gotcha with the $9/month fee (perhaps I made a mistake).
In any regard, I paid the $19 on their website. They told us to download their app so we did so. We then entered basic info about symptoms via a text-based bot chat. After a 15 minute wait in the queue we proceeded to text chat (no audio/video) with a board certified doc. The doc sent a prescription to the pharmacy down the street which we picked up for $1.36 (less than the price of a Costco hot dog and drink). It was a reasonably slick transaction. I'd definitely do it again.
All in, we're out $19 + $1.36 = $20.36 to treat a UTI (that's less than two Costco pizzas after tax!).
Perhaps the doctor readers of the blog will tell chime in that I've done something reckless here by not going in to an in-person doc. But the family member has had UTI's before and says that the symptoms are similar to previous UTI's.
I can't imagine how much my parents paid in acne visits for me growing up. If my children have inherited my same misfortune, I will surely try telemedicine for their acne.
Conclusion
Just as Covid has dramatically accelerated our comfort level with Zoom meetings and online learning, it may be the catalyst to accelerate the acceptance of telemedicine. For a select list of ailments, it seems like a no brainer to try since it could potentially save you 80-95% of the cost of a conventional office visit.
This is only our second time using telemedicine; the first was a $10 visit few years back with CHI health. Both times the results were quite favorable.
Audience Poll
Has anyone had any success/horror stories with telemedicine in the past? Please share the company/website/app name if you remember.