Another month, another update. A few random comments.
Good Reads/Listens/Watches
Life
After owning the ebike for a week, I sold it on Craigslist to another professor for a $150 loss. Prior to selling it on Craigslist, I loaned it to a neighbor who has a 10 mile one-way commute and was somewhat interested in purchasing the bike. Though it accomplished the objective of getting him (and me) to work, we determined that the experience is most accurately described as "taking the soul out of bike riding."

I'm not a huge fan of Craigslist; I'm glad I wasn't killed by an ax murder.

Aside from the offer I accepted, I received a few super-low-ball offers and a few extremely generous offers from royal princes in Kenya who needed my banking info so they could wire me the money.

The experience reinforced something a real estate professor taught us during my MBA, which is that all money in real estate is made on the "buy" side of the transaction rather than the "sell" side. Once any thing (an ebike, in my case) is purchased, you're very unlikely to find a greater fool to sell it to at an above-market price.

It got cold in a hurry…as low as 15°F with wind chill. It snowed mid-October. Goodbye pleasant weather; hello darkness, my old friend.
Halloween is the best holiday ever invented. You're whole life you're taught "don't take candy from strangers because they might kidnap and murder you," but that guidance is temporarily lifted once a year for 3-hours of sugar filled euphoria. Even though we're in the middle of a global pandemic, we didn't have the heart to cancel Halloween for our kids.


Several neighbors got creative and constructed "candy chutes" to drop/slide candy down, helping to distance the candy giver from the candy receiver. I thought it was a pretty innovative solution until I realized that the process created a bottleneck with hoards of children clustering around the exit of the chute.
The most innovative approach to passing out candy that I saw was spreading it out haphazardly on the walkway. Relative to the above, the candy extraction process was quick and painless which prevented any bottlenecks.

Speaking of interesting observations, a group of mischievous teenagers was roaming the neighborhood exclusively raiding the "please take a couple" bins (including ours). My wife pointed out how interesting it was to see them at work, deliberately passing up on homes that were clearly giving out candy in-person because that would yield a lower candy-per-hour outcome (having to walk to the door, wait for the answer, etc).

We're two days away from the most divisive election in my (admittedly bad) memory. I'm hoping for a peaceful next few days, though I have my (hopefully unfounded) concerns….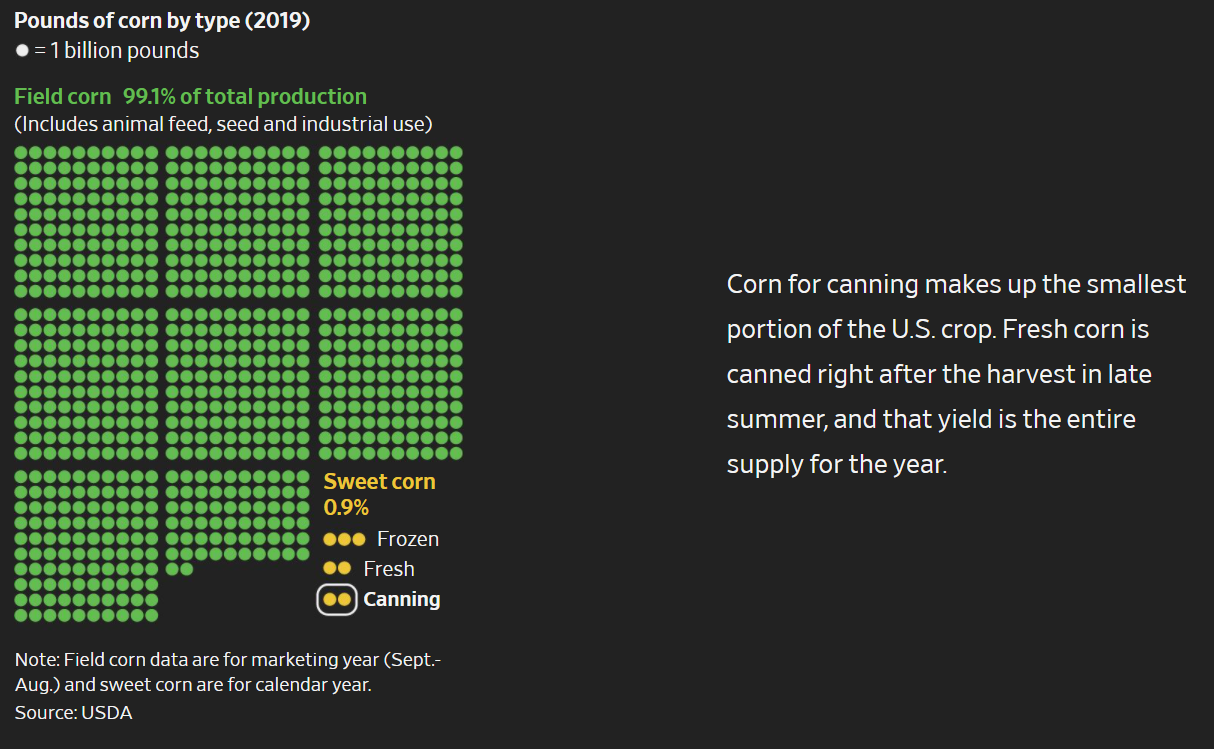 Source: WSJ. Growing up in CA, I envisioned those living amongst the vast midwest cornfields would practically bathe in sweet corn. The reality is much different, with 99.1% of corn production in the US being field corn that is primarily used to feed animals.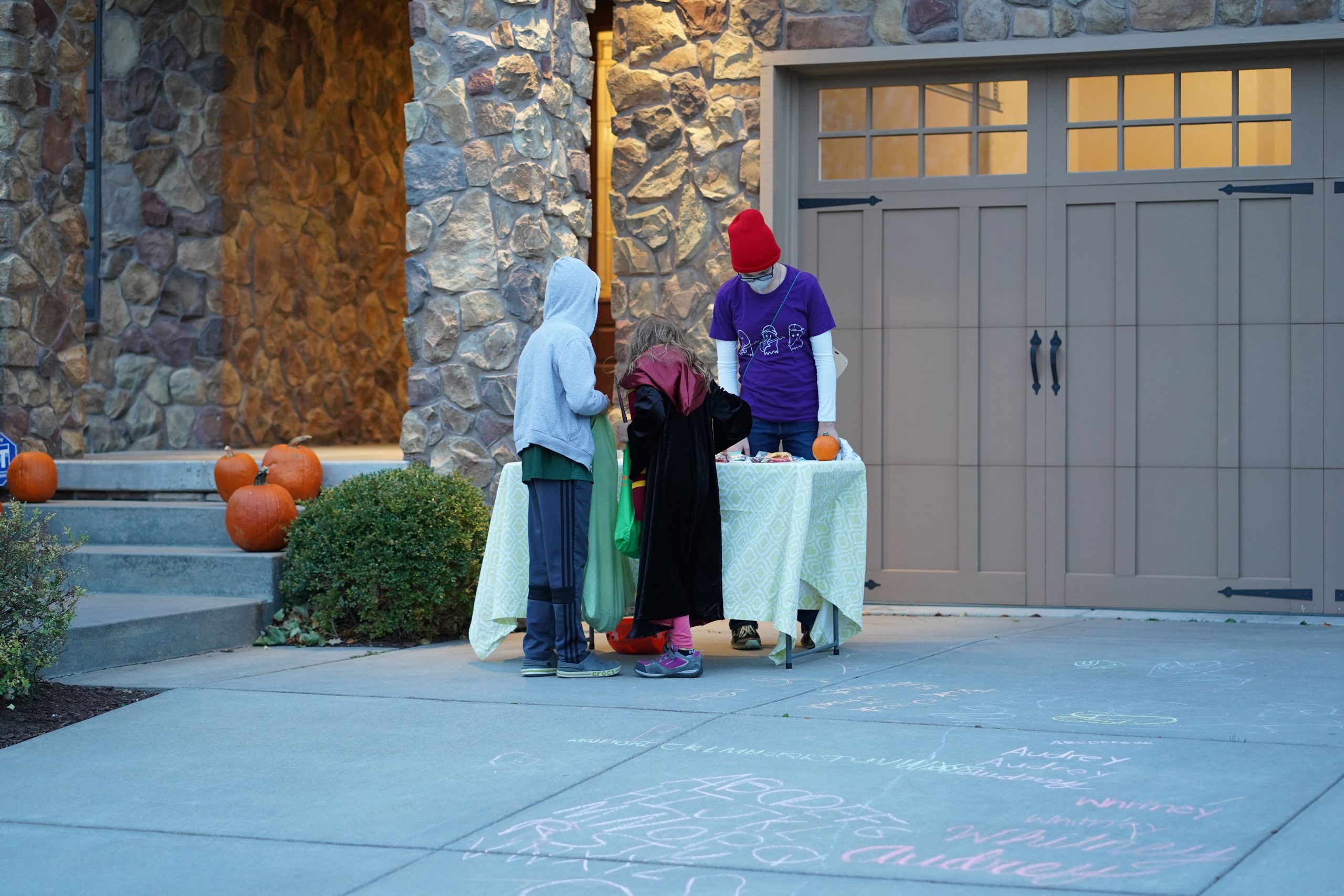 Many neighbors opted for the unmanned candy table out front, presumably because candy tables are more hygienic than candy bowls.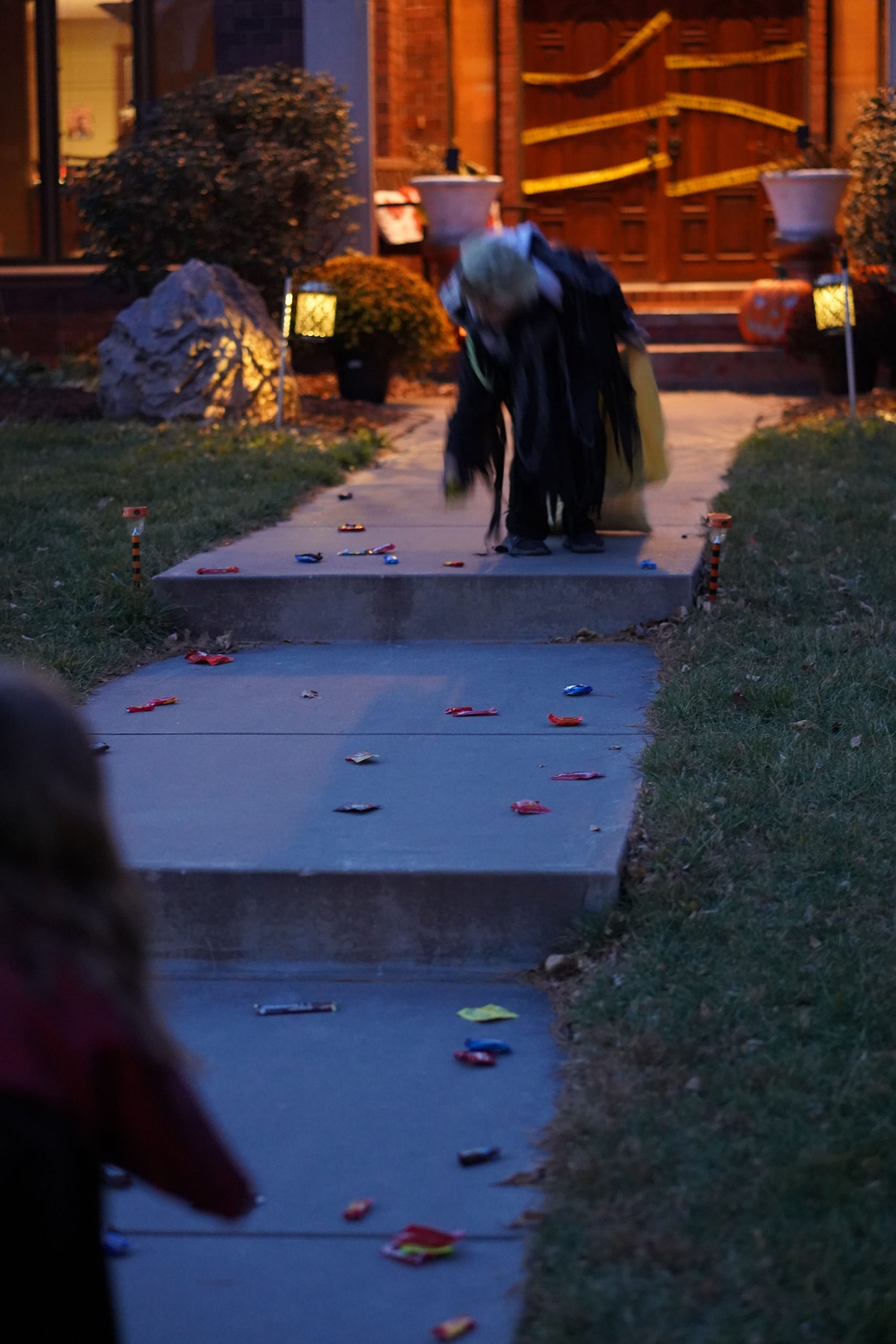 This was my favorite approach. Brilliant!

Pumpkin carving is not my favorite activity. Too messy, time consuming, kind of expensive, and after all the hassle our dog simply eats them. Our kids like it though.

Pretty impressive haul for FC3! Several people were giving out the big candy. I always loved those people as a kid. We almost made the transition from giving out small candy to big candy this year, but for some reason didn't pull the trigger. Next year……. Unrelatedly, FC3 has worn a hole in his right Croc. We should eventually replace that.


This Month's Finances
The mortgage refi created some wacky mortgage accounting this month. Since credits roughly equaled interest expense this month, I just zeroed out that line item. Any net cash received was an extraction of home equity accounted for in the statement of cash flows.
Getting the statement of cash flows, income statement, and balance sheet to reconcile with each other each month is a non-trivial task. I finally got it to reconcile perfectly this month — something I haven't done in quite some time. The process of creating these statements disciplines me into being mindful of every single penny of inflow and outflow during the month. Getting the statements to reconcile is a nice way to validate that every dollar of income/tax/expense has been properly accounted for.
Because I'm an idiot, I didn't tax loss harvest at the peak of Covid when I'd incurred large investment losses. I'm hoping to leverage the current market volatility over the remaining 60 days of 2020. Harvesting $3k of losses would save me about $1k in fed+state taxes this year.
The good:
The bad/abnormal:

Several thousand dollar Disney tax for future cruise.

When the cruise is cancelled due to Covid, we'll get a 25% credit to use towards future cruises, so I figure it's not a bad way of getting a 25% tax-free return in a zero-interest rate environment.

The more economically prudent approach, of course, would have been to not spend thousands of dollars in the first place….

$355 in total car registration fees.

Down from $398 last year! That's the advantage of driving 10Y old cars; the county penalizes those with new cars and has sympathy towards those of us with older cars.

$100 in winter gloves + Covid face masks.

We go through winter gloves like many households go through water.
FC4 chews holes in her face masks during school.  We should probably give her disposable masks instead.

$84 in frisbee golf discs.

Innova factory seconds here. Order 10 and get 20% off and free shipping. Not bad at all. Worked out to about $9/disc for their top-tier champion material discs.
Full version is downloadable here (link).

Footnotes:
Fidelity unambiguously has the best HSA on the market. $0 admin fees + $0 expense ratio funds.
I lazily approximate home value as my historical purchase price.
I have a 15Y mortgage which results in much larger principal payments than a 30Y mortgage. Since principal payments are simply transfers from one pocket (assets) to another (debt reduction), I treat such cash flows as savings.
~$0 cell phones described here.
All expenditures at Costco & Walmart are classified as "Food at home" for simplicity (even if it's laundry detergent, clothing, medicine, toys, etc).
Nobody knows the perfect asset allocation. Just pick one and run with it. Use a target date retirement fund as a benchmark if you want some guidance (link). If you prefer to DIY (as I do), then a three-fund portfolio is great (link).
My low portfolio expense ratio is the primary reason why I don't hold target-date funds, which have expense ratios anywhere from 0.16% to 1%. I can achieve a much lower expense ratio on my own due to Admiral shares, etc. And it's not hard. Plus, a DIY portfolio allows one to tax-loss-harvest more easily.
ETF's are slightly more annoying to hold relative to index funds. With ETF's, you must deal with bid-ask spreads as well as the inability to buy partial shares. With a simple index fund, you don't have to deal with either of these issues. Bogleheads discussion here (link).
I continue to own VTSAX rather than FZROX and in my taxable brokerage account because it is more tax efficient due to lower capital gains distributions. Bogleheads discussion here (link).
The one blight in my expense ratio analysis is my 529 plan. The underlying Vanguard fund is almost free to hold (0.02%), but the high administrative fees bring the total cost of holding the fund to 0.29%. I abhor fees and would likely avoid 529 plans if I didn't get to deduct up to $10k of contributions per year on my state return, saving myself $700/year in state income taxes.
CA's 529 plan has the lowest expense ratio US equity index fund of any in the US (link). I'd have 100% of my money here if not for the state tax deduction I receive in my own state.
I own one share of Berkshire Hathaway (B Class) for the sole purpose of getting 4 free tickets/year to Berkshire's annual meeting.
I bought 100 shares MoviePass for $0.0127/share to be able to tell my students that I held a stock that went to zero. So far, the stock price stubbornly remains above zero.
Disclaimer: This site is for entertainment purposes only, as disclosed here: https://frugalprofessor.com/disclaimers/