A colleague of mine recently got a 2% 15Y mortgage from Better. Since I have a 2.25% 15Y mortgage, it piqued my curiosity.
Here's how interest rates have been behaving lately: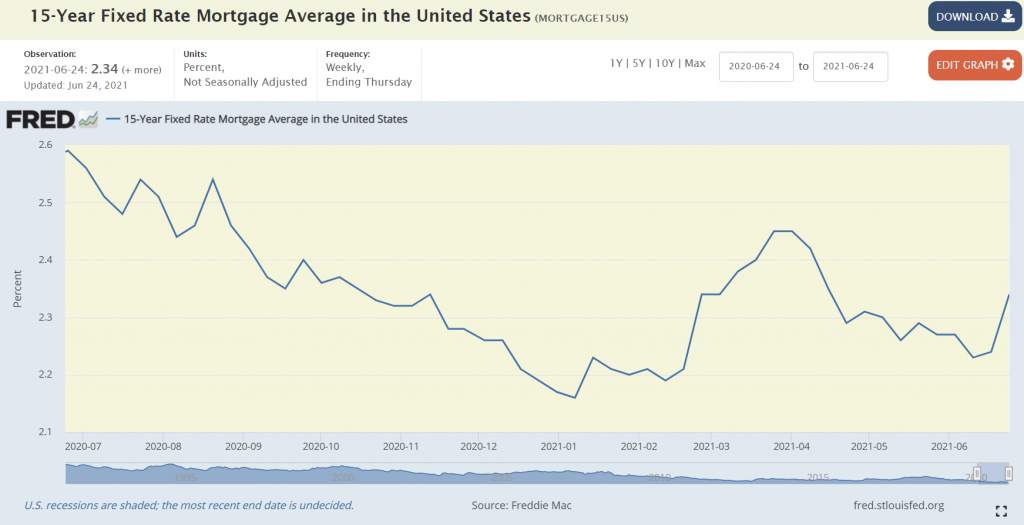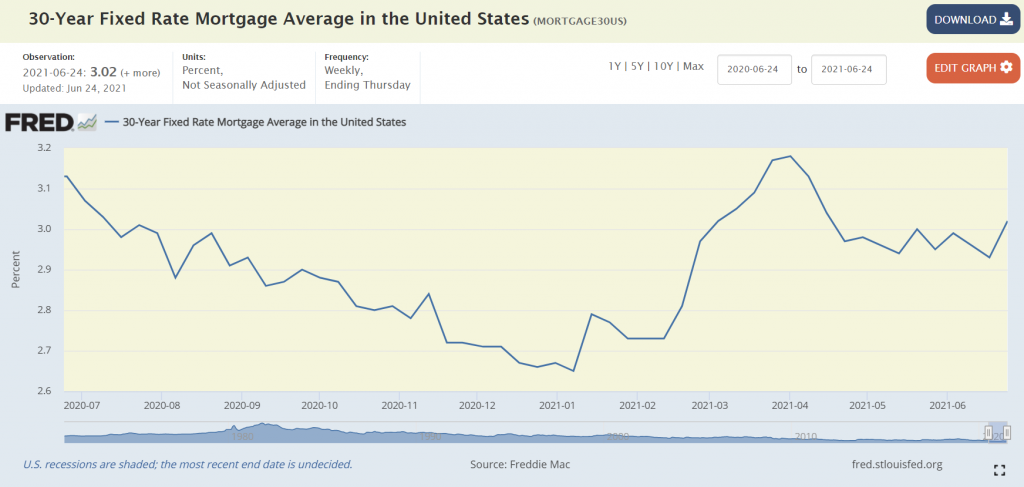 My last refi was about 9 months ago, but I applied last month to Better. Their rates were not competitive relative to my current rate.
A couple weeks back, I learned about a $2k (or $6k for jumbo) promotional Amex/Better credit (link to offer and link to bogleheads thread), which can certainly improve the economics of refinancing. I reapplied this month and was happy to see competitive offers (especially in light of the $2k credit). I was lucky enough to lock before the recent increase in rates.
By refinancing, I'll be lowering my rate from 2.25% 15Y to 2% 15Y. I'll also be paid about a grand to do so (after accounting for the Amex credit). I'll save about $4k in interest over the life of the loan (in present value terms). Combined, I'll come out about $5k ahead (in today's dollars).
I had a hard time deciding between the different options in my Better rate table (e.g. what is the optimal amount of points to pay), so I naturally built a spreadsheet to help me decide.
========> You can download the model here <============
Relevant model input parameters:
Everything in yellow. Pretty basic stuff. Grey cells are computed for you. You shouldn't need to touch them.

How long until you sell the house is a really important parameter to the model (Cell C9). Obviously, the longer (shorter) you stay in the house, the more (less) sense it makes sense to pay points.
Another important parameter is the discount rate, meaning the expected return you think you can get on your investments. The higher (lower) the discount rate, the (less) more it makes sense to pay points.
Cells F12:J15
Relevant model output parameters:
Row 18:

Cells F18:J18 tell you, in today's dollars, the net benefit of refinancing for each of the different options.
Cells M18:P18 compute the effective return earned (IRR) on dollars invested on points going from one interest rate to the next.

It obviously makes sense to invest in points to the extent that this IRR exceeds your expected return on investments (cell C6).
Images of the model:


Here's what the model inputs look like. Excuse the ugly grey line down the middle of the image.


Here's how much better off you'll be, in today's dollars, for each refinancing option.


Here's where the return on each incremental point is calculated. For example, paying $1,178 (or receiving $1,178 less in credits) to get from 2.25% to 2.125% produces an effective return of 10.9% based on the input parameters. Since 10.9% is a phenomenal guaranteed return, this is a no-brainer for me. Same for the next column over to get to 2%. Before closing, I may convince myself to lock in the 5.6% and 5.1% returns by paying more points.
I think I've convinced a few friends to refinance. One of them is coming out $50k ahead on a jumbo refi even though the interest rate change is relatively modest (< 1%).
I still don't pretend why anyone is willing to loan me money at 2% when inflation is very likely to surpass that. If true, I'll be borrowing at less than zero in real terms. I could get used to that.
Happy refinancing….?
Edit
Oh yeah, I forgot to mention that if you don't already have an Amex, you'll need to get one. I fell into this camp, so I signed up for the $0 annual fee one. There are better cards out there with better offers (like this one), but I didn't want to deal with cards with $550 annual fees.
Edit #2:
Here is the exact timing of how it worked:
6/14: Locked 15Y 2% $233k refi & applied for my first

Amex

 card.
7/12: Closed (could have been sooner but was out of town)
7/16: Funded
7/22: $2k

Amex

credit hit.

Called 800 528 4800 to request reimbursement after secure chat failed to help (I don't plan on using the 

Amex

much at all). The system was unable to send a check for the full $2k, but was finally able to send a check for the $2k minus my current $300 balance, for a check of $1,700. Knowing now what I know, I should have simply requested the $1,700 check as explained here: https://www.americanexpress.com/us/customer-service/faq.credit-balance-refund.html