Offer Summary
On June 23, I got the following email from BoA offering to give me free money via their Premium Rewards card. I took them up on it.
Upon reading more about the offer online, it is apparently not targeted (meaning that all with the card can pursue it, whether you got the email or not).
Here's the Doctor of Credit discussion on the offer (link).
Here's the bogleheads discussion on the offer (link).
Mechanics
Spend $50 on the Premium Rewards card by 12/31/20 on Groceries/Restaurants and get a $50 statement credit a few weeks later.
How the timing worked out for me
6/23: Got the email offer
6/24: Spent $50 on groceries
7/4: Statement closed
7/25: Received $50 credit (31 days after spending the money)
Screenshots for the curious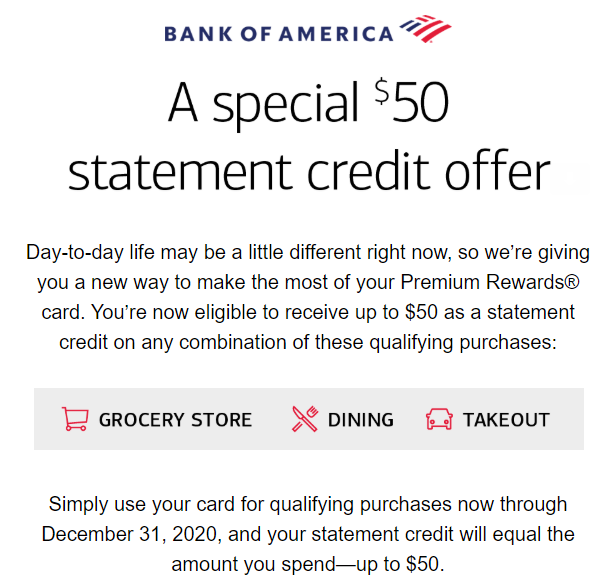 Original email offer received on 6/23, apparently before it became available to everyone.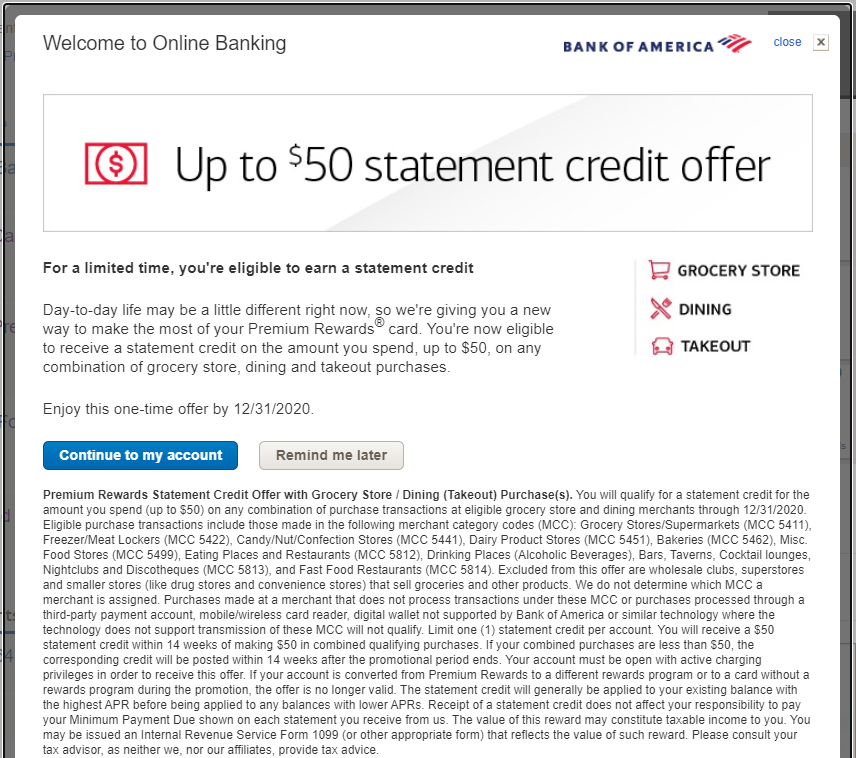 Screenshot taken today (7/27) immediately after logging onto BoA's website.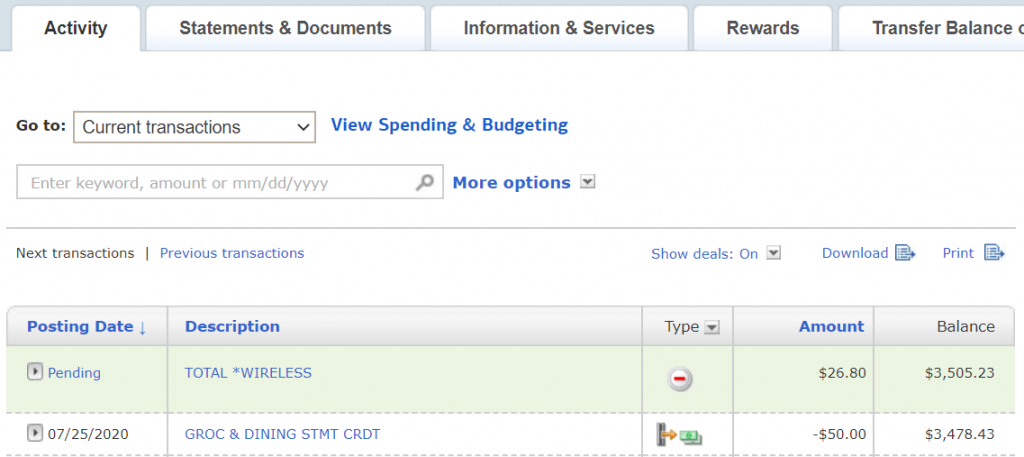 Lest someone think I've gone rogue with the non-Tello/Xfinity mobile transaction on my statement, it's the purchase of a $26.80 Samsung Galaxy S7 (link) to be used in wifi-only mode by a frugal child for audiobooks (via Overdrive), pandora, camera, google photos, texting, and email. We have parental controls set up on each device through Google's excellent Family Link program (link). It's a darn capable device for $27 + $0/month after. This is the third unit I've purchased. Since wifi is ubiquitous at home/school, we've yet to really encounter a need to pay for our kids to have real cell phone plans. When we eventually cross that bridge, we'll do what I've been recommending for ages; either Xfinity (essentially $1/month in extra taxes, conditional on having a fancy pants phone) or Tello prepaid (essentially $1/month for emergencies).
The most recent Total Wireless transaction (not this one) I used the cash rewards card for the 5.25% rewards, but ended up getting hosed with a 3% foreign transaction fee and only earning 1.75% cash back. It's annoying when you find out by looking at your bank statements that you've accidentally incurred that 3% FTF fee. The same happened to me when I bought the $830 mountain bike a year ago. Luckily, BoA reversed the FTF for that transaction and I still earned the 5.25% rewards.
Fine print of the offer for the curious
Premium Rewards Statement Credit Offer with Grocery Store / Dining (Takeout) Purchase(s). You will qualify for a statement credit for the amount you spend (up to $50) on any combination of purchase transactions at eligible grocery store and dining merchants through 12/31/2020. Eligible purchase transactions include those made in the following merchant category codes (MCC): Grocery Stores/Supermarkets (MCC 5411), Freezer/Meat Lockers (MCC 5422), Candy/Nut/Confection Stores (MCC 5441), Dairy Product Stores (MCC 5451), Bakeries (MCC 5462), Misc. Food Stores (MCC 5499), Eating Places and Restaurants (MCC 5812), Drinking Places (Alcoholic Beverages), Bars, Taverns, Cocktail lounges, Nightclubs and Discotheques (MCC 5813), and Fast Food Restaurants (MCC 5814). Excluded from this offer are wholesale clubs, superstores and smaller stores (like drug stores and convenience stores) that sell groceries and other products. We do not determine which MCC a merchant is assigned. Purchases made at a merchant that does not process transactions under these MCC or purchases processed through a third-party payment account, mobile/wireless card reader, digital wallet not supported by Bank of America or similar technology where the technology does not support transmission of these MCC will not qualify. Limit one (1) statement credit per account. You will receive a $50 statement credit within 14 weeks of making $50 in combined qualifying purchases. If your combined purchases are less than $50, the corresponding credit will be posted within 14 weeks after the promotional period ends. Your account must be open with active charging privileges in order to receive this offer. If your account is converted from Premium Rewards to a different rewards program or to a card without a rewards program during the promotion, the offer is no longer valid. The statement credit will generally be applied to your existing balance with the highest APR before being applied to any balances with lower APRs. Receipt of a statement credit does not affect your responsibility to pay your Minimum Payment Due shown on each statement you receive from us. The value of this reward may constitute taxable income to you. You may be issued an Internal Revenue Service Form 1099 (or other appropriate form) that reflects the value of such reward. Please consult your tax advisor, as neither we, nor our affiliates, provide tax advice.