The commenting functionality was broken for a bit. Sorry about that. I'm pretty sure it's fixed now. 
Another month, another update. A few random comments.
Good Reads/Listens/Watches
Life
We drove to California then flew to Maui for a little over a week.
A few memories from Maui:

We rented a 1-bedroom unit on the beach with three beds. 7 people / 3 beds = 2.3333, so I slept on the floor with my camping pad.
We went to Costco several times during the trip. I was pleasantly surprised to find much of the prices to be comparable to "the mainland."

We ate a few Costco pizzas alongside the wild chickens roaming the food court.

I loved the vibe of "island life."
Overall, the trip was pretty cheap. Flights were < $200/person from SFO. The 1-bedroom beachside AirBnb was dirt cheap, especially after the $400 mouse rebate (more on that below). Activities were cheap (beach is free, snorkeling is zero marginal cost, etc).

FC1 started a job at Chick-fil-A. It is located less than a mile away so she can bike there without any issues. She receives a $9 food voucher at the end of each shift and is enjoying it so far.

For every $100 gross she makes, she pays $6.20 in Social Security and $1.45 in Medicare, leaving her with $92.35 net of payroll taxes. The arrangement I've made with her is that I "match" the 7.65% to get her back to $100 gross if she contributes the $100 a Roth. I think it's a pretty good system.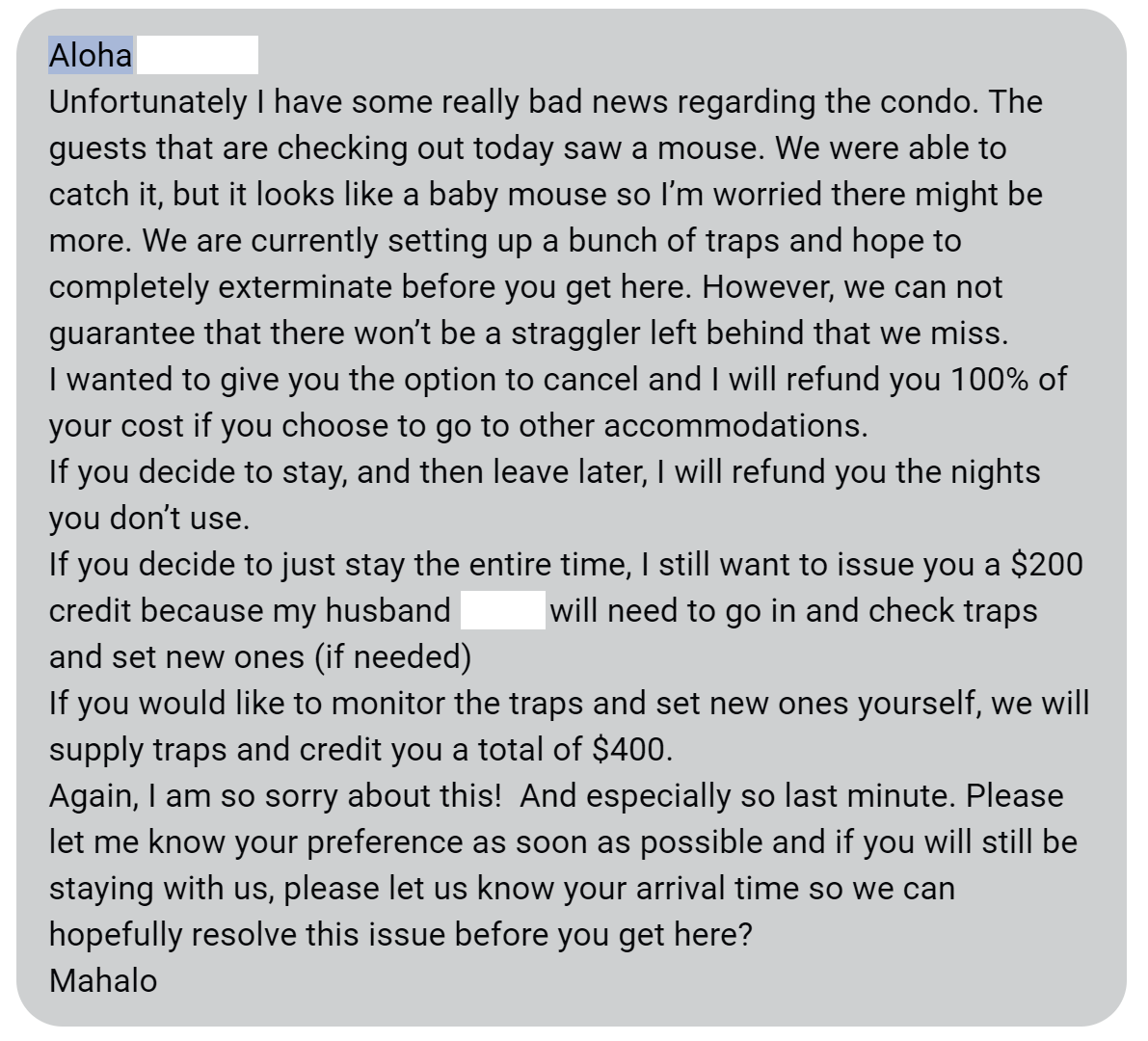 Upon landing, I turned on my phone during taxiing and saw this disconcerting text from our AirBnb host. We took the $400 credit and luckily enjoyed a mouse-free stay, though I was a bit apprehensive to sleep on the ground….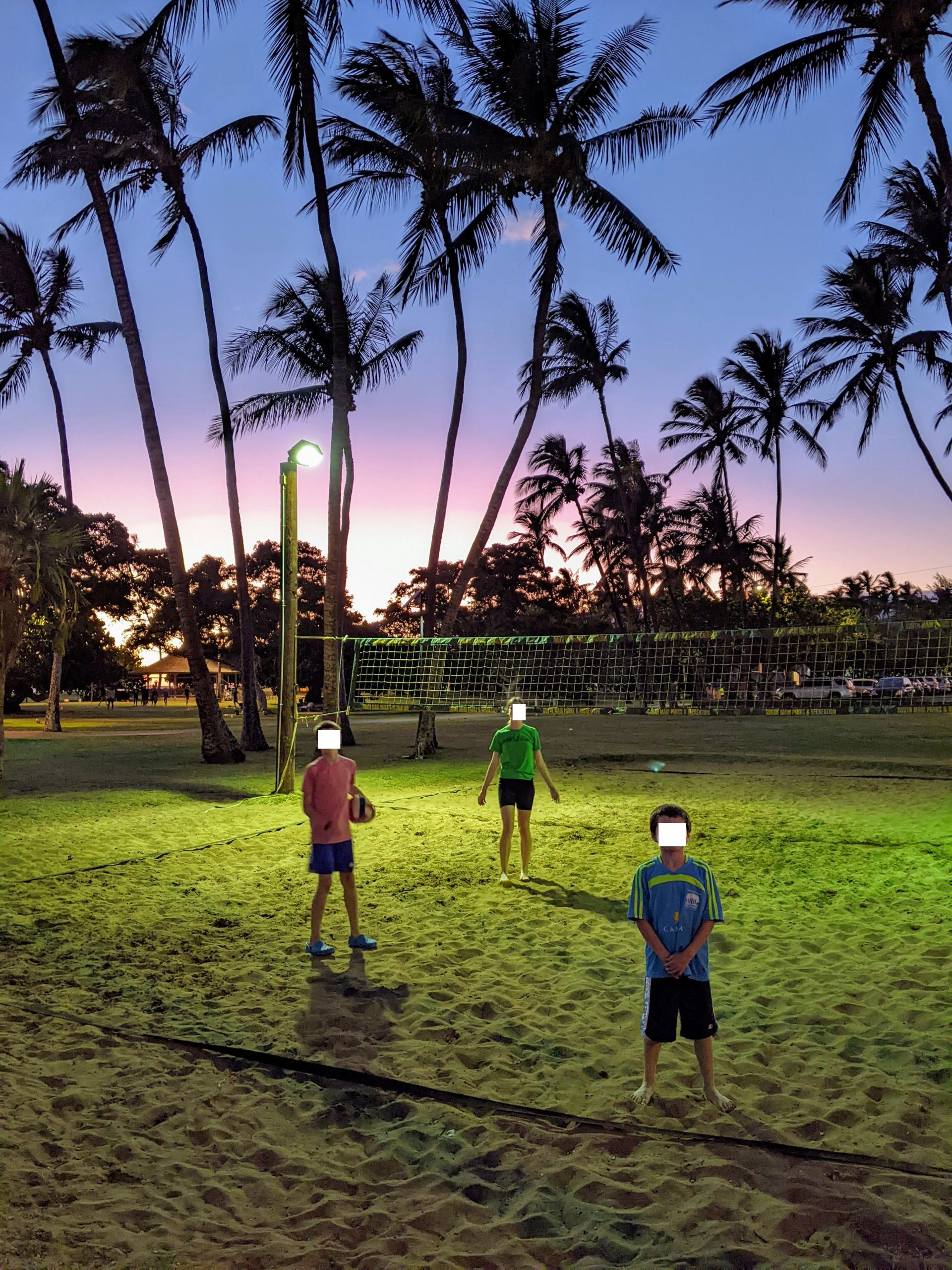 We played a lot of sand volleyball at the courts across from our condo. We weren't very good — our longest rally was probably 3 hits over the net — but we had a really fun time nonetheless.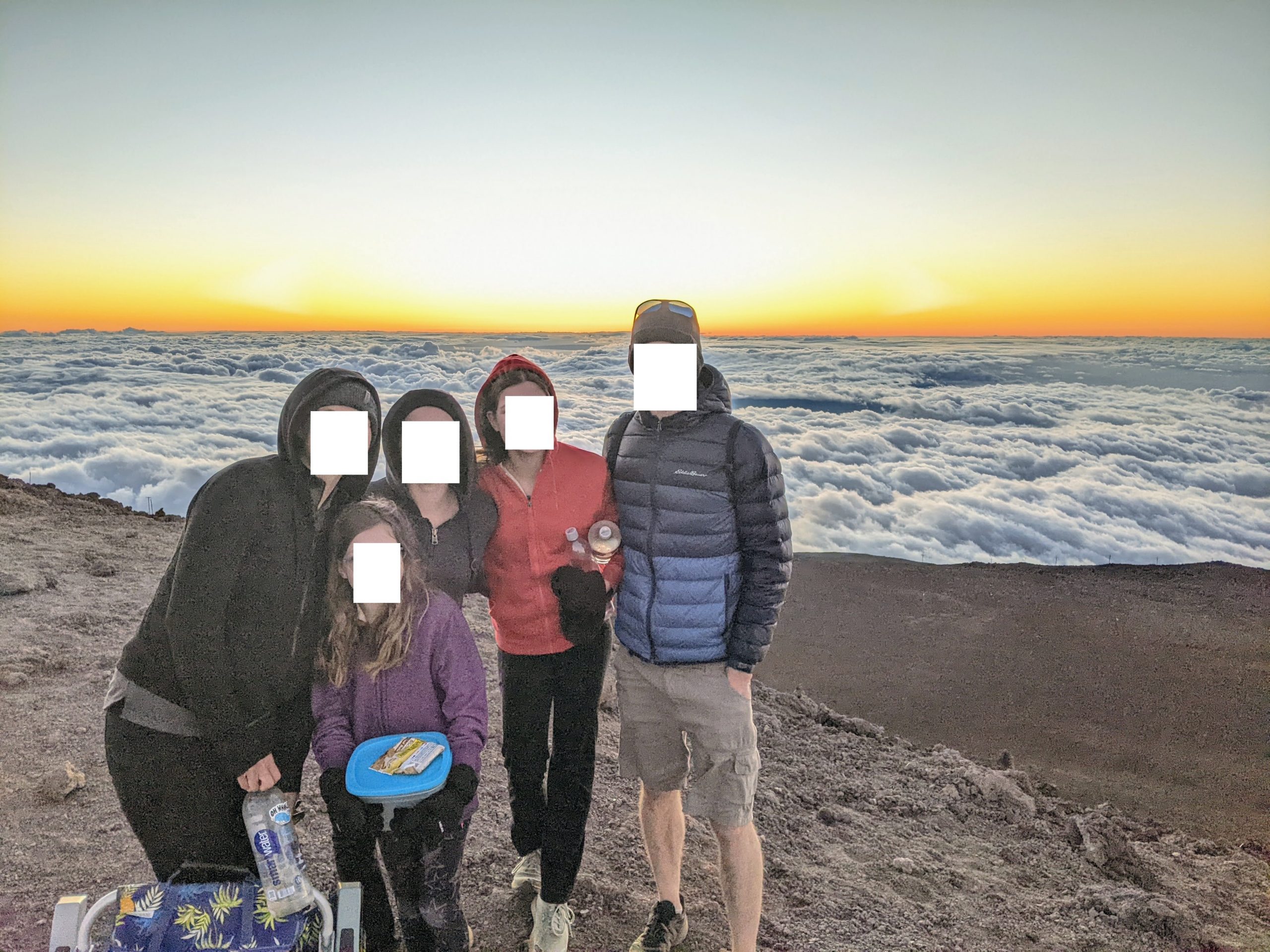 Sunset on top of the world (top of Haleakala National Park at 10k feet). It was a bit surreal climbing 10k vertical feet in a few hours. After reaching  the parking lot at the summit, we walked a little less than a mile (descending ~500 feet?) to use the bathrooms at the parking lot below. When we got to the restrooms, a park ranger informed us that our car alarm was going off at the parking lot above. Embarrassed out of my mind, I attempted to run back to the van to turn off the alarm. While I started off the run quite strong, the 10k feet of elevation quickly took its toll. Suffice it to say, I did plenty of walking back to the van to sheepishly turn off the alarm.



FC5 surfing at sunset.

FC2 taking the plunge.




Costco food court. $9.95 pizza for the win.




Food court chickens, not to be confused with the $4.99 variety located in the store.




The "road to Hana." I am told by my wife that the drive was pretty, but I wasn't able to enjoy it out of fear of driving off the cliff and killing the seven of us.




Bamboo forest at en route to Wailua Falls.



FC1 and I ran ~4 miles round trip across the golden gate bridge. The rest of the fam did the one-way walk across. It was memorable. An SUV parked at our lot was broken into. It's a shame how common those grab-and-go thefts are.



FC1 receiving her fortune from a demonic fortune teller at Fisherman's Wharf. I didn't get a good picture of it, but there were several execution reenactment scenes in other arcade machines (hanging, guillotine, etc.). Hopefully our kids are not emotionally scarred for life.

FC3 learning the "thrill" level of his kiss. The options were: Uncontrollable, Hot Stuff, Passionate, Burning, Sexy, Wild, Mild, Harmless, Clammy, and Blah. I think he landed on Mild. I hope it stays that way for a looooooong time.




Muir Woods. The kids did the Jr Ranger program. The National Parks/Monuments are one of the best things that our federal government has done.


Castlewood Canyon State Park, South of Denver.



Hanging out at the Zoo.




FC5 hanging out with his favorite animal.




FC1 in uniform.


This Month's Finances
I'm sitting on $9k in unrealized capital losses. I should probably tax-loss harvest again.
The good:

Still employed.
$369 executive membership rebate check, implying $18,450 of annual spend at Costco.

I redeemed via cash through the purchase of 1 banana, effectively augmenting the bonus by 5.25% (~$20) through BoA credit card rewards.
I'm unsure what portion, if any, of our large prescription expenses filled at Costco count towards the 2% rebate. I'll have to investigate this further….

The bad/abnormal:

$611 in gas.
$400 to some friends who watched the dog for us. The best money we spent all month!
$2,200 in "other expenses":

$730 minivan rental in Maui.
$416 (more) in summer sports camps.
$345 in running shoes for FC1.

They went on sale so we bought 4 pairs. Running shoes are expensive.

$187 in airfare for a trip for Mrs FP.
$140 in baggage fees, which I loathe.
$135 parking at SFO. ParkSFO was great. 

Full version downloadable here (link).  

Footnotes:
Fidelity unambiguously has the best HSA on the market. $0 admin fees + $0 expense ratio funds.
I lazily approximate home value as my historical purchase price.
I have a 15Y mortgage which results in much larger principal payments than a 30Y mortgage. Since principal payments are simply transfers from one pocket (assets) to another (debt reduction), I treat such cash flows as savings.
~$0 cell phones described here.
All expenditures at Costco & Walmart are classified as "Food at home" for simplicity (even if it's laundry detergent, clothing, medicine, toys, etc).
Nobody knows the perfect asset allocation. Just pick one and run with it. Use a target date retirement fund as a benchmark if you want some guidance (link). If you prefer to DIY (as I do), then a three-fund portfolio is great (link).
My low portfolio expense ratio is the primary reason why I don't hold target-date funds, which have expense ratios anywhere from 0.16% to 1%. I can achieve a much lower expense ratio on my own due to Admiral shares, etc. And it's not hard. Plus, a DIY portfolio allows one to tax-loss-harvest more easily.
ETF's are slightly more annoying to hold relative to index funds. With ETF's, you must deal with bid-ask spreads as well as the inability to buy partial shares (Fidelity now offers fractional shares). With a simple index fund, you don't have to deal with either of these issues. Bogleheads discussion here (link).
I continue to own VTSAX rather than FZROX and in my taxable brokerage account because it is more tax efficient due to lower capital gains distributions. Bogleheads discussion here (link).
CA's 529 plan has the lowest expense ratio US equity index fund of any in the US (link). I'd have 100% of our 529 money there if not for the state tax deduction we receive in our own state.
Disclaimer: This site is for entertainment purposes only, as disclosed here: https://frugalprofessor.com/disclaimers/