With domestic markets down 12% YTD, now might be a good time to think about tax-loss harvesting (TLH'ing).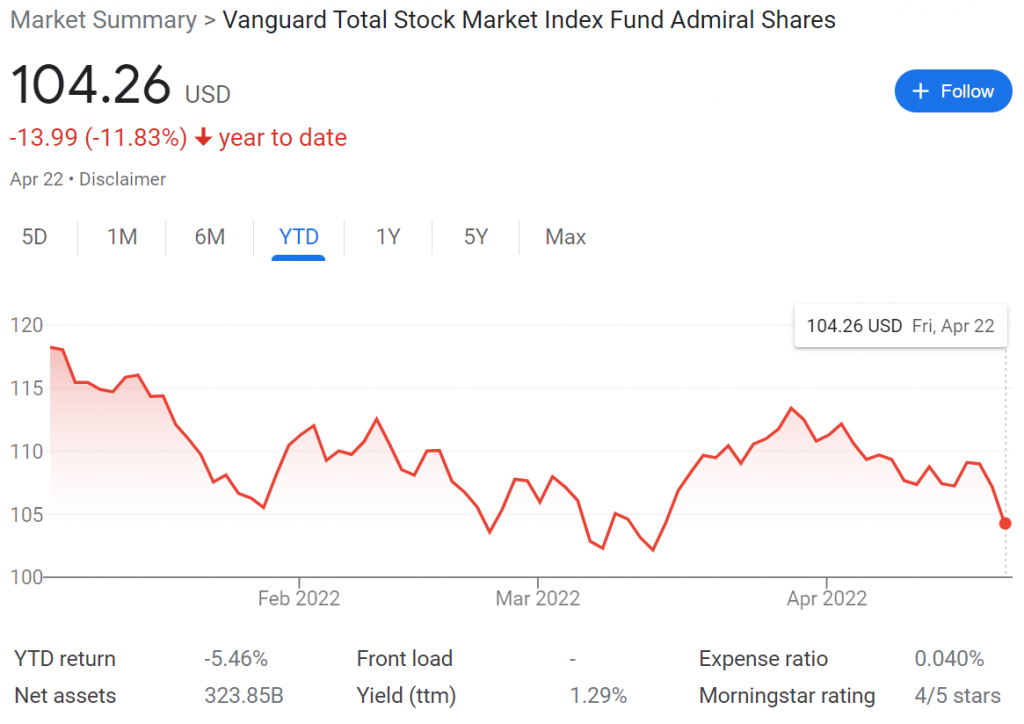 For the uninitiated, here is a good overview of TLH'ing: https://www.bogleheads.org/wiki/Tax_loss_harvesting.
That said, I think it is a largely unproductive endeavor, as I've blogged about here: https://frugalprofessor.com/tax-loss-harvesting-is-overrated/.
Despite convincing myself in the above blog post that TLH'ing is largely an unproductive endeavor, I decided to try my hand at it this year. Thus far, I've performed three distinct TLH transactions.
TLH #1 — Jan 26 — The unconventional TLH (Taxable Brokerage VTSAX => IRA + 529)
Early this year, I sold ~$20k of taxable investments at a small loss to front-load my IRA and 529 contributions for the year. This was an unconventional TLH that I'd never read about before, but frankly was my favorite TLH experience this year. I received all of the benefits of TLH'ing without the baggage (e.g. the higher cap gains taxes downstream or being stuck with less desirable "TLH partner" forever). I would unambiguously recommend this strategy to anyone.
TLH #2 — Feb 24 — The conventional TLH (Taxable Brokerage VTSAX => Taxable Brokerage VLCAX)
Here, I did the conventional TLH from VTSAX to VLCAX. Why VLCAX? It seemed to track VTSAX slightly better than the S&P index. The YTD performance of VTSAX vs VLCAX is shown below. Unsurprisingly, they are mechanically correlated since they are practically the same fund.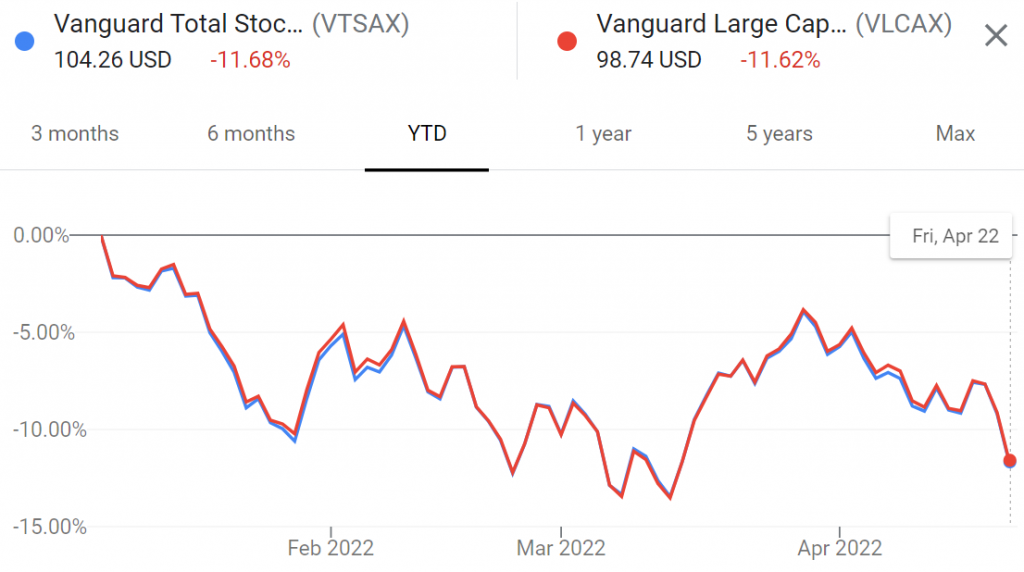 With this second TLH, I reached a combined YTD loss of $3,323, just barely high enough to max out the $3k deduction from ordinary income for 2022, with a little left over for next year.
TLH #3 — Apr 22 — The reversal of the conventional TLH (Taxable Brokerage VLCAX => Taxable Brokerage VTSAX)
Since I have a slight (and probably irrational) preference for VTSAX over VLCAX, I waited for an opportunity to get back into VTSAX. That opportunity arose on April 22, where I TLH'd back to VTSAX, generating an additional $640 loss, to get the YTD combined TLH losses to $3,969. Certainly not something to brag about, but it's not nothing. After taking the $3k deduction this year, I'll carry forward the unused $969 for the next year (tax year 2023 to be filed in April of 2024).
Conclusion
I still think TLH is the probably the most over-hyped investing gimmick out there. But it was fun to give it a try this year for my first time and the process could not have been simpler. I find it comical that robo-advisors and financial planners pitch this service as a major value-add to justify their ~1% AUM fees since a reasonably competent monkey could do it. My favorite TLH was #1 which I would unambiguously recommend to anyone. The conventional TLH (#2 & #3) went fine, but were certainly not life changing.
Despite the TLH transactions going well, I made a few small blunders this year. Perhaps you can learn from my mistakes:
With TLH #1, I didn't appreciate how quickly the mutual funds would be liquidated into my checking account. After hitting sell on a Wednesday, the funds were in my checking account the following day. With the benefit of hindsight, I should have placed my "buy" orders within the 529 and IRA on Thursday, instead of Friday. Oh well.
With TLH #2, I correctly had dividend reinvestment turned off for VTSAX. However, much to my surprise, I did NOT have dividend reinvestment turned off for the new fund VLCAX. Consequently, when the dividend reinvestment hit my account on March 22, it reset the 31-day clock on when I could sell VLCAX again at a loss to April 22. This was a slight nuisance that I did not anticipate having to deal with.
Despite the triviality of it, it was kind of a fun arbitrage. If the IRS allows this nonsense, why not exploit it? The time commitment is pretty small. Something like 1-2 minutes per TLH event. TLH'ing with mutual funds is pretty slick since all transactions occur at NAV at the end close of business, with every single penny accounted for. The ease with which this can be accomplished through mutual funds is probably enough to convince me to never own ETFs in my brokerage account.
Below, is a simplified TLH guide for dummies
Step 1: Click "exchange" on the fund you want to sell.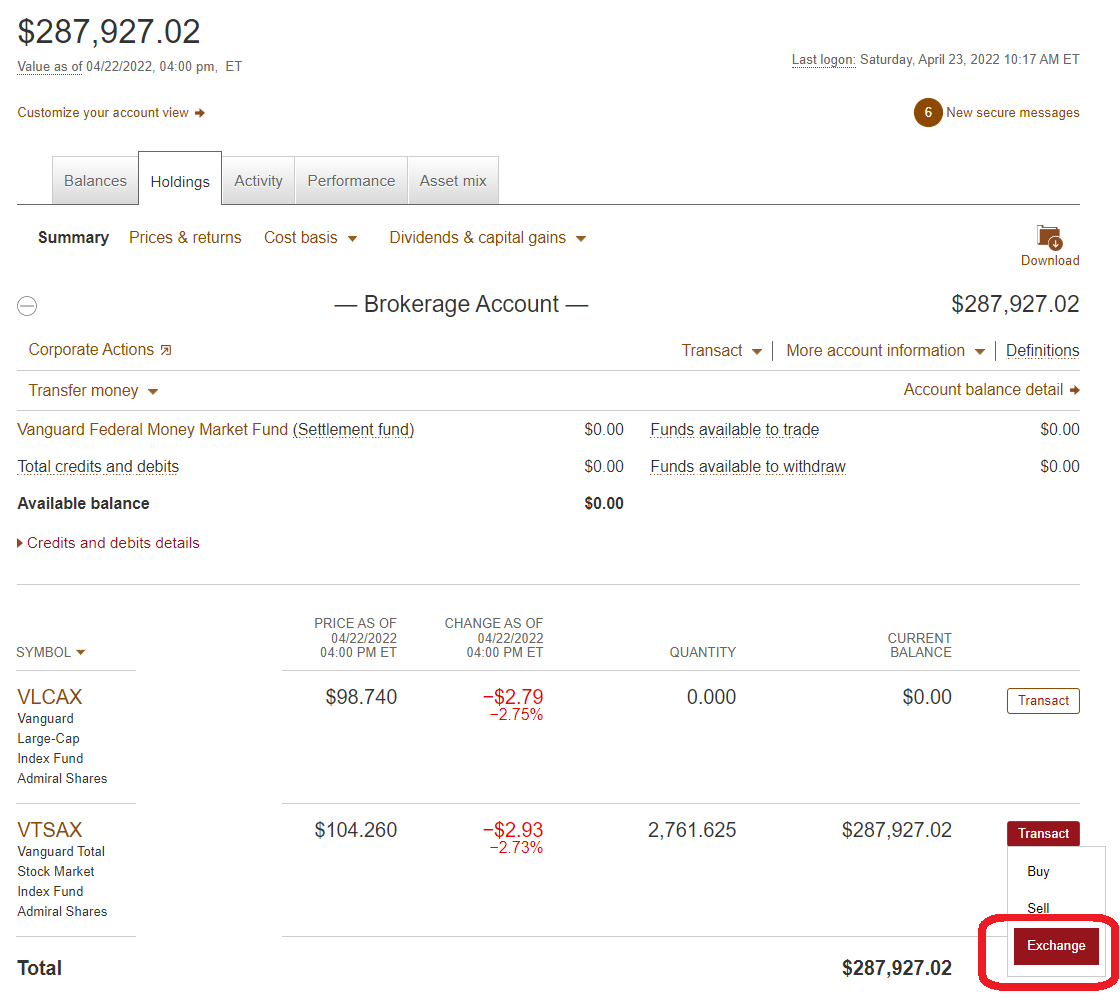 Step 2: Select the specific tax lots to sell, ensuring that your most recent purchase of these funds is at least 31 days prior. The easiest way to do this is to sort by the second-to-last column, which is the gain/loss per share (based on most recent closing price). Intraday price fluctuation will influence the actual value here since mutual fund transactions occur at the end of the trading day (and is thus unknown at the time you place the trade). The day I performed TLH #2, one of the tax lots that was showing up as a loss in this screen ended up with a small gain thanks to intraday price movement.
The below screenshot is pretty uninformative because I currently don't have any meaningful tax lots with large losses since I've already TLH'd what I could have. Nonetheless, you'd look for losses in that second to last column, preferably large losses (as a percentage of the fund price).

Step 3: Here you choose the new fund. Pretty self explanatory.

And, with that you are done. With a couple of mouse clicks you have accomplished what financial advisors would lead you to believe is an unbelievably complicated process that only a true "expert" (charging 1% AUM fees) could handle.
Step 4 (optional): Wait 31 days and rinse and repeat above steps if desired. The optimal TLH scenario is that the fund decreases in value, causing the realization of even bigger losses (e.g. my TLH #3 above).
One more screenshot for the curious: YTD tax lots