FreeTaxUSA
I've been using FreeTaxUSA for a few years now. Despite having the scammiest-sounding name in the world, their software has been great to me. Their business model is pretty straight forward. 100% free federal, $15 for state. Because I'm notoriously stingy, I use FreeTaxUSA for my federal return and use my state's free self-serve online tool for my state taxes. It takes me about 5 minutes, which works out to $15/(5/60)=$180/hr of income-tax-free money. Plus, by taking the time to use my state's online tool, it's a bit easier to "see how the sausage (of state income tax) is made."
Frugality rant aside, their 2021 software is now live: https://www.freetaxusa.com/
A few interesting observations for 2021
It looks like FreeTaxUSA has not correctly computed the 5% child tax credit phase-out yet (second screenshot below).
MFJ can deduct $600 of above-the-line (for non-itemizers) charitable contributions this year. Half that if single.
The questionnaire asks questions about:

Whether or not you've received your third stimulus yet.
How much of the CTC you've already received.

This should easily be computed as 6*your monthly payment (since it started in July).
Forecasting Your 2021 Tax Liability
If you are a normal W2 employee, you should be able to estimate today, to a remarkable precision (i.e. within a few dollars), what your 2021 tax liability will be. Filling out a hypothetical W2 should not be hard if you look at your YTD paystub info and extrapolate out to the end of the year (especially when using last year's W2 as a guide). The only minor source of income uncertainty my family faces is how big our December VTSAX dividend payment will be, but that is easily estimated as VTSAX balance * 1.25%/4 (I don't think I'd quite noticed until now how low dividend yields had fallen). Households with highly variable and large year-end bonus income are obviously a different story.
Do the calcs jive with my 2021 tax spreadsheet (https://frugalprofessor.com/2021-tax-calculator/)? I think so. However, my spreadsheet nets out the full amount of the CTC, because it is agnostic about the receipt of advanced CTC payments. If you are comparing my spreadsheet to tax software, this will be an obvious discrepancy you'd need to adjust for.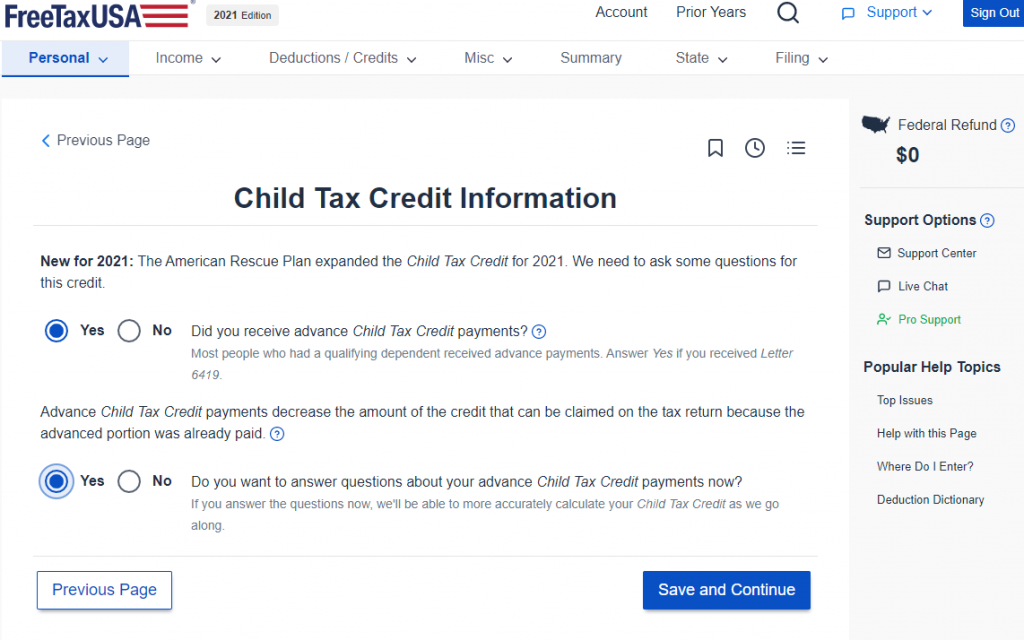 Pretty straight forward portion of the questionnaire. Enter what you will have received in 2021 (e.g. monthly payment * 6).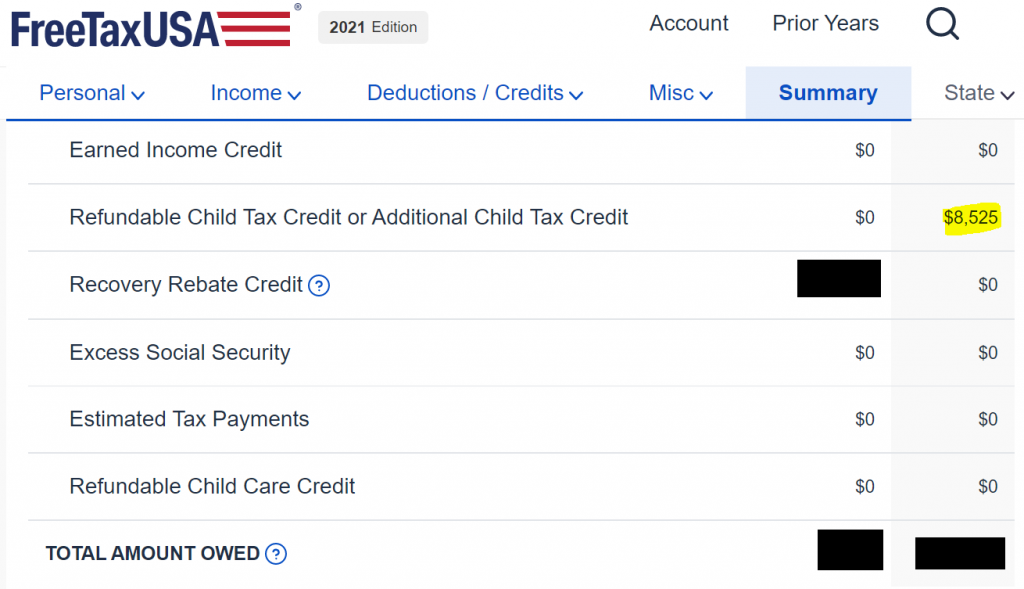 Here's a screenshot of FreeTaxUSA's bogus CTC calculation (unless I'm mistaken, of course). YTD, I will have received $1,079*6+1=$6,475 of advanced tax payments. FreeTaxUSA claims above that I am eligible for $8,525 more. $6,475+$8,525=$15,000, which is the max of $3k/kid * 5 kids. I'm sure FreeTaxUSA will fix this (pretty obvious) bug sooner than later.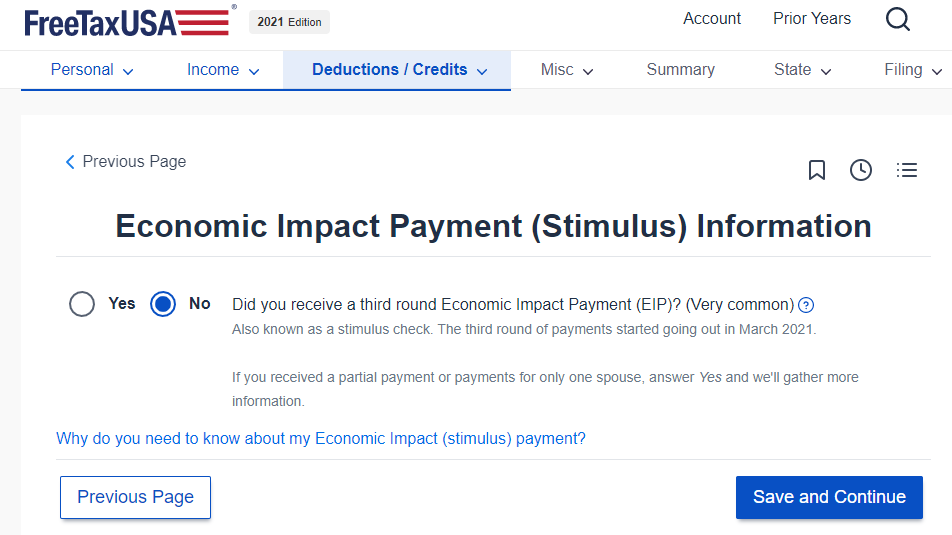 Question about the third stimulus.

$600 above-the-line deduction for MFJ non-itemizers this year. Half that if single. You'd need to make the contribution by the end of the year.
Conclusion
Should you invest 30 minutes to play around with some (free) tax software before April 2022?
I think so, for a few reasons:
It'll help ensure that your 2021 withholdings are correct.

It seems suboptimal to consistently receive large refunds (because of time-value-of-money arguments).

But the vast majority of households receive multi-thousand dollar refunds. This is the norm.

At the other end of with withholding spectrum, it can be suboptimal to under withhold if you owe penalties (though they tend to be relatively modest).

It can help you better understand the black-box (disaster) of the US tax code.

The entirety of my knowledge on the US tax code has come from me playing around with tax software and trying to reverse engineer the results.
I'm convinced that a deep understanding of the mechanics of the US tax code can make you a much wealthier individual as you learn to optimize the available strategic tax levers.

It's fun!!!!!!!!

What could possibly be more fun than playing around in tax software for the sake of learning?!?!?!?

Playing around with tax software is sure to become the next livestream Twitch phenomenon…
Edit: TaxCaster 2021 is available too: https://turbotax.intuit.com/tax-tools/calculators/taxcaster/.