Intro
Well, thanks to the $1.9B Coronavirus stimulus bill (#3), there are some pretty major changes to the tax code this year:
Child tax credit (temporary changes for 2021 only):

Fully refundable this year
Phases out at 5% above $150k of income for MFJ, $112.5 for HoH
$3,600/kid for ages 0-6
$3,000/kid for ages 7-17
For those with high enough incomes, it reverts to the same $2k/kid credit with 5% phaseout at $200k for HoH and $400k for MFJ

EITC

Tiny change for childless households
Investment income threshold was increased from $3,650 to $10k!

With a 2% dividend yield, this implies that one could qualify for the EITC with $500k of taxable investment balances.
Download the Model Here
========> Download Here <=============
Model details
Stuff my spreadsheet handles (or attempts to):
Single, Head of Household (new this year!), Married
Standard vs Itemized deductions (including $10k SALT cap)
Investment Taxes
Kids (young & old)
CTC
ETIC
Deductible trad IRA's
Effective marginal tax rates for $1 extra labor income
Child and dependent care tax credit
Stuff my spreadsheet does not attempt to calculate:
AMT (because Trump essentially removed it for most people)

I used to calculate this, but I decided to ditch it this year to simplify the spreadsheet given that AMT is practically dead.

Phase-out of Trad IRA deductibility

If you're in this boat, simply enter the deductible portion in my sheet
Further, a non-deductible IRA contribution should obviously converted to Roth (a-la backdoor Roth)

Stimulus recovery rebates
How to Use Model:
Plug in input parameters in yellow.
Then, compute your taxable income on your own. If you made $100k gross but contributed $19.5k to a Trad 401k, paid $12k in healthcare premiums, and contributed $7,200 to an HSA, then your taxable income is $61,300 (=100k-19.5k-12k-7.2k).
Look up your taxable income in the table/chart to see your tax liability.

Your 2021 tax refund = 2021 withholdings – 2021 tax liability.

I don't compute your tax refund. Rather, I compute your tax liability.
People conflate the two. Big refunds aren't necessarily good. They simply mean you withheld too much.

Want a big refund? Withhold 100% of your paycheck as federal & state tax withholdings. In April of 2021, you'll get your income – tax liability returned to you in the form of a massive tax refund….the largest of your life.
Screenshots: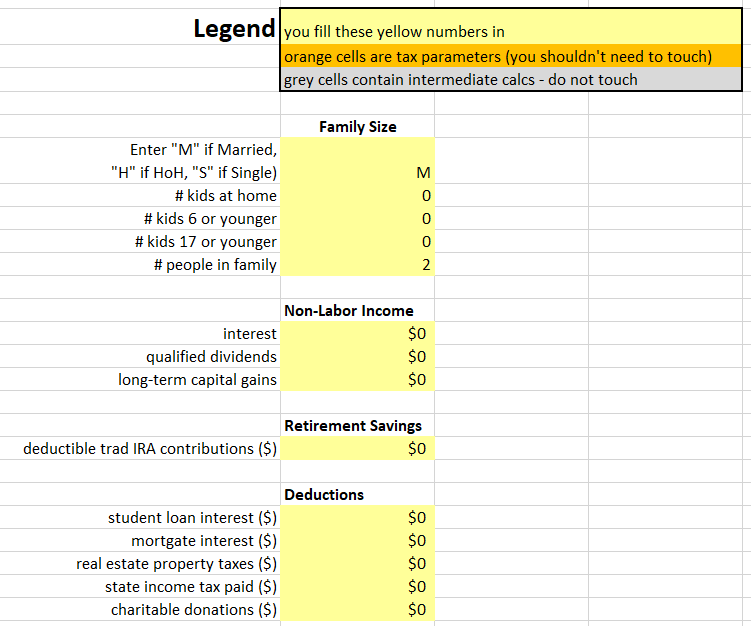 Inputs are pretty simple, as always. Just put stuff in the yellow cells.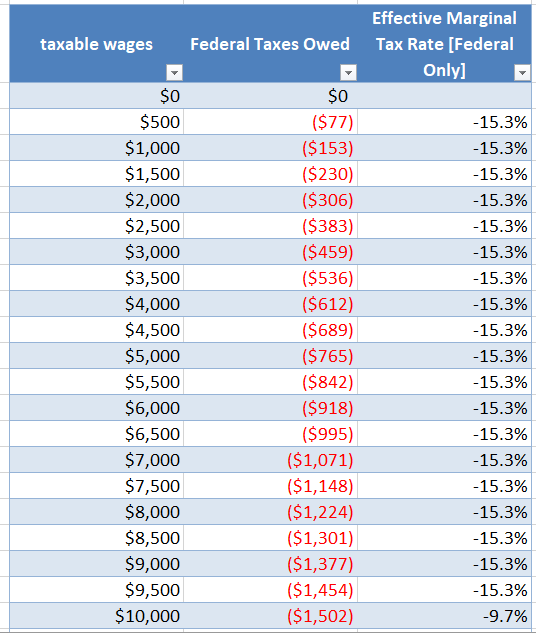 The output table looks like this. Your welcome to expand the collapsed cells to dig into the underlying calculations.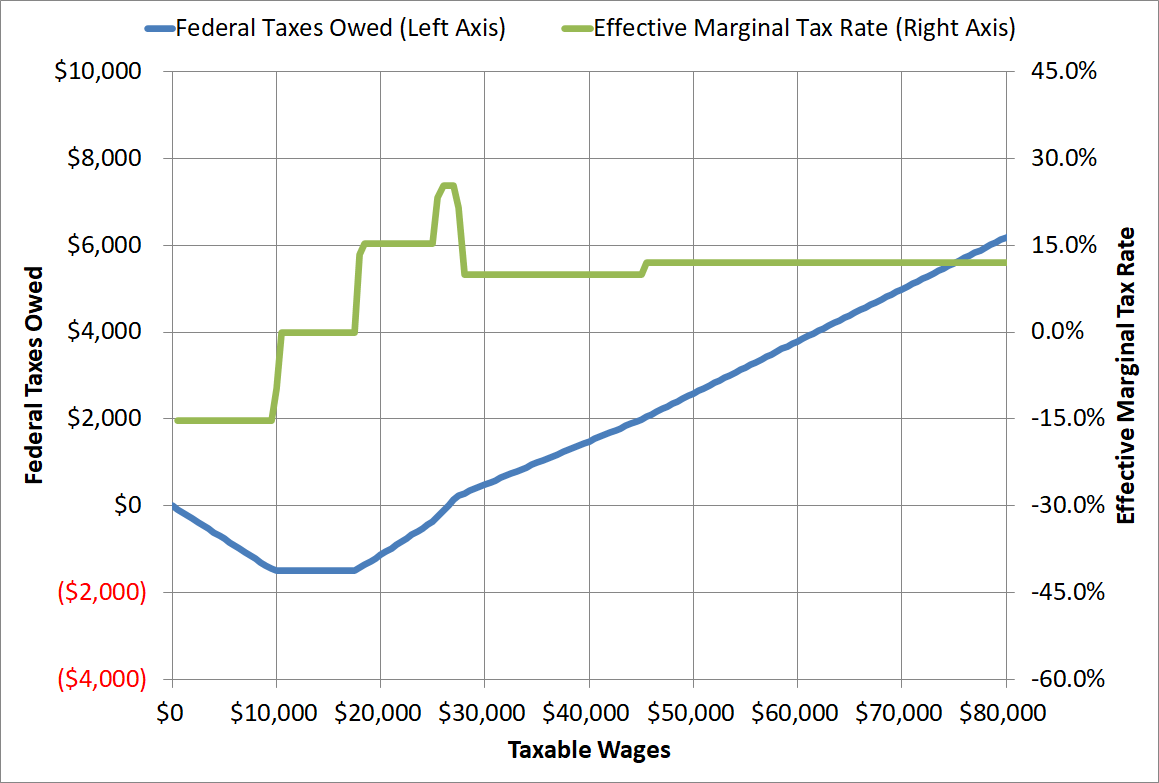 Here's how taxes look for a MFJ household with zero kids.

Here's how taxes look for a MJF family with 5 kids. At $15k of taxable income (after 401k's, HSA's, etc), they get a refund of $21.728 for a net income of $36,728 (before accounting for food stamps, Medicaid, etc). Not too shabby! The downside of the phase-out of free money is high marginal rates. This household faces marginal federal tax rates of 33.1% as they slide down the EITC ramp and simultaneously enter the 10% federal bracket after exhausting the standard deduction. If I had 5 kids and had a gross income of $60k, I'd shelter as much income as possible to avoid the 33.1% effective rate. Ideally I'd get down to $25.5k of taxable income through utilization of HSA/401k/401a/403b/457. Until you do the math, you'd never realize that moderate income people face higher effective tax rates than the wealthiest people in America. Also noteworthy is the $15k refund for $0 of labor income, thanks to the $3k/kid fully refundable CTC.

Here's that same chart as above (MFJ with 5 kids), but now with an expanded X-axis. As shown, the effective MTR of 37% for MFJ households with taxable incomes of $400k finally (meaningfully) exceeds that of households making ~$26k-$57k of taxable income for the first time. This is the downside of phase outs of needs based aid (ETIC). From my perspective, a more sensible tax policy would be accomplished in the following manner: 1.) coordination of phase-out rates and levels across programs (ETIC, CTC, food stamps, ACA subsidies, etc.), 2.) limit combined phase-out of collective benefits (10%?). Such a policy would avoid the wild and nonsensical gyrations of effective marginal tax rate (the green line) shown above. Such a policy would remove the current weird distortions on the low/middle end of the income distribution (e.g. http://gregmankiw.blogspot.com/2009/11/poverty-trap.html)
Errors?
If you find any bugs, please report them and I'll update the sheet.
Conclusion
You should know what your effective marginal tax rate is.
It's the most important number in the tax code, but practically impossible to observe. That's a bit of a paradox, eh?
Tax tables won't give you the full picture because they fail to consider phase-in's and phase-outs of the multitude of tax credits available to you. Tools like TaxCaster will spit out a tax liability, but not the effective marginal tax rate. You need to compute that on your own.
The reason I built this sheet and maintain it every year is to help convey to people how easy to control (and compute) your tax liability. It's not black magic, like I thought for the first two decades of my life. It's just simple math.
If you use my sheet and find out that you're facing a 33.1% effective marginal tax rate at $50k of household income, then contributing an extra $10k to a 401k will save you $3,310 of federal taxes (and even more when you consider state income taxes). This becomes more powerful as you max out HSA/401k/401a/403b/457 plans. I max out everything I can each year, saving me tens of thousands of dollars in taxes each year.
After realizing that $1 of 401k contributions only cost you $0.669 of net cash flow (even less if you consider state income taxes), you soon realize this is financial alchemy. Particularly when you realize that these pre-tax vehicles can be withdrawn tax-free under certain scenarios (e.g. https://frugalprofessor.com/hierarchy-of-dissavings/).
Disclaimer
You'd have to be crazy to take tax advice from an internet stranger. My spreadsheet probably has a bunch of errors, so don't take it very seriously.
However, if you want to think about 2021 taxes (due April 2022), then you frankly don't have too many choices at this point. MDM has posted his sheet here if you want to compare. His model has a lot more bells and whistles.
TurboTax will update their calculator (TaxCaster) around October of 2021. FreeTaxUSA will offer their full (and free and excellent) tax software around November of 2021.