In my recent FreeTaxUSA post, I announced my retirement from the tax calculator game. However, my retirement was short-lived. Blog reader (and former roommate) Tim convinced me to keep it going.
Download my 2022 model here
========> Download Here <=============
A big thank you to MDM
Reader (and one-time guest interviewee) MDM is a wizard with Excel + the tax code. I had a hard time tracking down a few tax parameters this year (e.g. EITC, CTC) and I relied on his much more robust Excel model (downloadable here) to fill in my missing parameters. All errors in my spreadsheet are my own.
Links to my historical calculators:
Inputs
Inputs are pretty self explanatory. Notably absent this year is the above-the-line charitable deduction that we've enjoyed for the past couple years. The other massive change this year was the reversion to the less generous pre-Covid CTC.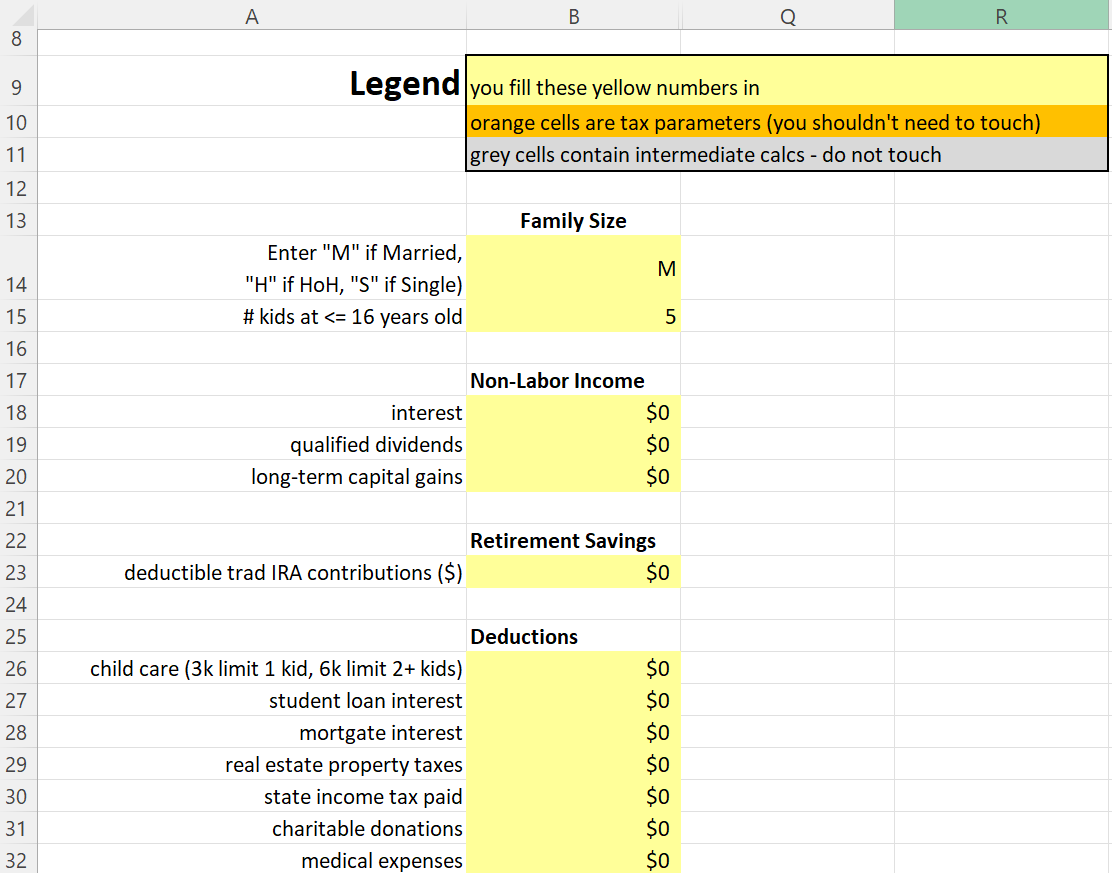 Outputs
I included a new feature this year — I now decompose the effective marginal tax rate (Column R) into the different sub-components (Columns S-U). As shown below, with 5 kids, I hit a 33.1% effective federal MTR from $52k – $59k of income. This 33.1% is arrived at by adding the 21.1% effective MTR from the EITC + 0% effective MTR from the CTC + the 12% statutory fed tax rate.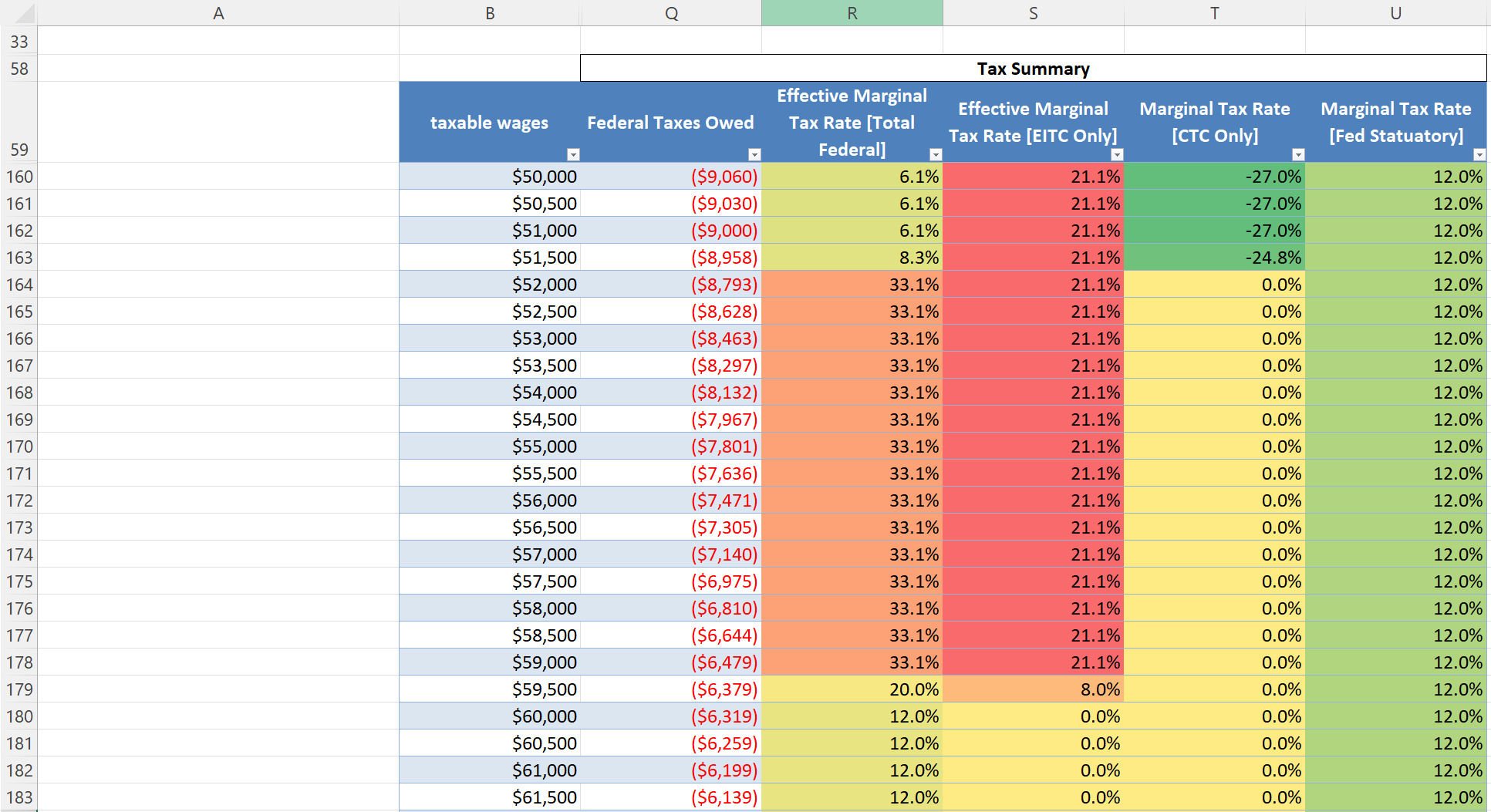 As usual, the output also includes the wonky tax charts showing both federal tax liability (blue line; left axis) and effective marginal tax rate (green line; right axis). The below charts show 5 kids, but this is easily changed in the model.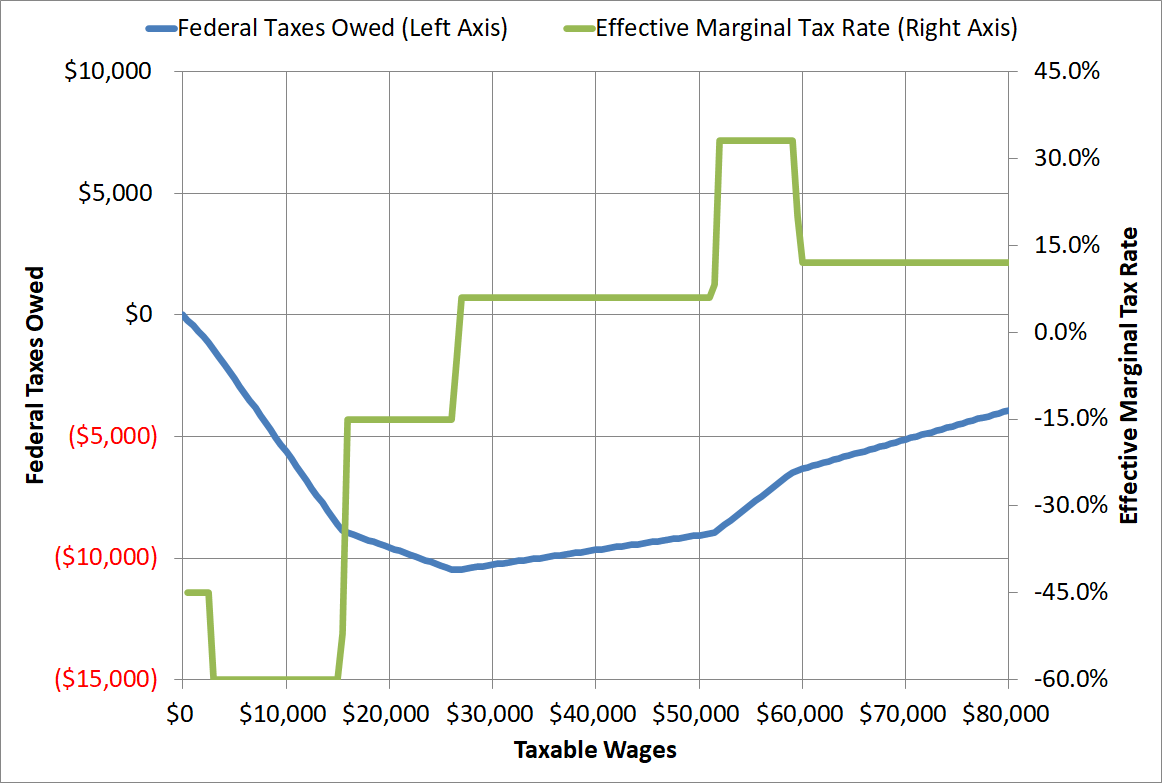 Conclusion
I'm unsure if this tool is helpful to anyone out there, but I continue to find the wonkiness of the US tax code to be fascinating. My spreadsheet hasn't been vetted by anyone, so I wouldn't rely on it for anything important.
If you have any issues with the sheet, let me know and I'll try to fix it.