It is pretty widely known that the HSA is the best savings account in the U.S. because contributions, growth, AND withdrawals are tax-free.
Contributions are tax free from the following types of taxation:

Federal
State (unless you live in CA or NJ)
Payroll

Usually 6.2% Social Security + 1.45% Medicare

Investment growth (dividends + capital gains) is tax-free.
Withdrawals are also tax free so long as they are used on qualified medical expenses.

You can read what constitutes a "qualified medical expense" straight form the horse's mouth at the IRS's website here: https://www.irs.gov/publications/p502.

Suffice it to say that the list is pretty comprehensive. It includes most anything you can think of (eyeglasses, teeth, healthcare, etc).

A few important things to note:

Future insurance premiums are generally not a "qualified medical expense" for the HSA.
If you eventually switch out of a HDHP plan, you can still use your old HSA to fund "qualified medical expenses" on any insurance plan (link).
If you incur medical expenses today, you can pay out of pocket today and reimburse yourself down the road. There is no "expiration date" which prevents you from reimbursing yourself from historical "qualified medical expenses" so long as you save the receipts properly.
So what's going on with the delayed HSA reimbursement strategy?
Despite my best intentions to spend $0/year on healthcare, my family generally spends about $6k/year on healthcare. Consequently, I have a choice to make every year:
Raid the HSA piggy bank, or
Keep the HSA piggy bank in tact by paying out of pocket instead

This strategy obviously requires sufficient cash flow or liquidity to cover medical expenses from either income or non-HSA accounts.
Option #2 above is what we do. The consequence of paying out of pocket is that our HSA balances grow but our cash flow is hindered, thereby reducing (dollar-for-dollar) the amount of money available for us to invest in taxable brokerage accounts.
The source of the profits from adopting the not-raiding-the-HSA-piggy-bank strategy is that the after-tax returns from investments in a HSA are higher than the after-tax returns from investments in a taxable brokerage account. The source of tax-savings is two-fold:
Inside the HSA (and all tax-sheltered accounts), there is no dividend tax drag every time a dividend is received. The consequence of the dividend tax drag is a drag on investments equal to one's marginal tax rate on dividends (15% federal + 7% state in my case) * the dividend yield of your investments (usually about 2%). For my situation the product of these two numbers, 22%*2%=0.44%, is the effective drag on returns due to the taxation of dividends annually.
The other tax advantage of HSA's is that there are no capital gains taxes.
I created an excel model to quantify the benefits to the "delayed-HSA-reimbursement" strategy that I utilize. The model is downloadable here (link) and the key assumptions and results are below.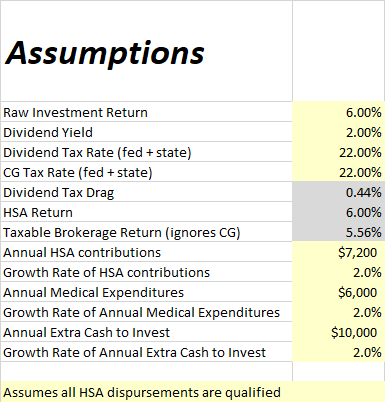 Key assumptions are shown above. I don't think that there is anything terribly controversial going on. Yellow cells are inputs. Grey cells are calculations. Feel free to play around with the model inputs to whatever you think is more reasonable. The only source of taxation in the taxable brokerage account is the dividend tax drag and an eventual capital gain realization at a terminal date (I don't model any intermediate capital gains taxation that would results from rebalancing, for example). If your investing horizon is 15Y, you can appropriately take that value from the chart since each time period is independently modeled as be the terminal time horizon. If you believe you will be in the 0% LTCG tax bracket in the future, you can change that input parameter in the sheet (cell C8). This will obviously diminish the benefit of the delayed-HSA-reimbursement strategy.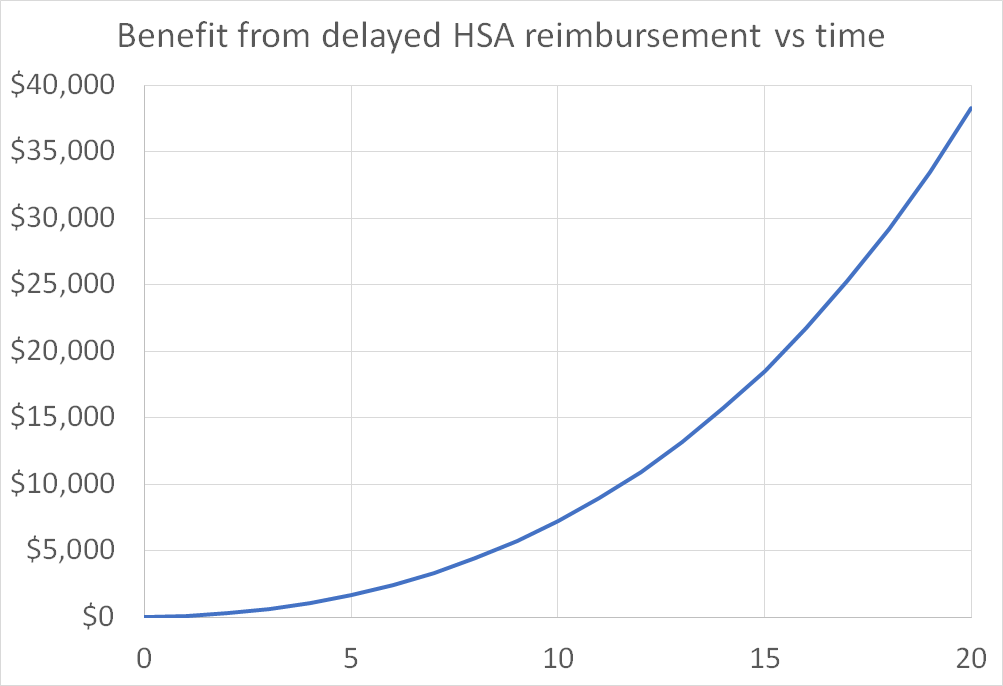 Assuming $6k/year (in today's dollars) of annual medical expenses, the above chart shows the after-tax benefit of not raiding the HSA piggy bank over time. The x-axis is years. Given the exponential growth of this chart, the strategy is most advantageous for those with long investing horizons (same as any investing strategy with compounded investing growth).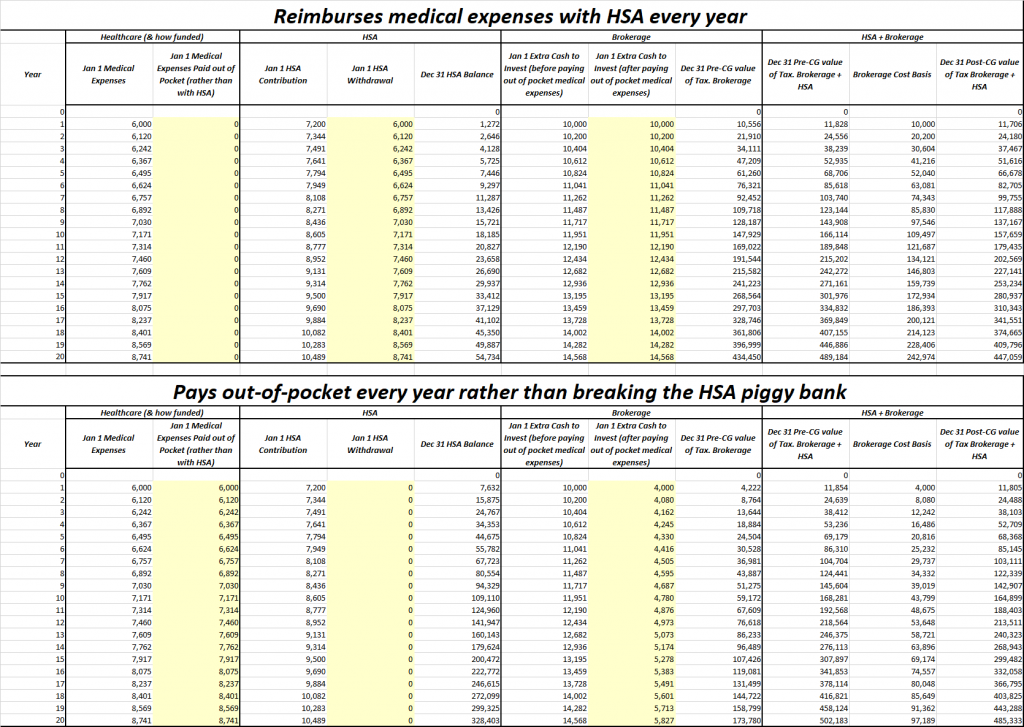 Here's the formal analysis. Yellow columns in this table show the key differences. The top table raids the HSA piggy bank and pays $0 out of pocket. The bottom table does the opposite (pays out of pocket and leaves the HSA in tact).

The most important parameter in the analysis is (obviously, in hindsight) how much you spend per year on healthcare. The more you spend, the more you benefit from not raiding the HSA piggy bank (assuming, of course, that you have the liquidity/cash flow do to so).
Potential Risks / Concerns with this Strategy
The main downside to the not-breaking-the-HSA-piggy-bank strategy is that you have to diligently save receipts to satisfy the IRS at some future date in which you reimburse yourself. According to today's IRS rules, there is no expiration on these receipts. However, this is subject to change (as with any tax law). If the IRS changes the law some day, this would obviously limit the profitability of the deferred reimbursement strategy.
Further, a $500k HSA withdrawal from a HSA in 20Y is likely to result in more scrutiny from the IRS than a series of modest withdrawals. Provided you have your documentation (detailed receipts) in place, this shouldn't be an issue if you have your ducks in a row. But I don't anticipate it will be a pleasant experience to go through in the year 2040+.
Another potential concern with this strategy is that one "over-saves" in an HSA. If someone has too much in an HSA (in the sense that their future medical expenses aren't sufficient to draw the HSA balance to $0), then HSA withdrawals for non-medical expenses would be subject to taxation just like a Traditional 401k in retirement. Given the modest contribution limits to HSA accounts and rate of inflation of medical expenses (including long-term care expenses, which are eligible for HSA reimbursement), I think that it is almost comical to think one can over-save for future medical expenses at $7k/year of contributions (in today's dollars).
A final problem with the HSA-hoarding strategy is that, unlike an IRA, an inhereted HSA is subject to full taxation if it is passed to a non-spouse heir. Mike Piper has a good blog post on the topic (link). In the post, he explains that qualified medical expenses can be withdrawn tax-free for up to 1 year after the passing of the account owner (and spouse). This implies that it is important to leave a pile of receipts to your heirs to process the tax-free distribution, since anything not distributed would be fully subject to income tax. This is much worse than the treatment of taxable brokerage accounts (and real estate) which has the step-up of cost basis at death.
Conclusion
To be honest, the magnitude of the HSA deferral advantage wasn't near as big as I thought it'd be. If you want to simplify your life and reduce the hassle from dealing with the IRS decades from now, I don't think it's unreasonable to simply reimburse yourself now. Particularly if your medical expenses are modest. Even if you did this, I'd still pay with credit card to get the points/cash back and reimburse yourself from the HSA.
However, if you're an optimization weirdo and have the liquidity/cash flow, I think it's prudent to follow the not-raiding-the-HSA-golden-goose strategy. The above analysis concludes (obviously) that it is most advantageous for households with high annual healthcare expenses and those with long investing horizons.
This, alongside other "tax arbitrage" strategies, are likely to make us many hundreds of thousands of dollars wealthier in the future. I refer to the financial gains from tax strategies as generated from "tax alpha" in the sense that results in higher investing gains without incurring any additional investment risk.
Reader Poll
Where do you stand on the delayed-vs-immediate HSA reimbursement debate? Is there anything obvious missing from the analysis?