First, a 40,000 ft overview of 2022:
Life is flying by. FC1 is halfway through her sophomore year in high school and only a couple of years away from leaving us. Where did the time go!?!?!?
I am grateful for good health and am cognizant of the fact any of us are one unlucky roll of the cosmic dice away from catastrophe. It's easy to take good health (for myself and my family) for granted, but I try not to.
I am slowly settling into the routine of middle age. I find myself inexplicably grunting when standing up or sitting down. My body doesn't recover from physical activities quite as quickly as it used to.
Earlier in life, my objectives were quite clear: work hard, get a good job, do well at my job, have some fun, and save a bit of money to achieve financial freedom. Following this recipe worked well, but after decades of having well-defined goals ahead of me, I find myself floundering a bit as of late. Given that I've ticked off a lot of previous long-term goals, I find myself cruising on auto-pilot these days. It is unfamiliar and a bit unsettling.
My ~2 year involvement to redesign my employer's workplace retirement plan that wrapped up at the end of 2022 was among the most satisfying things I've ever done professionally. Since the completion of this project, I've yet to sink my teeth into a subsequent project that I feel so passionately about.
Despite living in flyover country that is oftentimes the butt of jokes, it is a great place to raise a family. Our kids are thriving here. Aside from the weather and less-than-ideal tax regime, life is easy and enjoyable.
I'm enjoying the freedom (both time and monetary) that we've worked hard to accumulate over the past two decades.
Blog update next
Here are some historical state-of-the-blog posts:
2022 Blog Stats:
429 WordPress / email subscribers

12% growth from last year (382)

332 Feedly subscribers:

5% growth from last year (317)

63,855 pageviews this year (30% less than 2021).

2021 pageviews: 92,017
2020 pageviews: 137,594.
2019 pageviews: 78,266.

Posts/month: ~1.
2022 Profitability:

Amazon affiliate revenue: $40.09
Blog costs (digitalocean hosting + google domain): ($72.02+$12)*(1-5.25%) = $84.35

$6-$7/mo VPS hosting at digitalocean (I've since downgraded to their $6/mo plan).
$1/month for domain name at google domains
5.25% cash back for "online" category at BoA

Profit (ignoring home internet costs, etc): loss of $44.26
Profit/hr (assume 1 hr/post): negative $2/hr.
A few screenshots for the curious

Monthly pageview counts over the past several years. I took the liberty of freehanding a trendline in MS Paint. Extrapolating, I'll be at negative views in the not-too-distant future!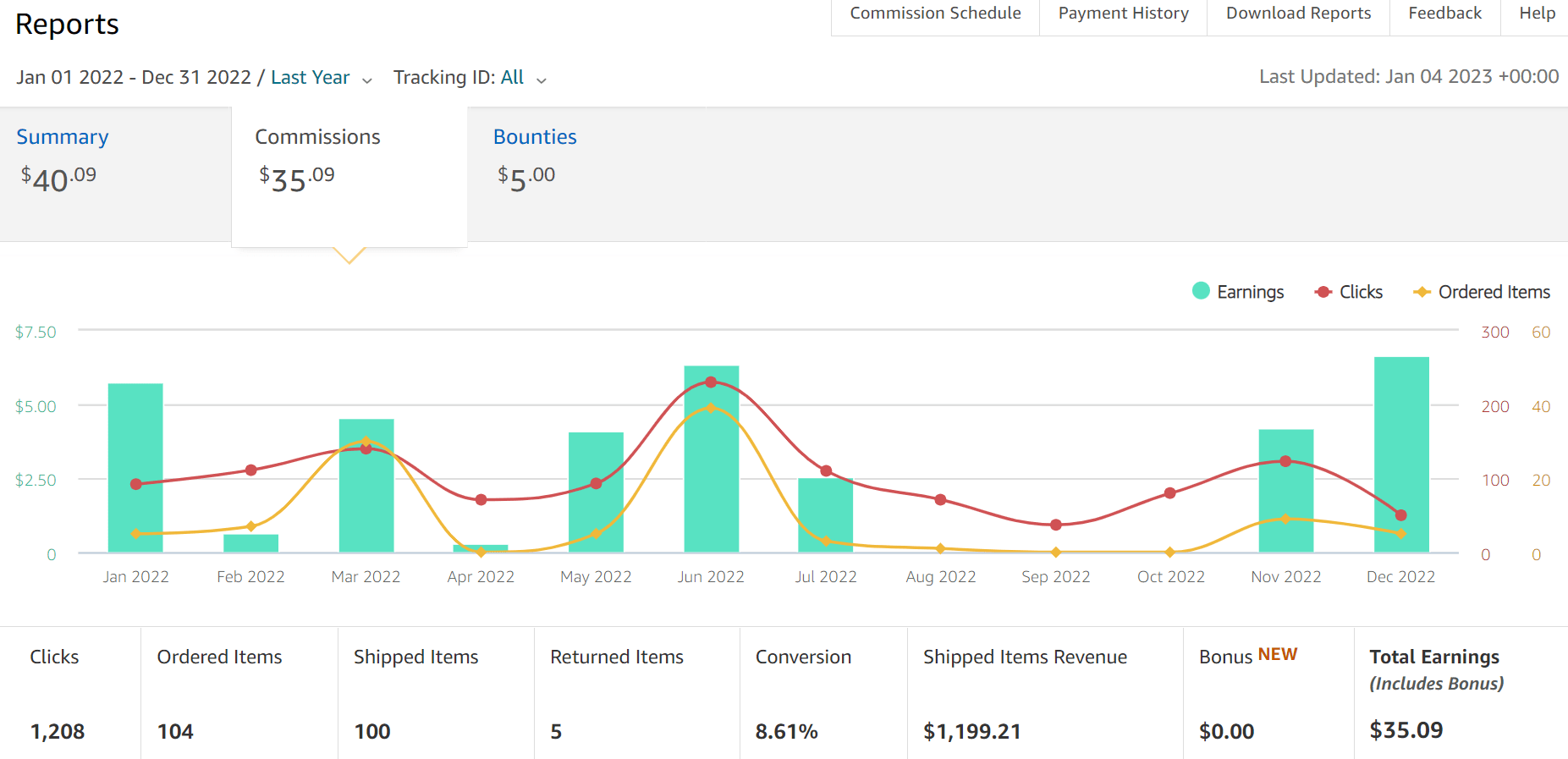 2022 Amazon affiliate income.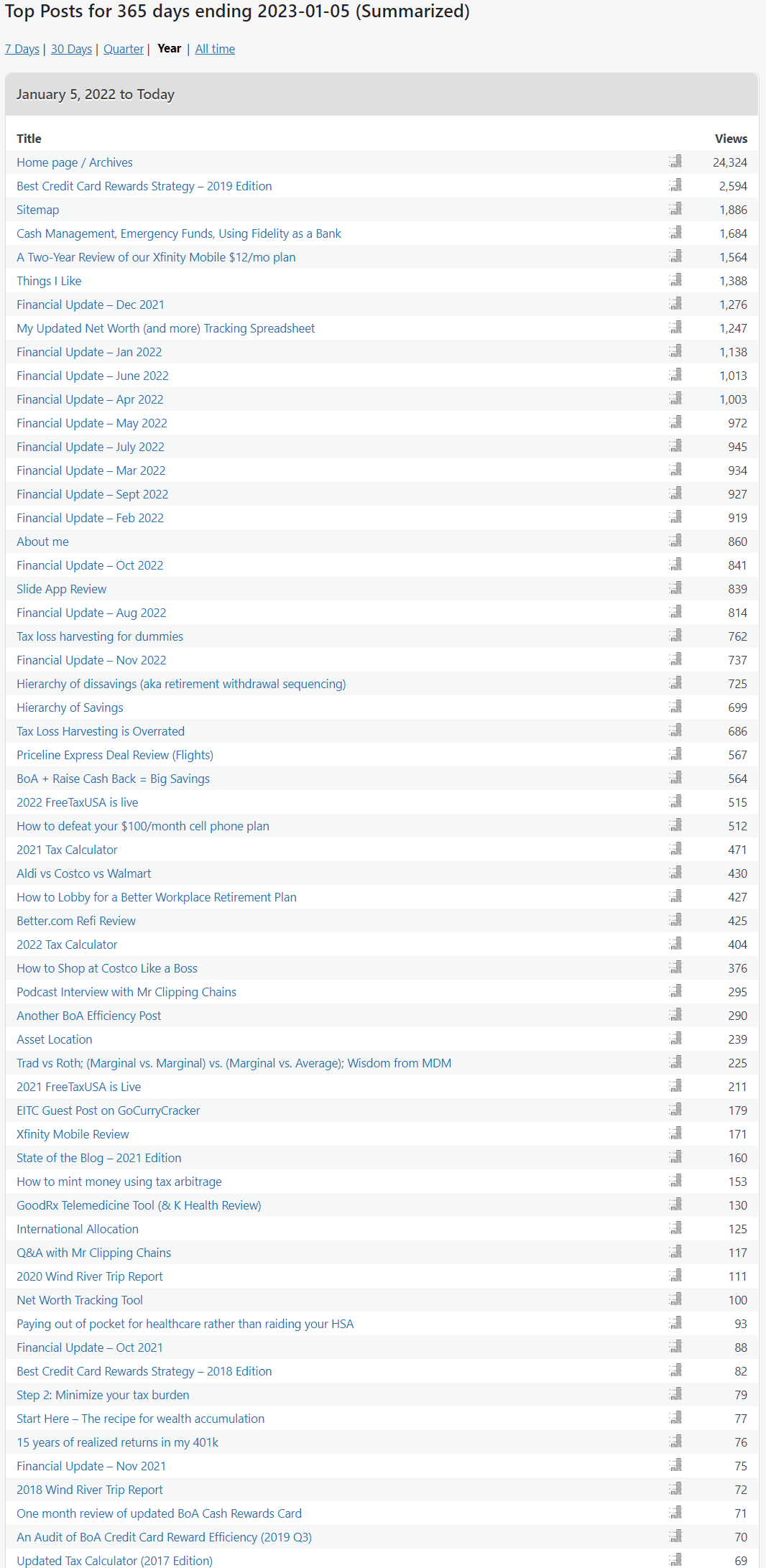 2022 pageviews.


2022 traffic sources.


2022 web hosting expenses at Digital Ocean.
Blogging conclusion:
The blog is clearly in decline, both in terms of my output and readership.
Admittedly, I don't have much value to add any more.

The recipe to accumulating wealth is profoundly simple:

live below your means,
be cognizant of taxes,
invest the difference wisely (preferably in tax-efficient vehicles),
and enjoy the ride the best you can.

During interesting historical events (e.g. introduction of Trump tax cuts, weird >100% MTR stimulus phaseouts, etc), I sometimes have something interesting to say. But most of the time I don't have anything profound to blog about. I'm a middle-aged dad living a normal life in the suburbs of flyover country.

I've entertained the idea of changing platforms, like maybe starting a podcast or a YouTube channel. But I'm unsure whether it'd be worth the effort.
Reader poll:
How was your 2022?
What are you excited about in 2023?
Any ideas on breathing life back into this blog (or alternative pursuit like podcast/YT channel)? Or do I mercifully put it out of its misery and bury it in the back yard?
Thanks for joining the ride with me in this random corner of the internet. It has certainly been an enjoyable ride.