A few weeks ago I wrote a deflated post in which I questioned the wisdom of keeping this tiny blog alive. Quite a lot of you responded that I should keep it limping along, so I will.
On the topic of what to write about going forward, Ron gave the following suggestion:
As a reader, some of the original articles like credit card rewards, who you bank with, etc. have been great and was what brought me to the site to begin with. I would say my constructive criticism would be there just needs to be new dedicated posts or updates to those topics. For example, the landscape and products available in terms of credit cards/banking have changed over the past year. It would be good to hear your thoughts to some of the new products and whether it has changed your thinking or consideration for your current setup. Or maybe there's something out there that you're not using that you find attractive that could fit well for someone else if you were not already entrenched with your current setup.
I appreciate Ron's feedback. Here's my attempt to (re)explain why I do what I do. It's not exactly a very succinct post in terms of focus (running the gamut from credit cards to sunscreen). But here's a summary of why I do what I do.
Why do I embrace frugality?
I reject the notion that a single dollar of extra spending will materially improve our happiness.
Consequently, any dollar not spent today can be invested for my future self's well being. How much future consumption is that dollar invested today buying me in the future? $1 + interest – inflation – taxes.

Hopefully interest > (inflation + taxes), though it's certainly not a guarantee.

What about "the risk" of over saving?

I think this is a good "problem" to have. If we over-save, then our kids get some extra money when we're dead.
With a pot of money that is too big, one could stop working earlier to solve that "problem".

When buying X pounds of food each month to feed my family of seven people (or clothes for them to wear, etc.), why not do so in the most cost-efficient manner?
Once you learn to separate your happiness from excess consumption (above a reasonable standard of living), life becomes pretty simple and enjoyable.
Some life experiences that helped shape my views on frugality:
Being happy as a poor college student.
From the age of 19-21, spending two years of my life in South America and viewing how happy people were living on relatively little. Further, this experience taught me to really differentiate "needs" from "wants." From an outsider's perspective, many American "needs" are hilariously excessive.
Making decent money out of undergrad and refusing to succumb to lifestyle creep.
With $100k in the bank, quitting work for 7 years to go back to grad school (MBA + PhD). Ended up with a net worth of $250k while living below the poverty line.
Post grad-school, refusing to succumb to lifestyle creep (with varying levels of success).
Who do I bank with and why?
It is a bit ironic/unusual, but I use my Fidelity brokerage account as my primary bank account. I have my direct deposit hit this account and have all AutoPay's (credit cards / mortgage) linked to this account. What are the advantages of doing this?
I can hold high-yielding money market funds (e.g. SPRXX or the slightly lower yielding SPAXX) in the account that are auto-liquidated when there is a debit to the account.
As of yesterday, SPRXX was yielding 4.44% (annually), which is about 1% higher than Ally bank's offerings as of the time of this writing.
I get access to my paycheck 1 day earlier with Fidelity than with a normal bank.
Unlike Ally, I'm allowed infinite withdrawal transactions per month. Whereas Ally (and other high-yield savings accounts) cap this at 6 debits per month.
I get ATM fees reimbursed at any ATM in the world. This came in handy during my recent(ish) trip to Peru. Further, the exchange rates are quite favorable with Fidelity ATM transactions.

Note that free ATM reimbursement is conditional on setting up a CMA account. This process is described in this post.

Really fast ACH transfers to/from Fidelity.
What are the disadvantages of the above?
If you need to deposit cash, you'll obviously need another bank account with a local branch (unless you happen to live by a Fidelity branch).
Not really a disadvantage, but the interest payments show up as a 1099-B as "ordinary (non-qualified) dividends" rather than a 1099-INT. Since non-qualified dividends are taxed the same as bank interest, it works out to a wash. It's just a different way of reporting interest on your taxes.


SPRXX yield as of yesterday.
Does the above matter? In the grand scheme of things, hardly at all. Earning a few extra dollars per year in interest does not move the needle for me. Especially when such interest is being taxed at 31% (24% fed + 7% state). Especially when I hold so little in cash to begin with. BUT it's pretty easy to do and the customer service at Fidelity is second-to-none. So why not earn a couple more dollars and have a good banking experience at the same time?
BTW, the WSJ wrote an article on banking with a brokerage recently (link).
What tax software do I use?
FreeTaxUSA. It is perhaps the least confidence-inspiring name on the planet (their marketing team should be fired), but it's legit. I learned about them from the Bogleheads forum.
I file my state taxes for free on my state's free efile system. It takes < 10 minutes and saves me $15. Pretty good return on invested time (~equivalent to $180k/year tax free salary on a per-minute basis).
Where do I turn for financial advice?
Speaking of the Bogleheads forum, I find it the best source of financial knowledge on the internet. Here is the link. The search bar in the top right corner is your friend.
I even turn to it for consumer advice. Want to hear what a bunch of smart people think about electric lawnmowers? Type "electric lawnmower" into the search field and you'll see many insightful comments from brilliant people.
Admittedly, the site is ugly and doesn't have good upvoting/organization mechanisms (like Reddit). But it is well moderated so the signal/noise ratio is quite high.
Why do I obsess about Costco?
We shop at Costco for reasons illustrated here and here.
I grew up in the bay area, CA. My love of Costco started at a young age. In middle school, I'd bike 16-miles round trip for the free samples and the $1.50 hot dog + drink + $0.50(?) churro. I'm glad I didn't get killed biking there; at least I would have died doing something I loved…..
One of the biggest drawbacks to accepting my current job was that there wasn't a Costco in town when we moved here. However, before moving here I learned through the grapevine that Costco was actively trying to expand to our city. In fact, they were planning on building about 1/3 of a mile (literally, as the crow flies) from the house we ended up buying! Long story short, in my single bout of political activism, I created a petition and collected hundreds of signatures, hosted a city council meeting in my home, and Costco ended up coming to town. I can see actually Costco from my house. It warms my heart every time I see it. I attended the grand opening and got to shake the hand of the CEO. It was a pretty fun experience.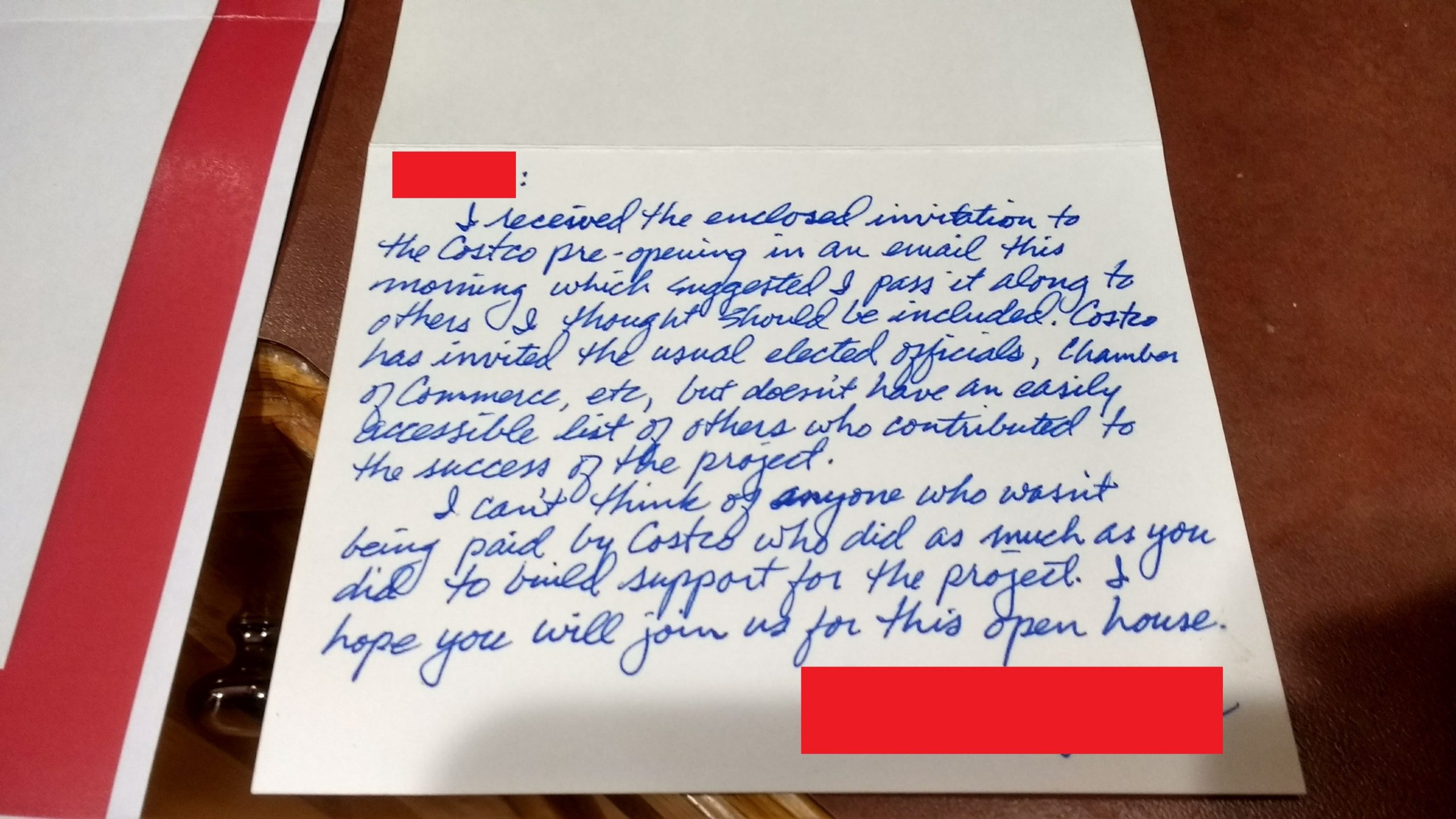 The invitation to the grand opening from Costco's head of legal counsel. Because cursive is hard to read, I'll transcribe: "I received the enclosed invitation to the Costco pre-opening in an email this morning which suggested I pass it along to others I thought should be included. Costco has invited the usual elected officials, Chamber of Commerce, etc, but doesn't have an easily accessible list of others who contributed to the success of the project. I can't think of anyone who wasn't being paid by Costco who did as much as you did to build support for the project. I hope you will join us for this open house."
If you were to ask me on my deathbed what I was most proud of in life, I think that building a Costco in my back yard might rank pretty high up there!
If you haven't seen this "lunch at Costco" parody, it is one of my favorite things.
We end up getting 7.25% cash back at Costco. 2% Executive + 5.25% CC cash back (see below).
I may have to seek counselling for my unhealthy obsession with that store.
What is my credit card strategy?
Here's my prior post on the topic for more context/details.
First off, I'd recommend that everyone change their credit card due date across all cards to a date that makes sense. I'm paid at the end of every month so I align my (several) credit cards to have billing due dates on the 1st of every month. Every credit card issuer allows this feature, just google it. "How to change credit card billing cycle at Chase/Citi/Bank of America."
With a credit card due date on the 1st of every month, this corresponds to a billing cycle end date of the 4th of every month. Guess when I make my big purchases? The 5th of every month (more accurately, the 4th because it takes a day for the transaction to hit the statement). Why do I do this? Because it maximizes credit card float. ~30 days from the first day of the cycle to the end of the cycle + ~30 days from end of cycle to due date = ~60 days of float. I certainly don't need the float, but if the credit card company is giving it to me, I'll take it.
With the above out of the way, now we can talk about credit card rewards. A weird oddity with the IRS is that these are considered to be tax-free, which is a big plus.
As I've discussed ad-nauseum on the blog, I've converged to 100% utilization of Bank of America credit cards. Between my wife and I, we now have six permutations of the Cash Rewards cards. Each one gives us $2,500/quarter of 5.25% rewards in the category of our choice. 6 cards * $2,500 = $15,000/quarter or $60,000/year of enhanced rewards space. We spend less than that, so we're fully covered.
The most versatile BoA cash rewards category is the "online" category since it is the most flexible. It counts an airline purchase at Southwest.com as an "online" transaction as well as a "travel" transaction. The same is true, I believe, when making food purchases. We'll occasionally order from Papa Murphy's online, and it codes both as "online" and "restaurants." Where this category really gets lucrative is with Walmart and Costco. If you link the credit card to your Walmart app, then any in-store transaction paid for via the "Walmart Pay" feature is coded as "online."
Relatedly, you can now buy $500 egift cards at Costco.com which are coded as "online". Every month (on the 4th), I will buy $1500-$2000 of egift cards at Costco.com. They are emailed to me within 15-30 minutes. Once in your inbox, you can redeem via bar code at any register (or self check out). However, my preferred approach is to transfer these to a physical Costco gift card (called the Costco Shop card). I do this at the front counter and it's a relatively painless process. The max you can transfer to a gift card is $1k/card. If I desire to transfer $2k of digital cards to physical cards, I'll say "can I please buy two $1k gift cards." They ring it up, and I pay with my four $500 digital gift cards. It works out relatively painlessly.
I supplement the above BoA "cash rewards" cards with the $95/year annual fee premium rewards card. It gives me 2.625% cash back on every purchase at a minimum + 3.5% on travel/dining. Since we can get 5.25% cash back on travel/dining with "cash rewards" cards, this card is solely our 2.625% cash back card. It's great when travelling (or ordering from overseas) because there are no foreign transaction fees.
The $95/year annual fee seems bad, but you get $100/year in "travel credits" + a $100 global entry / TSA precheck credit every 4 years. The $100/year in travel credits are described well in this DoC post. In the past, I've purchased $100 of American Airlines egift cards and dumped them on Raise.com. However, that opportunity is apparently no longer available. That said, I'm planning on trying a $100 United Travel Bank this year because I actually fly united quite a bit. If this works, then the cost of the card drops to negative $5/year (or more accurately, negative $5 minus $100*3.5% (the cash back earned on the $100 travel credit transaction) minus $100 global entry /4 years = minus $33.5/year).
If you don't care about foreign transaction fees, or if you don't travel on United/AA, then this $0 annual fee card (Unlimited Cash Rewards Credit Card) might suit you better than the premium rewards card. It'll save you the hassle of dealing with the $100/year travel credit.
Am I paid by BoA to share these thoughts? Not a penny. In fact, I lose money on this blog. This BoA setup is what I happen to have in my wallet and I'm happy to continue to pay forward that good advice. I can't think of a better system than 5.25% cash back on most purchases + 2.625% on everything else. If you have a better system, then please share in the comments.
What if you don't have $100k of investments laying around to transfer to Merrill? A colleague has the US Bank Altitude Reserve card and says he gets 4.5% cash back at Costco through that card. This post describes the opportunity well. I'm not interested in this card because I dislike the annual fee and the redemption restriction on travel.
If you are looking to play the credit-card-sign-up game, then DoC is your best resource. Like a well-trained animal, I'll occasionally play this game if the carrot is big enough. $1k seems to be the hurdle to get me excited to pursue an opportunity like that.
Why do I care about taxes?
Put succinctly, your aggregate tax burden over your lifetime is astounding. Especially when viewed in terms of the drag on your compounded wealth accumulation. Learning how the tax code works takes an hour or two of reading and can potentially save you hundreds of thousands of dollars of taxes over your lifetime. I distribute this poorly written PDF to my students every year which attempts to capture the essence of how the tax code works and why you should care about it.
If you care about building wealth, it is probably prudent to invest an hour or two thinking about it. I literally cannot think of a higher return on invested time than that.
Here are some related posts:
Unlike optimizing banking or credit cards, which barely move the needle in the grand scheme of things, optimizing for taxes moves the needle by an orders of magnitude more. I can't emphasize this enough.
I have plenty of friends who'd like to optimize their taxes, but can't afford to shelter any more money because they are spending too much. Frugality is what enables one enable to shelter money from the tax man and optimize for taxes.
Thoughts on emergency funds?
Do you think Warren Buffet's has an emergency fund?
I don't believe in emergency funds. I believe in having a pile of liquid assets (and available credit through credit cards) to handle emergencies.
The math says you'll come out ahead using my approach, on average. Particularly if that emergency fund is in a tax-advantaged account (e.g. Roth IRA).
Thoughts on insurance?
I reject all forms of insurance where self-insurance is obviously viable (cell phones, extended TV warranty, etc).
More generally, I carry only high deductible insurance. I carry only liability insurance for our two cars (we drive 11-13 year old hoopties so they are easily self-insured). We reject rental car coverage. We carry a $10k deductible on our homeowner's insurance and are comfortable self-insuring up to that point.
In other words, we are our own insurance company. And we profit — like insurance companies — when we have fewer claims.
Thoughts on cars?
I mostly hate them. They pollute. They kill people — other drivers and pedestrians. That said, they are certainly convenient; particularly when the weather outside is horrendous. Any time I drive mine, I hear MMM's disapproving voice in my head shaming me. When I do drive, I try to carpool as much as possible. I'm amazed at our collective non-interest in carpooling (birthday parties, school, etc).
Biking is good for the soul. If you are like most Americans, you don't own a bike. MMM has a post on that.
That said, be smart about it. It doesn't do you any good to hop on a bike and get killed by a car. 95% of my riding is on dedicated bike trails where the risk of a lethal collision with a vehicle is rather small. Wear high-viz reflective clothing. Helmet. Bike lights at night.
I'd like to bike across the country once in my life. The GDMBR, for example, is on my bucket list. Hopefully I can do it sooner than later given my aging body.
Thoughts on financial advisors?
I think the 1% assets-under-management asset management fee charged by financial advisors is too high. You'd do much better on your own with a low-cost DIY portfolio. Feel free to occasionally utilize fee-only financial advisors who charge $/hr rather than % of assets.
Thoughts on tracking spending?
I think you should do it, even if you are in a comfortable financial position. Having an understanding of what you are spending is truly empowering.
Mint and Personal Capital come to mind as free resources. Mint makes money by trying to cross-sell you credit cards and their tax software. Personal Capital makes money by trying to upsell you into money management. Their financial advice is expensive and horrible, so I'd avoid their advising. But I personally use their free financial tool because it is great. I just block their inbound marketing calls and emails.
Tracking your spending empowers you to see where where your income is going and gives you the opportunity to reflect on whether those outflows align with your values. Until you track your spending, you are essentially relinquishing control of your finances to third parties (like those charging you recurring fees).
Pay particular attention to those charging recurring fees (Netflix, etc). Why? Years can pass with a lingering unused subscription without you realizing it.
If you truly want to geek out, I encourage you to take your expense tracking to the next level and track your income, taxes, and investments each month. I describe how I do so here.
Any frugal hobbies?
Board Games

The good ones, like the German ones (Settlers of Catan, etc).

Disc Golf (more fun than real golf).

Seriously, give it a try. It's way better with friends.

Biking
Hiking/Backpacking
Climbing
Any random recommendations?
Old man rant?
Take care of your skin. The sun, which ironically gives us life, is simultaneously trying to kill us. Wear a hat/sunscreen.
Take care of your teeth/gums. You're not a shark. Your teeth won't regenerate.
Any closing thoughts?
We're all hurling around the sun on this rock called Earth at a bajillion miles per hour. At the age of 41, I'm about half dead. Time is flying by (this blog has covered about 17% of my life!). My daughter — who was born yesterday — just turned 16 and will be gone to college (or elsewhere) before I know it.
If you get a few of these financial things right, then your life becomes a lot simpler. No more stressing about money. And you'll have the financial freedom to do what you want with your life.
Have fun. Pretty soon we'll all be dead. On your deathbed, I don't think you'll wish you had worked more. Similarly, I don't think you'll wish you had exerted more of your life energy trying to keep up with the Joneses. I imagine you'll regret not having lived life to the fullest (travelled the world, biked across the US, better nurtured family/friend relationships).
So why not live a life now that you won't regret?
Taking ownership of your finances is one seemingly small — but very important — step to get you to this point.